Lakers-Nuggets Game 4: Live Highlights, Stats and Analysis
Ty Lawson led Denver to a crucial game three victory.
Doug Pensinger/Getty Images
The Los Angeles Lakers defeated the Denver Nuggets 92-88 in Game 4 of their first-round NBA playoff series on Sunday night in Denver.
The series shifts back to Los Angeles on Tuesday night for Game 5. Scroll down for updates and analysis from throughout Sunday's game.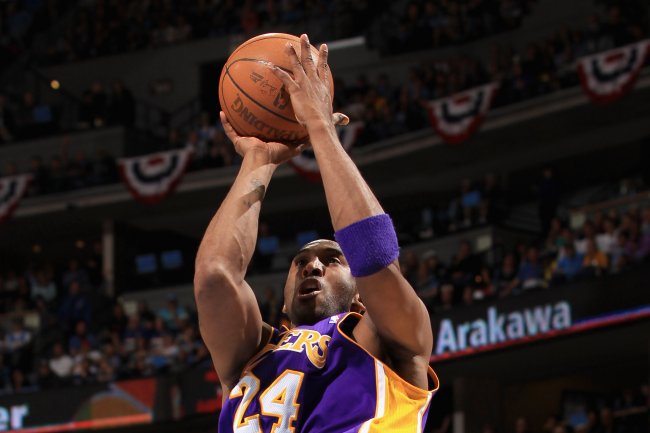 Doug Pensinger/Getty Images
Final Score Lakers 92 Nuggets 88
That was a crucial game for both teams and when the outcome hung in the balance the Lakers star players and role players both came up big.
Steve Blake had a big blocked shot and a huge three pointer as the Lakers now hold a commanding 3-1 lead in this series.
With the series heading back to Los Angeles for game five on Tuesday Night the Lakers will be heavy favorites to close this out.
That's exactly what they'd like to do so they can get as much rest as possible before a potential showdown with the Oklahoma City Thunder.
For this game the Lakers and Nuggets both shot exactly 45.3 percent from the floor.
L.A. won the rebounding battle by a 48-38 margin.
The Lakers were led by Kobe Bryant's 22points, 8 rebounds and 6 assists. Jordan Hill came up big off the bench with 12 points and 11 rebounds including 7 offensive rebounds.
Denver was led by Danilo Gallinari who scored 20 points. Andre Miller chipped in with 15 points and 7 rebounds off the bench.
Game 5 is Tuesday Night from the Staples Center in Los Angeles at 10:30 PM ET ( 7:30 PT)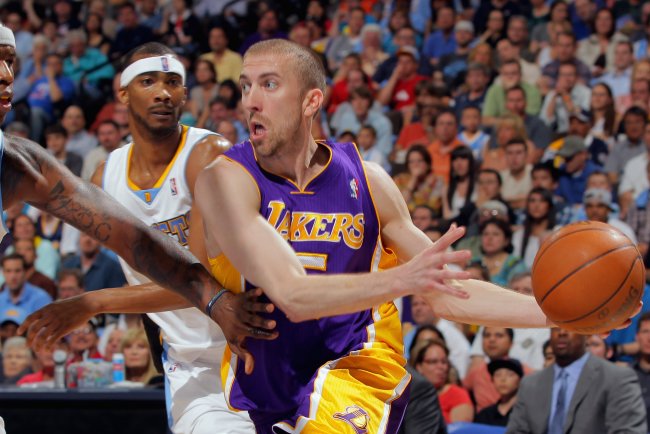 Doug Pensinger/Getty Images
Lakers 92 Nuggets 86: 13.3 seconds 4th Quarter
Kobe will always have his haters but even his most ardent critics would have to give him credit on finishing out this game.
With the Lakers trying to extend a three point lead Kobe penetrated and then kicked to a wide-open Steve Blake who nailed a three point shot from the corner. The Lakers are in the drivers seat now. Kobe hugged Blake to show his appreciation for nailing the clutch shot.
Lakers 89 Nuggets 86: 48.1 seconds 4th Quarter
Both teams exchanged flawed possessions until Danilo Gallinari nailed an open jumper to tie the game. On the following possession Gallinari tried to flop but got no call and while he was on the floor Ramon Sessions nailed an open three point shot.
Lakers 86 Nuggets 82: 3:00 4th Quarter
The game is close. It's ended up looking like the kind of game that the Lakers would prefer.
Slower pace, lower scoring and L.A. has the rebounding edge. That's not going to matter if the Lakers can't take care of the basketball. The Lakers now have 12 turnovers and the Nuggets have scored 13 points off them.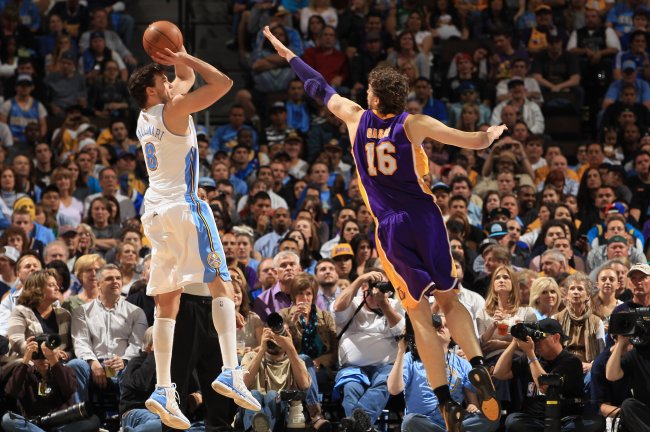 Doug Pensinger/Getty Images
Lakers 82 Nuggets 80: 4:43 4th Quarter
At the 6:37 mark Danilo Gallinari picked up his fifth foul. Gallinari leads the Nuggets in scoring tonight with 16 points. His absence could prove critical.
The Lakers rebounding is also becoming a factor. L.A. has a rebounding edge of 46-33 and 20-12 on the offensive glass. They've been hammering away on the boards and have begun to really frustrate the Nuggets.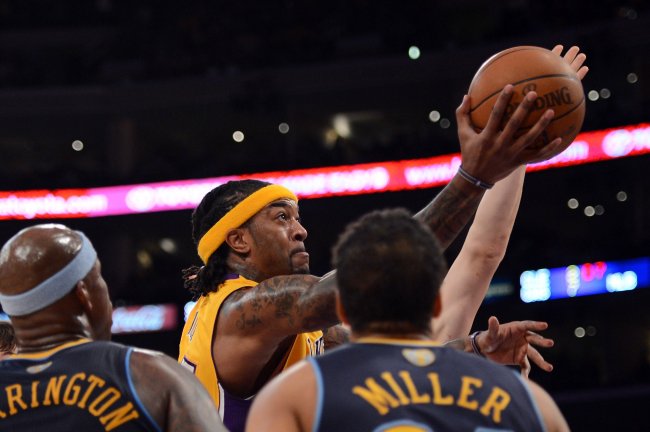 Harry How/Getty Images
Lakers 77 Nuggets 76: 8:47 4th Quarter
This fourth quarter has gotten off to an encouraging start for the Lakers. Steve Blake and Ramon Sessions have knocked down open shots.
L.A. is still plagued by turnovers though. They've got nine as compared to Denver's six.
The Lakers bench has gotten nice contribution from Jordan Hill tonight. The former top ten pick has nine points and nine rebounds.
Denver's bench is still winning the battle though. The Nuggets bench is outscoring the Lakers 35-18.
It's still anyone's game.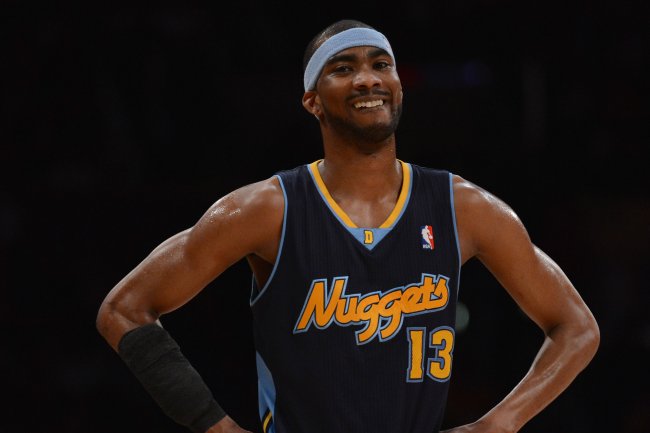 Harry How/Getty Images
Nuggets 71 Lakers 70: End of 3rd Quarter
Kobe was 5 of 13 in the first half. He's 4 of 7 so far in the second half. Kobe's efficient scoring is reason for Denver to be concerned. Bryant is the one player that can totally take over a game.
Denver's bench is known for it's depth and Corey Brewer is another name to add to the list of contributors among Nugget reserves. He's got seven points on 3 of 6 shooting in the game.
Denver was able to withstand a Lakers push in the third quarter and the fourth promises to be very exciting.
Doug Pensinger/Getty Images
Nuggets 63 Lakers 61: 3:09 3rd Quarter
The Lakers were gaining momentum but then Kobe Bryant took his eye of a pass from Pau Gasol and turned the ball over. Two possessions later he passed up a shot with the shot clock running down and Steve Blake had to heave up a prayer.
The Lakers had a lead briefly but Denver has come back.
As it turns out the random woman that ran onto the court wasn't that random after all. Marc Spears is reporting it's the same woman who had stalked former Nugget Kenyon Martin back when he played for Denver.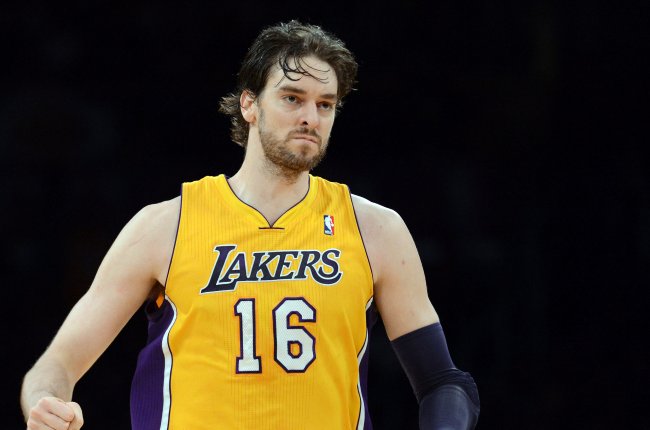 Harry How/Getty Images
Lakers 57 Nuggets 56: 7:09 3rd Quarter.
Denver hasn't looked crisp this half. Some bad shots, some fairly unimpressive drives to the basket and in addition the Lakers seem to be slowing the pace to one that favors purple and gold. L.A. is on a 12-5 run to open the second half and Denver's lead is gone in a flash.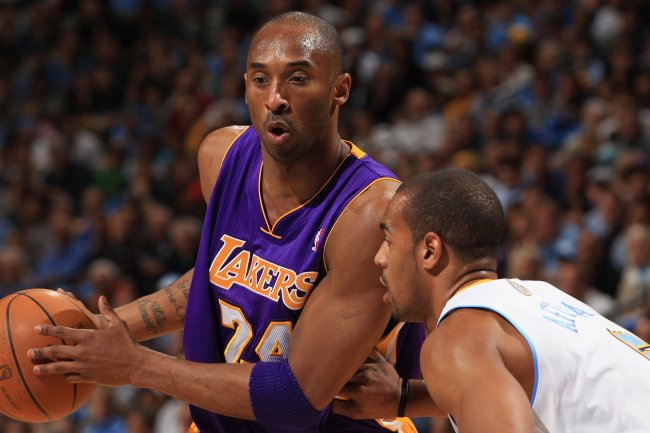 Doug Pensinger/Getty Images
At The Half: Nuggets 51 Lakers 45
The second half promises to be very interesting. This is anyone's game. Sure the Nuggets played a solid first half but a six point lead is not remotely safe.
Denver's aggressive double teams have forced seven Laker turnovers. Denver has only three turnovers.
Something else for Los Angeles to be concerned with is that Denver is 0 of 8 from three-point range. Denver isn't a great three-point shooting team but that 0 for 8 pace is unlikely to continue.
Kobe Bryant's 12 points lead the Lakers but it's taken him 13 shots to get there ( he's 5 of 13).
For Denver the Nuggets are led by Danilo Gallinari's 12 points on a more efficient 6 of 11 from the floor.
In Major League Baseball if you run onto the field of play the networks don't show you in an effort to minimize the attention paid to such infantile behavior.
In the NBA no such rule exists. The results are that Marv Albert and Charles Barkley ( among others ) make fun of you on National Television. The issue by the way is a woman who sort of randomly strolled onto the floor with about a minute left in the first half. She was immediately detained by police and the game only had a momentary delay.
Marc Spears of Yahoo Sports is reporting that the woman was screaming at the Nuggets bench before she wandered onto the floor.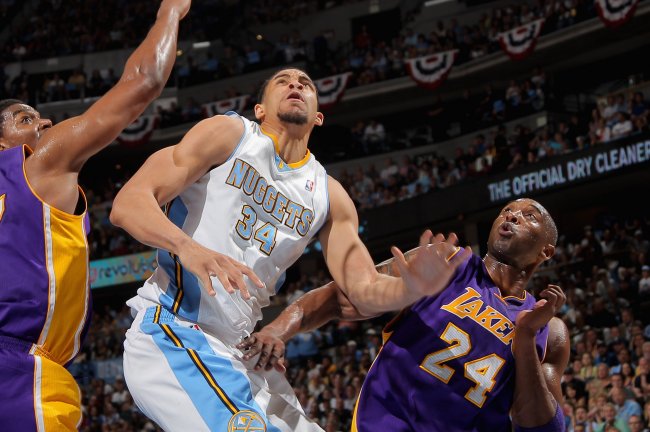 Doug Pensinger/Getty Images
Nuggets 51 Lakers 45: Halftime
The Lakers allowed Denver to open up a bit of a lead as the half concluded. Some keys. JaVale McGee's low post defense. Yes he's been called for some goal tends but he's also got four points and two blocked shots.
Faried has been all over the glass with four rebounds and the Nuggets are shooting the ball well hitting on 51.1 percent of their shots tonight.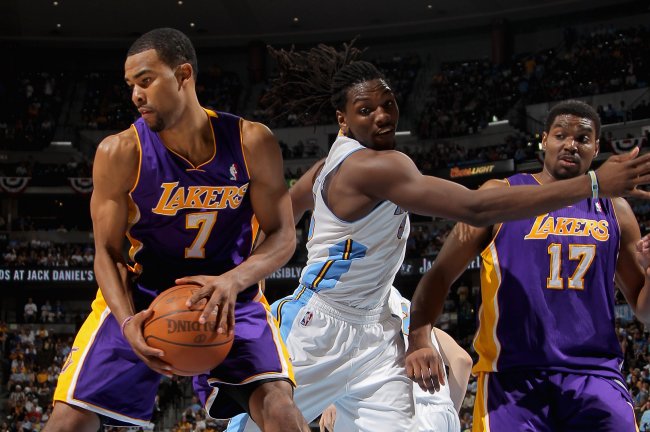 Doug Pensinger/Getty Images
Nuggets 45 Lakers 42: 2:57 2nd Quarter
Ramon Sessions was brought to Los Angeles to add needed talent and stability to the point guard position. He's done a nice job but he's struggling tonight.
Sessions has been careless with the ball. He's got two turnovers and only one assist. In addition he's made a number of very risky passes that he's gotten away with.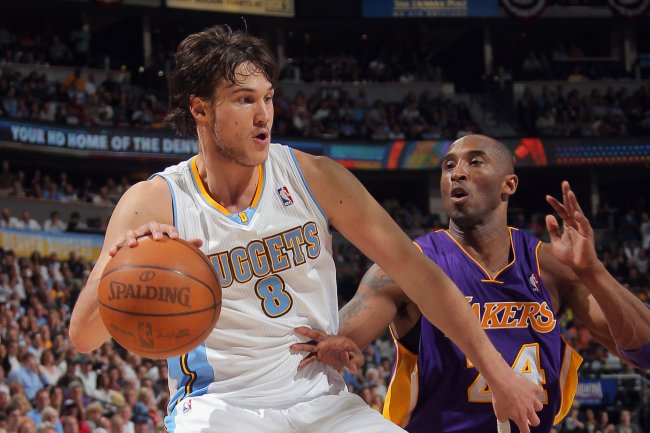 Doug Pensinger/Getty Images
Lakers 39 Nuggets 38: 5:22 2nd Quarter
One way the Nuggets can try and force the tempo. Double teams. This is especially effective when Lakers backup point guard Steve Blake has the ball or when one of the Lakers' big men gets the ball away from the basket.
The double team can lead to errant passes but it also makes the Lakers move the ball more frequently than they'd like. It removes their ability to be as deliberate in the half court. Denver must be careful because if the Lakers start to property anticipate those double teams they will pick apart Denver and get easy shots.
Danilo Gallinari leads Denver with 10 points on 5 of 8 from the field.
The Lakers are led by Andrew Bynum with 11 points on 5 of 5 from the field.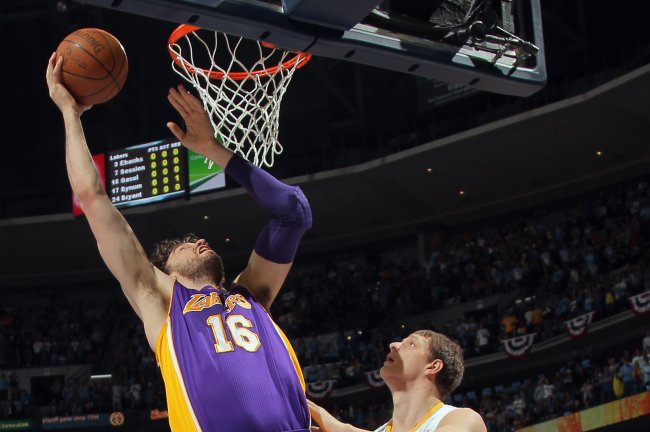 Doug Pensinger/Getty Images
Lakers 35 Nuggets 34: 7:26 2nd Quarter
The Lakers are going to have to stop the dribble penetration by Denver. Defensively Denver has it's hands full with both Gasol and Bynum.
Gasol has been taking advantage of his variety of low-post moves and seven points. Jordan Hill came off the bench for the Lakers and grabbed five rebounds in only four minutes of playing time.
The Lakers seem to be falling into a bit of a trap. Denver wants to run and the Lakers have had a few opportunities to slow the tempo but instead they've rushed into their offense and quick shot. In the long run that works to Denver's advantage.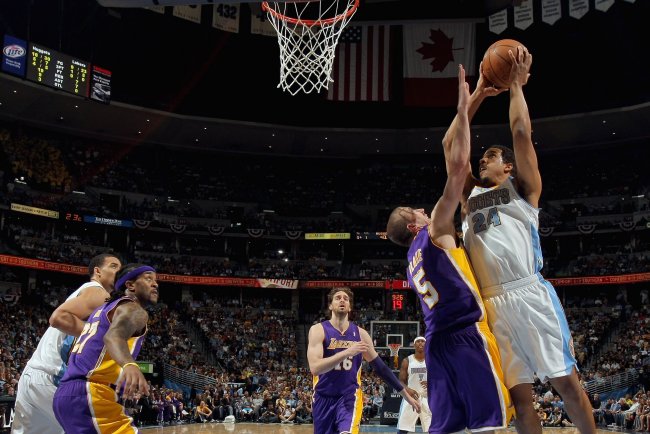 Doug Pensinger/Getty Images
Nuggets 28 Lakers 26: End of 1st Quarter.
This game is being played at the Nuggets pace but unfortunately they haven't been able to take control of the game. It's early though and if this pace keeps up the advantage to Denver will grow as LA's starters grow tired.
Defensively Los Angeles seems lost. Denver shot 56 percent to Los Angeles' 48 percent.
The Nuggets are playing up-tempo even when they're in the half court game. They've been getting into their offense very early in the shot-clock and Lawson's dribble penetration is creating easy baskets for his teammates.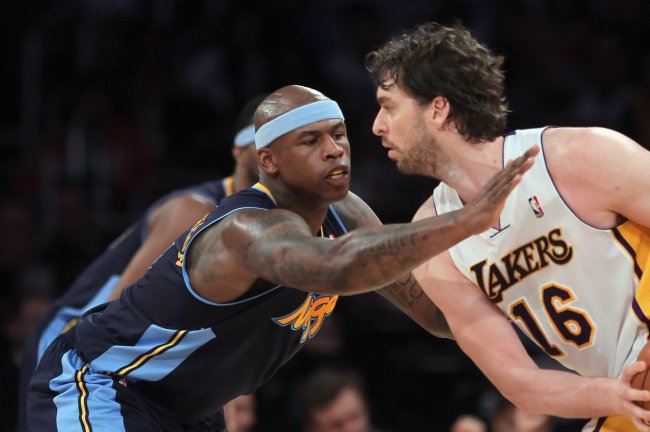 Jeff Gross/Getty Images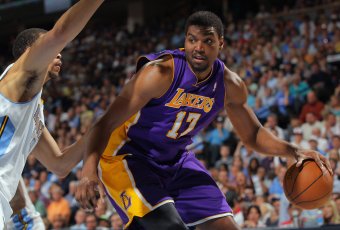 Doug Pensinger/Getty Images
Lakers 20 Nuggets 20 : 2:42 1st Quarter.
With the score 16-16 the Nuggets went to the bench at the 4:30 mark.
Al Harrington, Andre Miller and JaVale McGee are all in the game. This is where Denver would like to get a real spark.
The Lakers don't have this type of talent to shuttle into the game but Bryant, Bynum and Gasol are all still on the floor.
Nuggets 16 Lakers 14: 4:40 1st Quarter
This game will be a test. The Lakers want to exert their muscle in the low post and win the battle of the glass. When you win on the glass you can usually control the tempo.
For Denver it's all about tempo. The Nuggets need to take advantage of youth and depth to win this game. Ty Lawson excels in an uptempo game and Andre Miller can as well.
Of course the Lakers have Kobe Bryant as well. He's a bit of an x-factor as he could conceivably come up with a dominant game which makes other aspects less important.
In the early going the Lakers have made an overt effort to get the ball in the hands of either Gasol or Bynum.
Denver has countered with a balanced attack and has looked crisp on offense.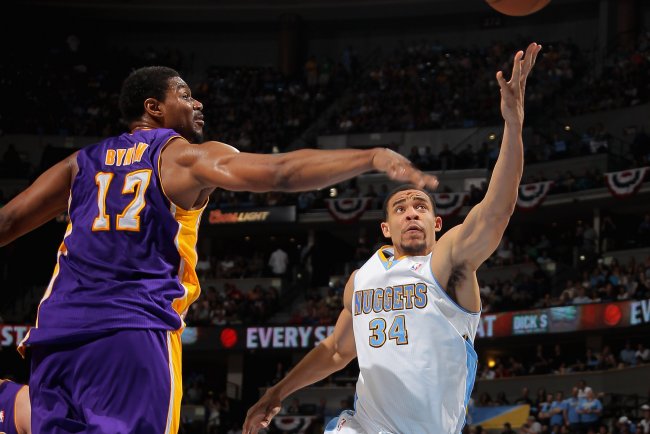 Doug Pensinger/Getty Images
Starting Lineups
Los Angeles Lakers ( 41-25, 15-18 away)
PG Ramon Sessions
SG Kobe Bryant
SF Devin Ebanks
PF Pau Gasol
C Andrew Bynum
Denver Nuggets ( 38-28, 20-13 home)
PG Ty Lawson
SG Arron Afflalo
SF Danilo Gallinari
PF Kenneth Faried
C Timofy Mozgov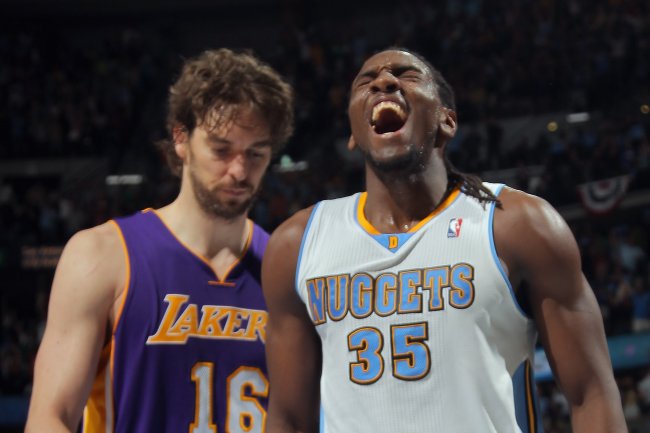 Doug Pensinger/Getty Images
Lakers-Nuggets Game 4
The Lakers would very much like a win tonight. Of course every playoff teams say that about nearly every game but for a veteran Lakers team with a shallow bench and it's sights set on another NBA Title a quick and easy first round series would be ideal.
It looked as if the Lakers were on their way after two victories in games one and two.
Game three was in Denver though and the Nuggets finally did the little things that had many feeling like Denver could make things tough on Los Angeles.
Ty Lawson scored, Kenneth Faried rebounded. The Nuggets bench outscored the Lakers' bench by a 39-9 margin.
Game four will be a test for both teams.
The Nuggets have shown Los Angeles that the strengths the Lakers had been warned of are in fact real. Can the Lakers get back to allowing players like Pau Gasol and Andrew Bynum to dominate the low post on both offense and defense? The Lakers were out-rebounded 54-44 in game three. That can't happen in the Lakers hope to take a commanding 3-1 lead tonight in Denver.
Game four is coming up. Keep it here for frequent analysis, scores and highlights
This article is
What is the duplicate article?
Why is this article offensive?
Where is this article plagiarized from?
Why is this article poorly edited?