Mayweather vs. Cotto Results: Floyd's Struggle Should Attract Manny Pacquiao
May 6, 2012

Stephen Dunn/Getty Images
Sharks smell blood.
The world of boxing will witness if Manny Pacquiao does too in the coming year. Miguel Cotto proved to be the toughest challenge of Floyd Mayweather's career. Pac-Man should sense Pretty Boy's vulnerability and attack.
According to ABC, Mayweather praised Cotto following the fight calling him his greatest competitor to date. The Puerto Rican managed to win multiple rounds against Money—a feat that is nearly as rare as defeating him. While Pacquiao struggled in his last fight to beat Juan Manuel Marquez, when Manny fought Cotto in 2009, the Filipino knocked him out.
Mayweather's post-fight preaching included more than praise, though. Again he called out Pac saying, "I want to fight Pacquiao but he needs to take the tests before we make that fight." Mayweather continued to sing the familiar tune of, "If you're the best, take the test."
Pac-Man should take the test. And knock him out.
Cotto's success isn't the only sign that should encourage Pacquiao.
You become like the friends you choose. On Saturday night, Cotto walked to the ring with his son. Mayweather entered with Justin Beiber (via @Steff_Trattles).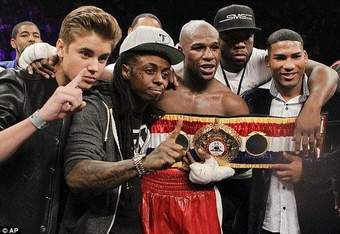 Can you say soft?
To quote Mickey Goldmill—like the wise trainer told Rocky before Balboa got beat down by Clubber Lang: "The worst thing that happened to you, that can happen to any fighter: you got civilized."
Cotto wasn't talented enough to take advantage of Mayweather's turn for the worse. Pacquiao, on the other hand, is a different animal. The time is now—Manny must smell blood.
David Daniels is a featured columnist at Bleacher Report and a syndicated writer.