Fantasy Baseball Projections 2012: The Best Older Veterans on the Market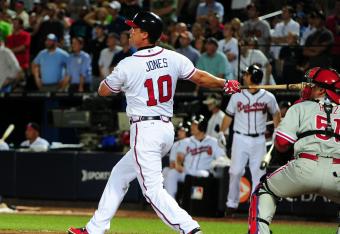 Chipper Jones celebrated his 40th birthday by hitting his third home run of the season.
Scott Cunningham/Getty Images
Fantasy baseball is widely thought of as a young man's game. A younger crowd participates regularly, and a the focus is on young talent that could possibly bloom during the season. We are constantly looking out for the next minor league call-up who can help our team out.
However, sometimes in fantasy baseball, it doesn't hurt to take a look at the old-timers. On occasion we should check out some of the players who were racking up runs, homers and stolen bases before fantasy sports were around. These are some aging veterans finishing out their careers in style, so why shouldn't you benefit from them squeezing the last bit of talent out of their bodies this season?
Chipper Jones, 3B
Chipper Jones turned the big four-oh a couple weeks ago. He celebrated the occasion by going yard for the third time since his mid-April return from injury. Due to his age, Jones needs to take occasional days off. However, in just 66 at-bats, the Atlanta Braves third baseman has amounted some pretty impressive totals.
Among the men manning the hot corner in the MLB, Jones ranks fourth in RBI with 21 and fifth in HR with five. He is also batting .318 and has scored 14 runs. Mind you, this has all happened with far fewer plate appearances than guys like Miguel Cabrera and Hanley Ramirez. He has also started May on a tear, hitting .529 through May 5 with nine RBI. Jones is still available in 51 percent of ESPN leagues.
Is Jones as valuable as those top-tier third basemen? No. However, Jones will not retire quietly, so you can expect similarly solid production throughout this season as he rides off into the sunset.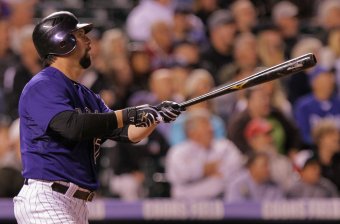 Doug Pensinger/Getty Images
Todd Helton, 1B
Todd Helton is currently in his 16th big league season with the Colorado Rockies. Helton has done one thing well over those 16 years, and that is hit. Fortunately for fantasy owners, the Toddfather can still do that thing fairly well. At age 38, Helton's body won't allow him to play as consistently as he would like. He has scheduled days off built in to his schedule. However, he can still be of massive help to your team.
Only owned in in 40 percent of ESPN leagues, Helton is fourth among first basemen with 20 RBI. The low batting average appears to be driving off potential owners. However, at .244 through just 82 at-bats, he is still hitting better than 100 percent ownership players like Mark Teixeira and Mike Napoli. He has more RBI and pretty equivalent stats to most middle of the pack 1Bs across the board.
Helton is also a career .322 hitter who hit .302 last season, so expect that .244 to rise steadily in the coming weeks. He is a good pickup for teams struggling at 1B due to the terrible start of guys like Teixeira and Adam Lind.
A.J. Pierzynski, C
Quiet is not usually a trait attributed to A.J. Pierzynski. However, the usually boisterous catcher has quietly been putting to get a solid season for the Chicago White Sox. The 35-year-old veteran backstop is still available in 29 percent of ESPN leagues despite the second-most RBI and HR of MLB catchers.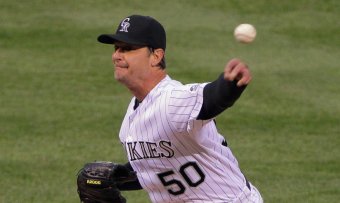 Doug Pensinger/Getty Images
Pierzynski is an incredibly durable veteran, especially at the position he plays. He has only missed three games thus far this season and has only gone hitless six times in 24 games.
The White Sox catcher had a much better April than heavy ownership, catcher-eligible players like Brian McCann, Mike Napoli and Carlos Santana. As a bonus, having Pierzynski on your fantasy team doesn't mean you have to listen to him talk, so pick up this catcher to give you some depth if your preseason pick isn't working out just yet.
Jamie Moyer, SP
I couldn't leave the man off this list, I just couldn't. Despite a recent poor outing against the New York Mets, Jamie Moyer had strung together three successive good starts. He is owned, I assume as a joke, in just 1 percent of ESPN leagues. However, using Moyer as a spot starter is not a half-bad idea.
Prior to the April 29 game against the Mets, Moyer had thrown 13 innings, giving up just one run between two outings against the Padres and Pirates. Moyer will continue to be consistently decent this season pitching against weak lineups. He may be worth a start here and there when you need to pick up some innings and lower your team ERA.
He has a similar ERA to 100 percent ownership starters like John Lester and Zach Greinke. It may be time to give the old man a chance.
Manny Ramirez, DH OF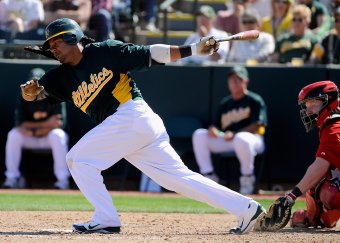 Kevork Djansezian/Getty Images
Thanks to starting the season before the rest of the teams in MLB, the Oakland Athletics have already played in 28 games. That means the only 22 games remain on the 50-game suspension of Manny Ramirez. Upon his reinstatement, Manny should be able to give you instant production. The weak-hitting A's lineup has no choice but to give Ramirez playing time whether it be at DH, first base or the outfield.
Assuming the 39-year-old hasn't completely let himself go during his time off, Ramirez could be a surprise performer. He is still unowned in nearly 100 percent of ESPN leagues, so you can probably wait another two weeks to pick him up, but be sure to keep an eye on his return date so you don't miss out.
Bartolo Colon, SP
Bartolo Colon continues to surprise people with his longevity. At age 38, the Oakland Athletics starter is once again putting up numbers that seemed impossible a few years ago. Colon had a resurgence last season, pitching 164 innings for the New York Yankees. Oakland took a flier on him and he has paid off thus far.
In five out of seven starts, Colon has pitched into the seventh inning or beyond, yet he is unowned in 23 percent of ESPN leagues. If he is floating around your free-agent bin, I would advise you to snatch him up. Though the lack of run support is a killer for wins, Colon can provide you a solid ERA if your stars are underperforming. He will also hold his on in categories like Ks, QS and WHIP.
This article is
What is the duplicate article?
Why is this article offensive?
Where is this article plagiarized from?
Why is this article poorly edited?