Mayweather vs. Cotto: Post-Fight Banter Sheds Dim Light on Pacquiao Bout
May 6, 2012

Ethan Miller/Getty Images
Once Floyd Mayweather beat Miguel Cotto to continue his unbelievable undefeated streak on Saturday night, the mainstream focus once again shifted to the possible super-fight with Manny Pacquiao.
Mayweather was not shy about shooting that scenario down post-fight.
As much as the fans want to see the epic encounter between the two pound-for-pound toughest fighters in the world, Mayweather believes that Pacquiao's handler and promoter Bob Arum will hold the fight up as long as he is controlling who is next for the Filipino star.
Taking everything that Money May says with a grain of salt, there is a semblance of truth from a man that used to work for Arum as well. If anyone knows how Arum does business, it's Mayweather.
Mayweather told USA Today about why the super-fight with Pac-Man won't happen and why:
I'm just really tired of the media and the people being fooled.

The truth is, (Pacquiao's promoter) Bob Arum is not going to let the fight happen. It's not on me. I went to Pacquiao and offered him $40 million, and told him I would wire him $20 million within 48 hours. He turned me down and said he wanted a 50-50 split. I'm like, how can you ask for 50-50 and you're not doing the same numbers that I'm doing.

So once he's free from Bob Arum, will the fight happen? Absolutely. But as of now, he's with Bob Arum so the fight isn't going to happen.
I thought the problem was about drug testing? Keeping up with this soap opera has lasted for years, with the hope that one day boxing fans would get the biggest main event in the history of the business, has been tiring.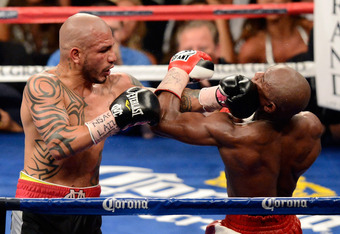 Ethan Miller/Getty Images
The outlook on that super-fight is getting bleaker by the day, and Mayweather's words after his fight with Cotto prove that there is serious doubt from the Money camp that this will ever happen.
Mayweather might not want this fight.
It was clear that Cotto gave Mayweather a tougher fight than he expected, and Cotto was a guy Pacquiao handled easily. There is a chance that this proved Mayweather doesn't want to fight Pac-Man and risk his undefeated record and streak.
Whatever the case, the window of opportunity for this Mayweather-Pacquiao super-fight is closing fast. If they miss it, neither man's legacy will ever be what it could have been.
Check back for more on boxing as it comes, and check out Bleacher Report's Boxing Page to get your fill of all things from the squared circle. For more on boxing, check out Ring Rust Radio for all of the hot topics.