WWE Raw SuperShow: 5 Burning Questions for Tomorrow's Episode from Greensboro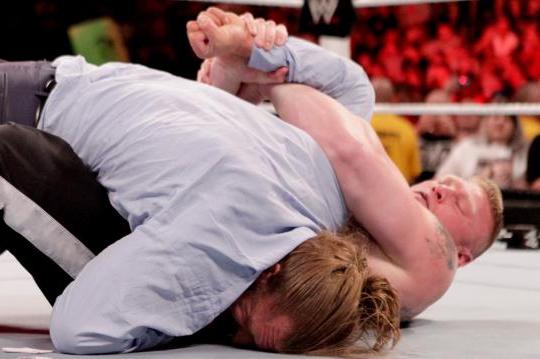 H/T: WWE
On the heels of Extreme Rules the night before in Chicago, last week's episode of Raw SuperShow was a wild ride as we saw everything from a Triple H broken arm to the Bella Twins being fired to John Laurinaitis attacking John Cena at the end of the show.
In addition to that, we learned that Daniel Bryan will be the next challenger for CM Punk's WWE Championship as the two former Indy superstars will go one-on-one at Over the Limit later this month on May 22.
With the WWE invading Ric Flair country in Greensboro, North Carolina tomorrow night, the following slideshow will take a look at the biggest questions coming into Raw SuperShow as we're more than two weeks away from Over the Limit.
Begin Slideshow

»
At the top of Raw SuperShow last Monday, Triple H made his first appearance on television since his loss to the Undertaker inside Hell in a Cell to inform Brock Lesnar that his contract demands the previous week would not be acknowledged.
As Triple H was trying to quiet John Laurinaitis, Lesnar would attack the COO of the WWE, locking in the dangerous Kimura submission hold and effectively breaking the left arm of the Game.
With the story line injury between Lesnar and Triple H, would you want to see the two former WWE Champions have a match together in the upcoming months?
After failing to win the WWE Championship at the last three pay-per-view events dating back to February, Chris Jericho doesn't have a current feud that he's a part of following his loss to CM Punk in their Chicago Street Fight last Sunday.
Who should Y2J set his sights on in his next feud after being unsuccessful in his quest to become the true Best in the World against CM Punk?
The new tag team of Kofi Kingston and R-Truth was victorious in its quest to become the WWE Tag Team Champions as the duo defeated Primo and Epico last Monday on Raw SuperShow.
With the tag team division miles from its glory days in the past, could we see rejuvenation with the new champions Kingston and R-Truth leading the way?
Since both the Red and Blue Brand superstars compete each week on Raw SuperShow, we'll take a look at the new challenger for World Heavyweight Champion Sheamus in Alberto Del Rio after defeating Daniel Bryan in their two out of three falls match at Extreme Rules.
In his first year with the WWE, Del Rio was given one of the biggest pushes in recent memory after winning the Royal Rumble and Raw Money in the Bank ladder match that helped him win his first of two WWE titles at SummerSlam.
After being out of the title chase since WWE TLC last December, how do you think Del Rio will do in his latest chance to become champion after being a bit disappointing during his title runs last fall?
With the attack the end of Raw SuperShow, it seems as though the WWE is trying to copy the wildly successful rivalry that Vince McMahon and Stone Cold Steve Austin had in the 1990s with John Laurinaitis and John Cena.
Even though that might be a good idea on paper, Laurinaitis isn't as good of corporate villain as McMahon was years ago, along with Cena not being anywhere close to the rebel that the Rattlesnake was in his prime.
While not being as good as McMahon-Austin on paper, the feud between the two Johns could be more of a fair fight as Laurinaitis was an active wrestler for many years with WCW and All Japan Pro Wrestling.
With their match set for Over the Limit in a little more than two weeks away, do you think a feud between Laurinaitis and Cena will end up being a good one?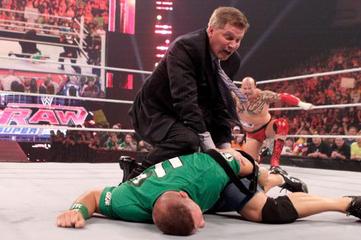 H/T: WWE
Now that you've read through the questions in this slideshow, what are some of your biggest questions as we get ready for Raw SuperShow tomorrow as we start new feuds between Cena-Laurinaitis, Punk-Bryan and Sheamus-Del Rio?
Chris Humphrey is a WWE Featured Columnist for Bleacher Report. You can ask him any question regarding the WWE or any other topic that crosses your mind on either his Facebook or Twitter page.