Brock Lesnar and 7 WWE Superstars That Paul Heyman Could Help Move Up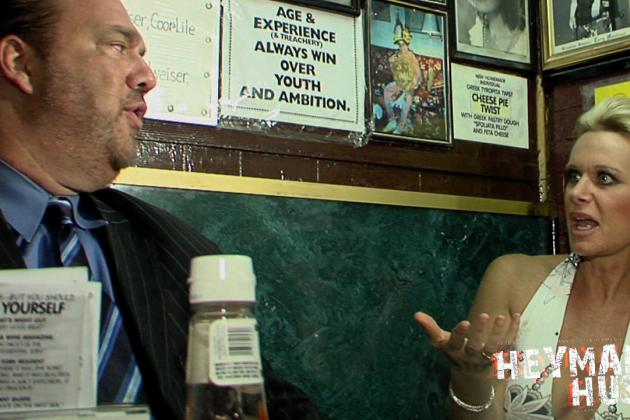 Photo: HeymanHustle.com
With Paul Heyman's return to WWE making big waves this past Monday, it makes things with Brock Lesnar and WWE management a lot more interesting.
Paul Heyman is a very polarizing figure in the wrestling world. His voice commands attention, and many in the business respect him, as he managed to see growth in a small promotion when everyone else was struggling under the weight of a WCW/WWF-dominated era.
There is no denying that he has the chops to stand in front of a camera as well. He has proven that he can be a valuable asset in a non-management role in the past, and he could still be valuable to the WWE should he decide to stick around.
All signs point to Heyman leaving after a couple of months, but if Heyman were to become interested in a full-time position with WWE again then there are a lot of people who could benefit from the experience Heyman brings to the table.
Here is a list of superstars who seem to need a bit of a boost and could use someone like Heyman to help them get it.
Begin Slideshow

»
Dolph Ziggler is one of the most naturally talented superstars in WWE today.
He has the credentials from his time at Kent State to prove he is a real athlete, and he has the physical skills to outperform most people in the ring.
For one reason or another, Ziggler seems to bounce in and out of the main event scene. He has had several matches for the title over the past couple of years but had only been able to hold the World Title for one night.
His pairing with Vickie has certainly done some good things for his career, but it seems like he could use a new person to represent him.
Paul Heyman took a college athlete in Brock Lesnar and pushed him to the very top of WWE. What is to say he couldn't do the same with Dolph Ziggler?
Ziggler may not have the same accolades as Brock Lesnar, but he is no less qualified to be the WWE Champion.
Like Ziggler, Jack Swagger is in serious need of something to boost his career.
When Swagger first arrived on the scene, he seemed destined to be something great, but since he lost the World Title, his run has been less than stellar.
For someone who was pushed to the World Championship very quickly, it is sometimes a surprise to see how WWE books Swagger.
Paul Heyman could be the mouthpiece Swagger needs to get back on top. Swagger has the skills in the ring, but he is lacking on the mic, and Vickie has done a lot less for Swagger's image than she has for Ziggler's.
I think if Heyman were to stick around then Dolph Ziggler and Jack Swagger should attempt to pick up his services and dump Guerrero.
Can someone explain to me how the guy who once pushed a Jeep on its side is being beaten by a 200-pound lumberjack?
I am taking nothing away from Daniel Bryan. He is one of the best.
But The Big Show beat Hulk Hogan when Hogan was still the man in this business, and now he is losing to guys who weigh less than his daily food intake,
I respect The Big Show for being the kind of guy who wants to contribute by putting others over, but it has been far too long since Big Show was a monster who could not be stopped.
He needs something to light a fire in him again. Or perhaps someone. Paul Heyman is someone who would make perfect sense to pair with Big Show.
Heyman loves things that are extreme, and The Big Show can make anything extremely dangerous for anyone involved.
The Big Show is fine by himself on the mic, but Heyman is someone who could serve as the catalyst for The Big Show turning back into a crazed giant.
These two have been aligned in the past, and a renewed partnership would not be out of the question.
I never understood why WWE broke up the Hart Dynasty and released Harry Smith, but Tyson Kidd has been suffering ever since.
He has been pretty much exclusive to NXT and Superstars over the past year, and he needs a reason to be put back on the main show.
He is incredibly talented in the ring, but he leaves a lot to be desired when it comes to charisma.
He is not that great on the mic, and that is why someone like Paul Heyman is necessary for Kidd to succeed at his point.
Heyman is someone who understands the importance of legitimacy in this business, and knowing that Tyson Kidd was one of the last people to come out of the Hart family dungeon could be very appealing.
Heyman as a manager for Tyson Kidd might not make sense on paper, but I think with a few tweaks to Tyson Kidd's character, they could work well together.
We all know the Terminator is pretty monotone, and Ryback is pretty much the Terminator these days.
His cowboy gimmick showed he had a little bit of value in him on the mic, but his new gimmick will not allow him to be as silly as his cowboy one did.
With someone who is coming off as purely intense as Ryback, having a manager could be key to his success.
It is obvious to everyone that Ryback is being booked like Goldberg was during his run, judging from the Goldberg chants we hear when he comes out, and Paul Heyman could help change that.
Heyman took one monster to the top—why not do the same with another? Ryback may not have the collegiate background Brock Lesnar has, but that is not always necessary.
We have yet to see anything more than a squash from Ryback, so finding out how WWE plans to use him in the future will be a mystery.
Putting him with Heyman would give him instant heat and make people a little more interested in what he is going to do next.
Rey Mysterio is currently out of the picture, but when he returns he will need something to do.
Something interesting to note is that along with Chris Jericho and Jerry Lawler, Rey Mysterio is the only other person on the entire roster to appear for the original ECW.
Lawler had a short program with them, and Jericho got a boost before heading to WCW in the Land of Extreme.
Mysterio and Heyman have a special connection as two of the last real ECW people in WWE, and that could help create a pairing that could see Mysterio hold the WWE Championship again.
Mysterio is thrown token championships every time his contract is up, but in order for him to be a real top WWE superstar, he could need the help of someone like Heyman.
Mysterio is the kid-friendly superstar like John Cena and Kofi Kingston, and Heyman could help him be taken seriously by the older crowd again.
I know it is unlikely that Mysterio would ever get a manager, but I think it could do wonders for his career.
I think what little we have seen of Lord Tensai speaking has told us enough about how his character will be doing promos.
His gimmick is pretty solid, and he seems to be integrated with the main event superstars pretty well at this point, but a manager to talk for him could be what puts him over the top.
Tensai was brought back to WWE because he went to Japan and became a huge star over there, proving WWE does give second chances.
Paul Heyman likes guys who can command attention and win matches, and that is Lord Tensai down to the last detail.
Tensai's insane gimmick is something Paul Heyman could do wonders with, and if Heyman does decide to stick around after his involvement with Lesnar is over, I think these two would make a perfect combination.
Thanks for reading, and please feel free to leave you thoughts on the subject below.