Nate Diaz vs. Jim Miller Results: What We Learned About Miller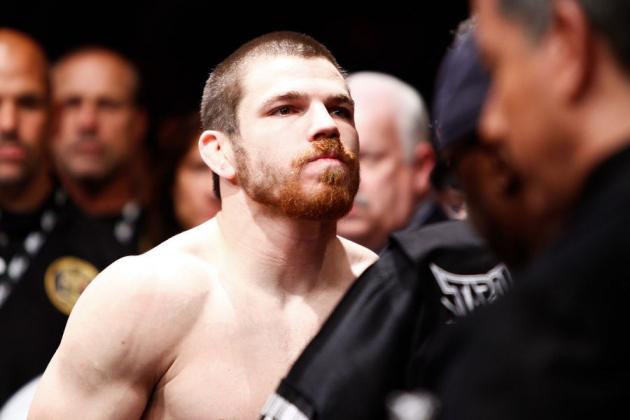 Jim Miller - Esther Lin/MMAFighting
Jim Miller's steep drop from upper-echelon UFC contender to barely a top-10 lightweight has been shockingly fast and unexpected.
At UFC on Fox 3, the New Jersey native capped off a 1-2 stint with a second-round submission loss to Nate Diaz.
"Nate controlled the fight from bell to bell," Miller said at the post-fight press conference. "He controlled the momentum and never let me get any significant shots in there. He fought a beautiful fight and had my number."
Miller, who was finished for the first time in his career, was riding a seven-fight win streak around this time last year, but his title hopes were ruined by a decision loss to current UFC lightweight champion Benson Henderson.
He later rebounded with a first-round submission victory over Melvin Guillard.
With the loss to Diaz, Miller finds himself at a crossroads in his career. He'll either have to make the necessary adjustments to improve his overall game and get over the hump, or he could contemplate dropping to the featherweight division.
Here's what we learned about Miller on Saturday night.
Begin Slideshow

»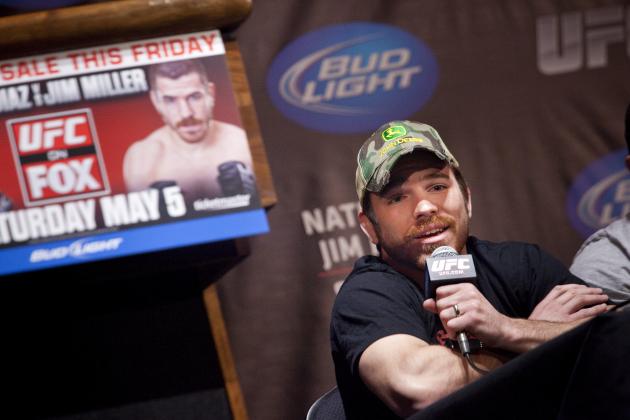 Michael Nagle/Getty Images

The term gatekeeper is often construed as cold, but it could become relevant in Miller's case.
Champions and contenders all have that extra bit of flair that puts them over the top.
While Miller is undoubtedly deserving of his top-10 placement, he lacks certain qualities that are present in guys like Henderson, Frankie Edgar, Gray Maynard and Nate Diaz.
As of now, he has become the official gatekeeper of the lightweight division. Miller will now be one of the guys fighters must beat to climb into upper-echelon contention.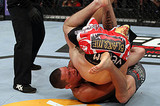 Nate Diaz and Jim Miller - Photo by Josh Hedges/Zuffa LLC/Zuffa LLC via Getty Images
When a fighter is called a world-class grappler, people tend to forget that there are various levels of grappling.
Miller is a high-level Brazilian Jiu-Jitsu artist, and naturally, people assumed his wrestling was up to par with his submission skills.
While Miller is a good wrestler, he pales in comparison to the upper-echelon wrestlers of the lightweight division. Outside of Diaz, Miller's only losses have come to world class wrestlers in Henderson, Edgar and Maynard.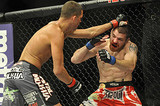 Nate Diaz and Jim Miller - Joe Camporeale/US PRESSWIRE
Miller has made some nice improvements in his standup, but his striking remains the weakest part of his overall game.
Fortunately, he isn't being outpointed by bums.
Diaz is arguably the best boxer at 155 pounds, and Henderson showcased his high-level striking in his decision win over Edgar.
If Miller manages to clean up his striking, it could open up more opportunities for him to set up takedowns.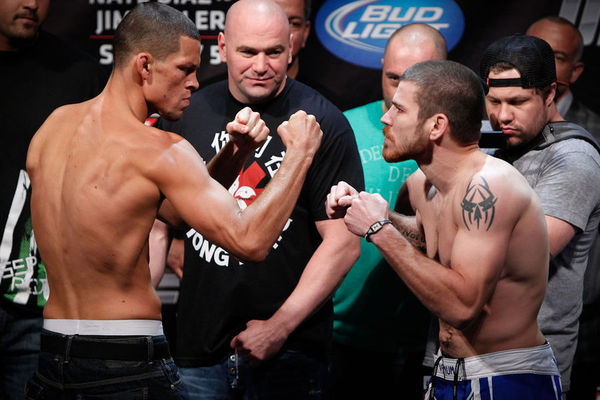 Nate Diaz and Jim Miller - Esther Lin/MMAFighting
Diaz had a fairly significant reach advantage against Miller, but he typically holds that advantage over just about every fighter at 155-pounds.
Still, Miller has been the smaller guy in just about every one of his fights at lightweight.
A drop to featherweight is something Miller and his camp should definitely consider.
At 145 pounds, Miller would finally be the larger fighter, which could really play into his top-heavy fighting style.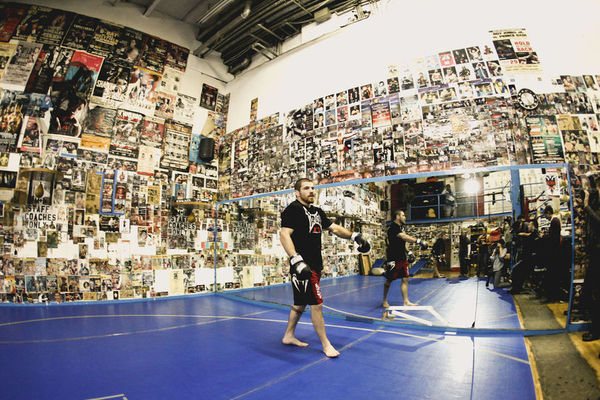 Jim Miller - Esther Lin/MMAFighting
As if anyone needs to be reminded, Miller has one of the biggest hearts in the sport.
Unfortunately, a big heart just isn't enough sometimes.
Miller has to make some serious adjustments to his game if he ever hopes to compete for a UFC title.
Even if he decides to drop to featherweight, things won't get any easier with Jose Aldo, Chad Mendes and Hatsu Hioki.
Miller has to go back to the drawing board and really refine his skill set.
Looking for some more MMA news, and perhaps a couple of laughs? Follow me on Twitter @JordyMcElroy.