Mayweather vs. Cotto: Money May Smart to Address Pacquiao Fight After Win
May 6, 2012

Ethan Miller/Getty Images
Floyd Mayweather beat Miguel Cotto in a 12-round decision to move his incredible record to 43-0. Yet his potential fight with Manny Pacquiao is still one of the bigger stories of the night.
It is just me, or is this just a little bit backwards?
Cotto and Mayweather put on a brilliant show, and the bout very well may go down as one of the best in both of their careers. But instead of focusing on the fight and giving both it and Cotto the credit they deserve, we're already on to the next one.
The irony of it is, we're not even sure the next one will ever happen.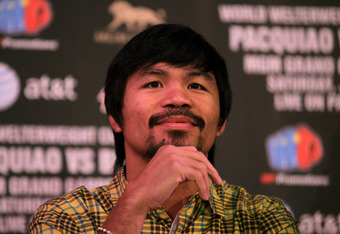 Stephen Dunn/Getty Images
Mayweather vs. Pacquiao is the fight that everybody wants to see, and for good reason. At 43-0, Mayweather has yet to run across a fighter who could take him down, but many people feel that Pacquiao could be the one to do it.
Both fighters are considered to be among the best of our time, and the prevailing thought is that this bout would determine once and for all who is truly the best. Obviously, putting their records and reputations on the line in a bout with so much attached to it would be a risk taken by both fighters.
Some feel that Pacquiao is trying to dodge the fight. Others feel that it's Mayweather. According to "Pretty Boy" Floyd after the Cotto fight, though, Pacquiao's promoter is the reason we won't be able to see this fight:
The truth is, Bob Arum is not going to let the fight happen. It's not on me. I went to Pacquiao and I offered him $40 million. I called him direct and I offered him $40m.

He turned me down. He basically said 50/50. How can you ask for 50/50 when he's not doing the same numbers that I'm doing? If you go back and read the article, he said he would do it for less. It's just been a problem trying to make this fight.

Once he's free from Bob Arum, will the fight happen? Absolutely. But as of right now, it's not going to happen. Bob Arum is worried about making money. He's not worried too much about the fight.
Pacquiao vs. Mayweather will always be what the sports world wants to see, and until we see it, there may be no use in trying to run from it.
Mayweather certainly didn't look to run away from the potential fight, and it was actually very smart of him to put the ball back in the Pacquiao court. In a few weeks, he has to serve a 87-day jail sentence for a domestic issue, so for all intents and purposes, he won't be able to do much promoting or trash talking as far as Pacquiao is concerned. In the meantime, he's put the pressure back on to the Pacquiao camp, though.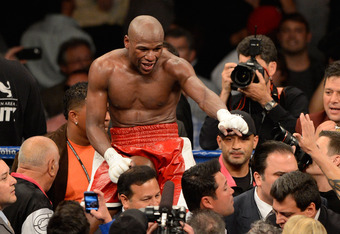 Ethan Miller/Getty Images
If this fight doesn't happen, all Mayweather has to do is say, "Hey, I tried my best," while Pacquiao and his team scramble for ways to make it look like he didn't duck the biggest fight of his lifetime and perhaps in the history of the sport.
In typical Mayweather fashion, he's still finding ways to jab at his opponent out of the ring, and this may be his best move yet.
He comes out a winner via the Cotto fight, and until we get a response from the Pacquiao camp, he's got the upper hand in that figurative bout.