Mayweather vs. Cotto: Breakdown and Analysis of Floyd Mayweather's Win
May 6, 2012

Ethan Miller/Getty Images
What is it that makes Floyd "Money" Mayweather so great?
With his latest win over Miguel Cotto, "Pretty Boy" Floyd adds yet another notch to the win column and continues to make his case as the greatest boxer of this time, if not one of the greatest of all-time.
He's controversial, he's opinionated and sometimes he's straight up unlikeable, but there is no doubting his dominance in the sport of boxing.
So, again, I ask the question: What is it that makes Mayweather so great? Let's look at his latest win for those answers.
You have to give credit to Cotto, as he gave Mayweather a complete run for his money. Cotto pushed Mayweather the full 12 rounds and forced a decision from the judges. He was able to land a few good shots on Mayweather, and he even made him bleed in the sixth round. According to Dan Rafael of ESPN.com, it was a jab that appeared to gain Mayweather's respect:
Cotto (37-3, 30 KOs), who made $8 million plus a percentage of the pay-per-view profits, got Mayweather's respect in the sixth round when he landed a pinpoint jab to his nose, drawing blood. After the punch, Mayweather nodded his head to Cotto out of respect.
As good as Cotto was, though, Mayweather, of course, was better.
This was arguably one of the tougher fights of Mayweather's career. Consider the fact that, at 35 years old, he's still able to go the full 12. He's a resilient fighter, and that's undoubtedly a reason for his success.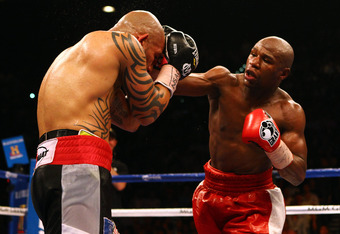 Al Bello/Getty Images
During football season, ESPN's Skip Bayless made the phrase "all he does is win" popular when talking about then-Denver Broncos' quarterback Tim Tebow. It may have been a bit of a stretch for Tebow, but the phrase fits perfectly for "Money" Mayweather.
With this win over Cotto, Mayweather's record improves to an incredible 43-0. He still hasn't come across a fighter who could beat him in the ring.
When all is said and done, this may end up being one of the most impressive winning streaks we have seen in sports. Unless we finally get the Manny Pacquiao bout that we've all been hoping for, I don't see any current fighters who have what it takes to take out the pound-for-pound best in the sport.