10 Best DJ Steve Porter Sports Remixes and Mashups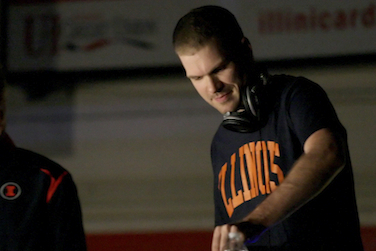 Photo by porterhouse.media.com
ESPN discovered DJ Steve Porter's uncanny ability to turn just about anything into a bouncy song and knew they had to have him on their team.
Porter had been creating a buzz on the Internet for transforming a Slap Chop ad and some episodes of Community into exciting remixes. He was also using his talents to turn sports quotes into song as well.
Now featured on various SportsCenter segments and ESPN commercials, Porter has a far bigger audience for his various mashups.
His best are displayed here.
Tim Tebow, Randy Moss and Dick Vitale unknowingly team with Porter to create some of the catchiest and most fun videos floating around the Internet.
Begin Slideshow

»
DJ Steve Porter's resume is growing. He has a surplus of intriguing remixes covering subjects as diverse as Linsanity and Katt Williams' standup.
Here a few that didn't quite crack the top 10.
"Rome Wasn't Built in One Day (The Decision Remix)" starring LeBron James
"All He Does is Lin" starring Jeremy Lin and the New York Knicks
"I Will Never Back Down" starring Blake Griffin
"Can't Wait to Play" starring Bart Scott, the Jets and the Patriots
"Do you believe in Tebow magic?"
Former Denver Bronco Tim Tebow has spent the duration of his career trying to deflect criticism.
ESPN exploded with Tebow talk during the 2011 NFL season. Many of the most stinging comments are featured on this remix in a moving tribute to the new Jet.
The clips of some of the anti-Tebow broadcasters aren't all that smoothly integrated, but that is more than made up for by the big, hearty bass-heavy beat.
This is one of the most thematically cohesive songs Porter has put together.
"If you don't like me as a man, I'm going to make you my girlfriend."
DJ Steve Porter first earned a name for himself with his mashup of angry sports press conferences, entitled "Press Hop."
The sequel isn't quite as effective as the original, but is an entertaining mix nonetheless.
Tiger Woods, Manny Ramirez and LeBron James speak their minds to a pulsing beat.
As an excellent bonus, Porter adds a clip of Michelle Beadle dancing. There isn't a chorus and this remix is less of a self-contained song and more of a playful rambling.
"Supposed to be the dream team."
Vince Young made a terrible mistake in announcing the 2011 Philadelphia Eagles as the dream team of the NFL.
As the backup quarterback, he couldn't do much to right their season once it began to sink.
Neither Young nor Philly fans will enjoy this remix as much as the rest of us.
A solid beat backs one of Porter's smoother remixes. This is not the most quotable one he's done though, as there aren't a ton of funny lines.
The simple, straightforward chorus is catchy.
"Find me a bust: JaMarcus Russell."
Watching the NFL draft has never been so exhilarating.
Reminisce about Mike Ditka wearing Ricky Williams-style dreadlocks and watch as the Jets fans make their annual mark on the event.
Chris Berman, Deion Sanders and Mel Kiper are spotlighted with some choice lines.
An understated beat is aided by some draft jokes at the expense of guys like Ryan Leaf.
"This is what it feels like."
A collection of Ray Lewis quotes is paired with some fantastic clips of him hitting people.
Like Ray Lewis, the beat is aggressive and enthralling.
A chorus of "What time is it? Game time!" is likely to stay in your head longer than you'd like.
As a whole, the remix feels epic, the way that NFL Films has the power to transform a mediocre Browns vs. Cardinals game into dramatic theater.
"I don't shine shoes, I don't tape ankles, I don't cut checks."
Few NFL players have been as fun to quote as Randy Moss.
Rooting for the teams he's been on has been a different story. The unpredictable, eternally immature Moss made it easy for DJ Steve Porter.
From "Straight cash homey" to "Pull your 84 jerseys back out," there are a wealth of lines to work with.
What holds this back from being as great as it could have been is that some of the lines aren't as seamlessly fused into the song as they are with others. The Patriots team clap should have been used more as well.
"He's a trampoline, two scoops of ice cream."
College basketball dunks, Dick Vitale and DJ Steve Porter's deft touch make for a head-bobbing experience.
The clips would be great with even a vanilla song, but Porter's remix here is groovy and infectious.
The brevity of most of the quotes helps keep the song cohesive. It's well-paced, with every beat and every moment utilized well.
Of course, it doesn't hurt to feature one of sports' most well-liked personalities in Vitale.
"That's my quarterback."
Before DJ Steve Porter had a mainstream audience, before he had the benefit of ESPN-level production, he produced a strikingly original piece of art.
Splicing together infamous press conference quotes, he made a surprisingly catchy song.
Allen Iverson is the main star, his anti-practice rant getting the bulk of Porter's attention.
Dennis Green and Jim Mora throw in their well-known outbursts for a rich experience.
"Supernatural speed."
Forget being a YouTube sensation, this remix could find a home in the clubs.
A throbbing beat that Lil' Wayne would love to jump on backs Usain Bolt's soundbites.
The real star of the mashup is a Jamaican man who was interviewed about Bolt. He provided some of the meatiest lines that Porter uses here.
The island feel of the beat elevates the song as well.
"I love me some me."
Two of the loudest and brashest wide receivers to ever play in the NFL are featured in DJ Steve Porter's greatest triumph yet.
There is no wasted quote or motion. Even the sound of Terrell Owens and Chad Ochocinco chomping on popcorn is turned into an instrument.
The chorus is the star of this song; it's catchy and fun.
Check out most of T.O. and Ochocinco's antics as a marvelous beat rolls in the background.