Mayweather vs. Cotto: Most Likely Opponents for Money Following Big Win
May 6, 2012

Al Bello/Getty Images
Floyd Mayweather defeated Miguel Cotto with relative ease to win the WBA Light Middleweight title. The question on everyone's mind now, of course, is simple.
What's next?
Well, what's next after his 90-day jail sentence in June, of course. 
The man everyone wants Mayweather to match up with next is Manny Pacquiao, who first has a date with Timothy Bradley on June 9. But there are some other options out there for Money.
Let's take a look at potential options.
Manny Pacquiao
Everyone wants it, but no one is going to get it. 
Mayweather wants Pacquiao to "take the test."
Pacquiao and his camp have stated he will take it some time before a fight, but that's not good enough for Money.
Mayweather hates Bob Arum.
Everyone hates Bob Arum.
No one can agree on a 50-50 money split.
Blah. Blah. Blah. We've all heard the reasons about why this fight will never happen. In all truthfulness, both sides have made excuses and most of them have been weak ones.
Both sides would make about $1 billion, but they will both keep making excuses. This fight, unfortunately, isn't going to happen. 
Timothy Bradley
Pacquiao and Mayweather have fought a lot of the same opponents, so it would make sense if Money took on Desert Storm after Pac-Man does in June.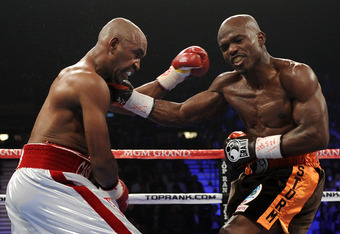 Harry How/Getty Images
Win or lose, this fight could very well happen, even though it would mean Money moving back down to welterweight once again, but the odds would be much higher if Bradley somehow manages to knock off Pac-Man.
And what a fight that would be.
Mayweather would come in at 43-0 and Bradley would come in at 29-0 fresh off a win over the pound-for-pound king.
Yes, please. 
Saul Alvarez
Fresh off a win over Shane Mosley, the 21-year-old Canelo might just be ready for the big time.
Like, the big, big time.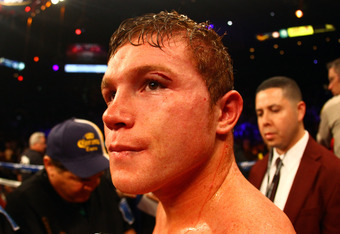 Al Bello/Getty Images
He certainly hasn't faced the competition of a Floyd Mayweather, but a 40-0-1 record speaks for itself. Alvarez is young, he's hungry, he's aggressive, he's fast, he would come after Mayweather with a reckless abandon, and most importantly, he's a red-head.
At the very least it would be entertaining. Also, he's currently fighting at the light middleweight class, so Mayweather wouldn't have to change classes yet again.