Mayweather vs. Cotto Results: Money's Win Shows Pacquiao Is Only Worthy Foe
May 6, 2012

Al Bello/Getty Images
Floyd Mayweather Jr. said it himself in a post-fight conversation on Saturday night.
Miguel Cotto was the last of the Mohicans, the last of the great fighters left within his domain.
Well...sort of.
Manny Pacquiao's still out there somewhere, promoting his June 9th bout with Timothy Bradley that's set to occupy the very same MGM Grand Garden Arena in which Money May made Junito look like some swingin' chump off the street.
Or feel like one, anyway. Cotto didn't even stick around long enough to grant an interview to Larry Merchant after ceding his WBA junior middleweight belt.  With the way Mayweather battered him in the ring, it's not exactly a stretch to think that Junito's ego was bruised more than just a bit along the way.
That left Cotto with three defeats on his resume—one to Antonio Margarito (albeit with loaded wraps) and one to Pacquiao and one to Mayweather—though only the latter two were particularly convincing in hindsight.
And if Pac-Man and Money May are the only two men to have ever made Junito to look overmatched (without the aid of an asterisk), then doesn't it stand to reason that they'd settle it themselves?
Of course, no boxing fan, regardless of devotion, needed to see Saturday's result to come to that conclusion.
Unfortunately, it may take Mayweather and Pacquiao as the last of the Mohicans themselves to get them in the ring together. Money May's people (i.e. Mayweather) say that Pac-Man's people (i.e. Bob Arum) are playing dirty, that they don't want to subject Pacquiao to random, Olympic-style drug testing.
Essentially, that the Filipino phenom is hiding something.
On the other hand, the folks at Top Rank are none too pleased with Mayweather's presumed insistence on an uneven split of the money from what would probably be the most profitable boxing match of all time.
The gripes have lent both sides license to accuse the other of ducking the fight out of fear as much as losing and damaging the fighter's "brand" due the resulting small smear on the record.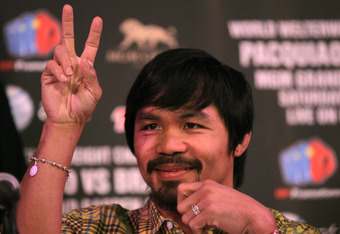 Stephen Dunn/Getty Images
In any case, any movement between these two camps will have to wait until Mayweather is out of jail and Pacquiao is sufficiently healed from his upcoming fight with Bradley. Both are still young enough to postpone what is both inevitable and impossible, but for how long? Pacquiao will turn 34 in December, Mayweather 36 next winter.
Any more posturing and the only Mohicans left for these two to fight will be the regrets over what could've and should've been.
And Daniel Day-Lewis.