Chicago Bulls: How One Indecisive Moment Has Come Back to Haunt Them
May 6, 2012

Drew Hallowell/Getty Images
If you look at the Chicago Bulls roster on paper, it is pretty intimidating to see who they have shoring up their frontcourt: Joakim Noah, Carlos Boozer, Omer Asik and Taj Gibson.
This grouping gives the Bulls so many offensive and defensive options that is no wonder that they were top in the league in both overall and offensive rebounding.
It's no surprise that they have been so productive; they have more experience playing with each other since all four were the exact same frontcourt personnel from last year with the exception of Kurt Thomas.
As benign as it seems that Kurt Thomas is only one of three players not kept from last season's Eastern Conference Finals team, the failure to fill his roster spot has come back to haunt the Bulls in a major way.
Joakim Noah, Chicago's starting center, rolled his ankle stepping on Andre Igoudala's foot during a fast break in the third quarter of Game 3. He went down with a look that Chicago fans did not want to see as it mirrored that of Derrick Rose when he tore his ACL in Game 1.
Now, the Chicago Bulls are down a leader and scorer in Rose and their emotional leader Noah is doubtful for Game 4 according to ESPN.com.
Winning the second contest in Philadelphia is crucial if the Bulls want to keep their hopes of advancing the playoffs alive, but that task has gone from uphill to near vertical ascent now that Noah has also gone down.
More than his energy and hustle will be missed; without Noah, the Bulls are now playing shorthanded at positions where they usually have the advantage.
There's no question that Omer Asik will get the start at the center position, but he has averaged only 15 minutes per game this year.
This sudden onset of playing huge minutes may have an adverse effect on Asik and really impact his ability to effectively contribute.
That strain will spill over into probably playing Taj Gibson a little at the center spot as well, but since that's not his usual role, his effectiveness playing in the middle is also questionable.
Fan-favorite Brian Scalabrine may also get some floor time, but he's played so sparingly that it is hard to even develop expectations for him.
Having a third center, a la Kurt Thomas from a year ago, would have really helped in stemming the hemorrhaging that the Bulls are suffering right now.
It's not like the Bulls didn't know how useful a third string big man would be.
They were one of quite a few teams courting veteran Joel Pryzbilla until he decided to resign with the Portland Trailblazers, for whom Kurt Thomas also plays for, ironically.
Chicago may have continued to push for a third center had Rose not started getting hit with recurring injuries. That unfortunate chain of events is probably what led them to lock up veteran guard Mike James for the rest of the season.
But now, the Bulls are feeling the pinch of not acting on that early season inkling that they would need more than two centers on their roster.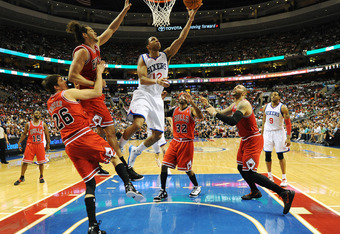 Drew Hallowell/Getty Images
It is easy to look at this Noah situation and then back on the management's lack of action after Pryzbilla went to the Blazers and claim that this is just a "hindsight is always 20/20" moment. Even though that notion holds some weight, it's still a non-choice that the Bulls front office is sorry they never made. 
Now head Coach Tom Thibodeau has to get very creative with his rotation and minutes management.
Thibs is the kind of guy who really relies on rhythm and routine for player substitutions, but missing two of his top three players is definitely going to force him to rethink how the Bulls play Game 4.
And given the importance of the Bulls' next playoff contest, Thibodeau is going to have think way outside of his box to come up with a winning game plan.
When it comes to consequences, they are very easy to spot with there is a definite action that precedes them, but consequences from inaction are much harder to recognize.
The Bulls brass had a gut feeling that another center was needed, but they ignored it after they failed to land the one guy they actively pursued.
Now the hole they find themselves in has become much deeper because of it.