Chicago White Sox: Adam Dunn Is Producing for the South Side
May 6, 2012

Leon Halip/Getty Images
White Sox designated hitter Adam Dunn is producing at the plate in 2012. Even the fans who chided him for his horrendous 2011 season have to see it.
Make no mistake. I was one of those fans who took Dunn to task often throughout his first season on the South Side. That's why I have to give props where they are due.
Dunn's ninth-inning homer off Jose Valverde did more than help win a huge game in Detroit Saturday afternoon. It cast a spotlight on what has been the return of a potent bat to a player who seemed to lose his power overnight.
The White Sox turned the tables on the Tigers with the 3-2 victory, snatching victory from the jaws of defeat in similar fashion to Detroit's win the night before. With one out in the top of the ninth, Dunn crushed his eighth home run to deep right to provide his team with the winning margin.
Chicago picked up a homer from Paul Konerko in the seventh to start the comeback, picking up a game on both the Tigers and the Indians in the AL Central. They trail Cleveland by two games going into the series finale Sunday at Comerica Park.
Dunn was 2-for-4 on the afternoon, raising his batting average to .250. While some may continue to scoff, the fact is that Dunn is not a .300 hitter. What the White Sox paid for in the winter of 2010 is run production. Right now, that's exactly what Dunn is generating.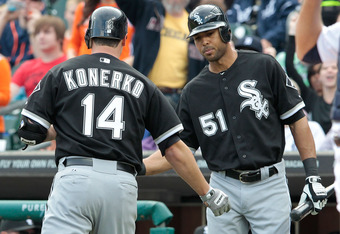 Leon Halip/Getty Images
Dunn is currently in the top ten in the major leagues in both homers and RBI with 22 runs knocked in. Yes, he's striking out a lot, but he's also driving in runs. With 19 walks and a .376 on-base percentage, it's hard to say he's not earning his keep.
Dunn did not hit his eighth home run last season until July 4. He had just 11 dingers and 42 RBI for all of 2011. In 2012, Dunn is on pace for a 40-homer, 100-RBI season.
Can Dunn continue to have success at the dish? On one hand, it may be tough to predict that he'll maintain his pace.
On the other...what was it we kept saying all summer? "Geez, he can't be this bad all season, can he?"
Maybe it works in reverse.