Mayweather vs Cotto Results: Live Round by Round Results and Reaction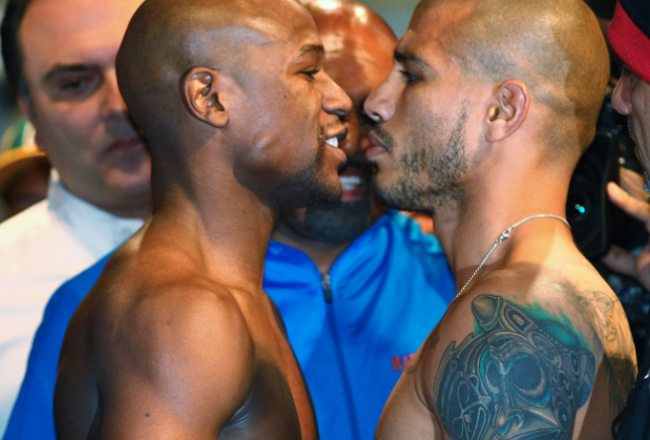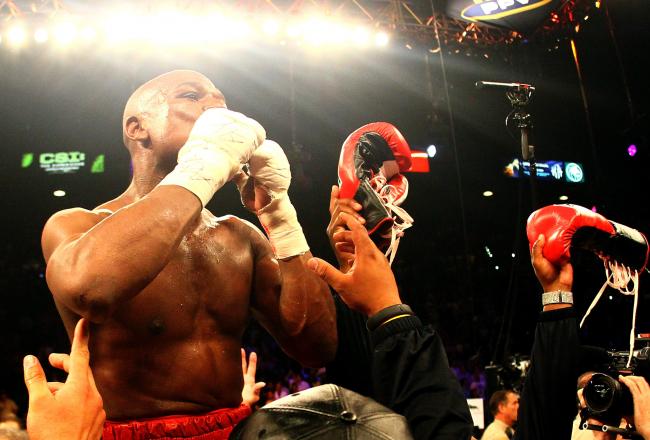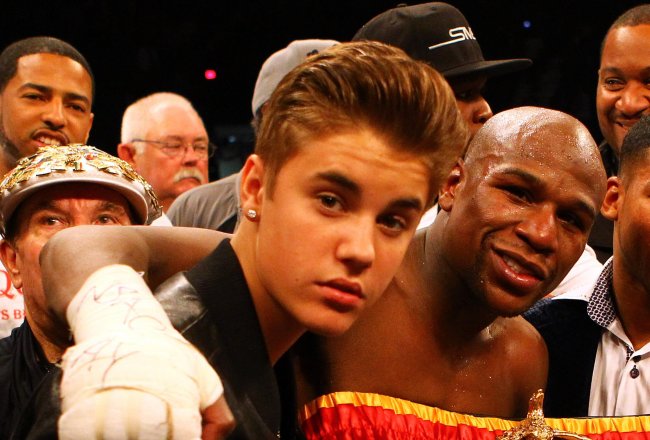 Mayweather with the Biebs.
Al Bello/Getty Images
Everyone came away pretty pleased. Everyone except Miguel Cotto, who left the ring very angry and disappointed. Fans, however, got a chance to see some very different sides of Floyd Mayweather, a bloody, swelled side from the torrent of punches he absorbed from Cotto. A side that sometimes was missing in previous fights, a side of Mayweather that attempted to put his foot down and stop an opponent late.
There was, additionally, an affable, approachable side of Mayweather. A public apologetic boundary Mayweather crossed towards HBO commentator Larry Merchant, because of their last awkward meeting in the ring. The public also received a rare glimpse of playful "Pretty Boy," pulling off a surprise visit to HBO's Jim Lampley and Emanuel Steward.
"Tonight we gave the fans what they wanted to see," Mayweather said. "We matched the best with the best. Cotto was a very tough competitor and he won some rounds. He pushed me to the limits and this is what it's all about. Miguel Cotto fought his ass off tonight and I want to congratulate him and his team."
Overall, it was an excellent show. Mayweather outpunched Cotto, 179 to 105, making great strategical adjustments when Cotto began crowding Mayweather against the ropes in the middle rounds. There were some tense times for Mayweather, times when he was pressed and found answers with certain punches.
"I sensed that sometimes Miguel was breaking down and then he would come back sharp. Miguel Cotto is in shape," Mayweather said. "The right hook and the uppercut were working for me tonight. I had watched tapes of Shane Mosley [when he fought Cotto] and I saw that the right hook was working. And I also watch Zab Judah use the uppercut against him too. So I knew I was going to use those shots tonight. I knew the right hook was going to be my money shot. A lot of times and these days you don't see fighters using the right hook, only the left. But tonight I wanted to use the right hook and that is what I did."
Mayweather also answered past critics that he never closes strong.
"Tonight I got a few bumps and bruises, but that is part of the sport," he said. "I could have made it a very easy fight, but I was going for the knockout. Cotto was in tremendous shape. He was tough. Our game plan is always to win. Cotto surprised me and his record reflects where he is today. It's about winning and that's what I did. I'm not going to fold to pressure. Cotto can keep his head high as we are both winners tonight in our own way."
Follow Joseph Santoliquito on twitter @JSantoliquito.
.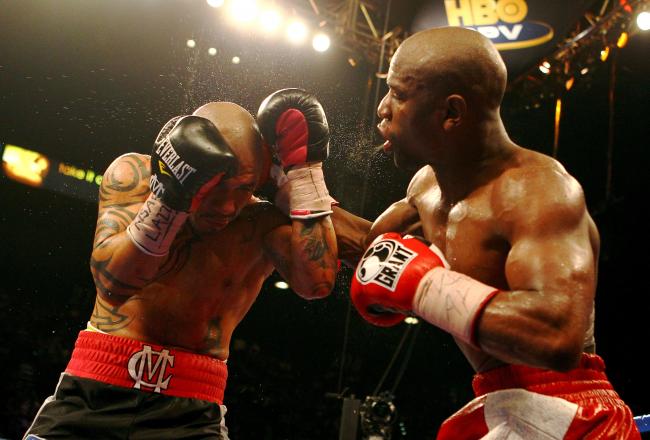 Mayweather wins: Judges Dave Moretti and Patricia Morse Jarman both had it 117-111 and Robert Hoyle 118-110. All for Mayweather.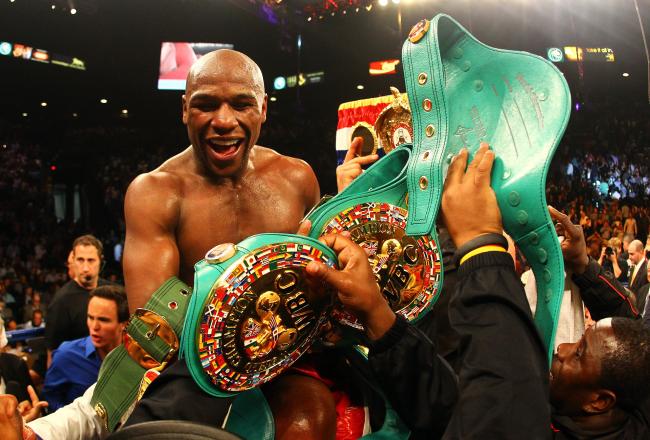 Mayweather-Cotto Round 12: Mayweather closing very strong-MAYWEATHER LANDS HUGE LEFT UPPERCUT THAT wobbles Cotto. Mayweather closing the show with the intention of stopping Cotto. Mayweather making a statement in this last round. Mayweather closes strong.
Mayweather round: 10-9 (Mayweather wins the fight: 116-112)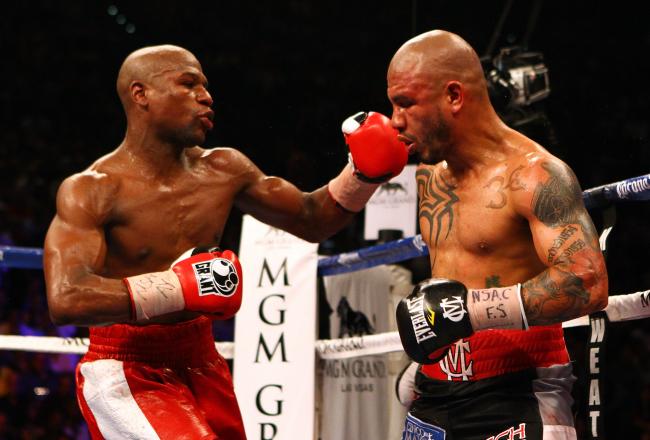 Mayweather-Cotto Round 11: Mayweather back on top-more active, showing great stamina in coming back from Cotto's charges. Mayweather landed a few more punches, and Cotto begins falling off.
Mayweather round: 10-9 (Mayweather: 106-103)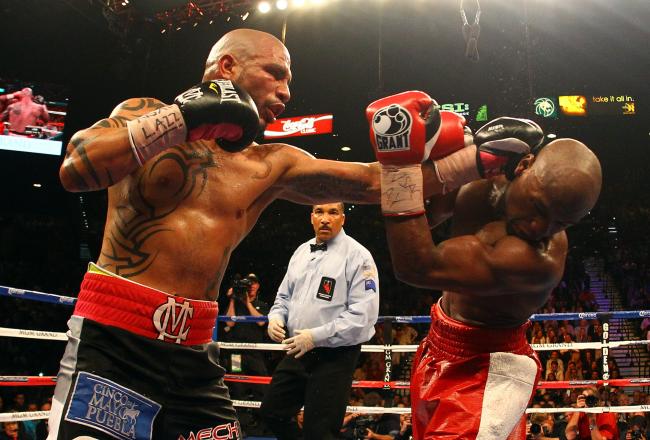 Mayweather-Cotto Round 10: Cotto may have stole this round. He came on late and did a little more than Mayweather to win the round.
Cotto Round: 10-9 (Mayweather: 96-94)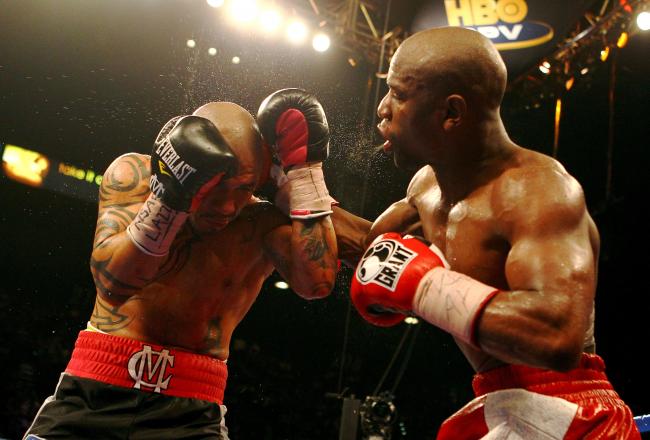 Mayweather-Cotto Round 9: Cotto takes the round off, or so it seems. Mayweather lands more punches. Cotto not as active as the previous three rounds. Mayweather, more importantly, is back into a rhythm.
Mayweather's round: 10-9 (Mayweather: 87-84)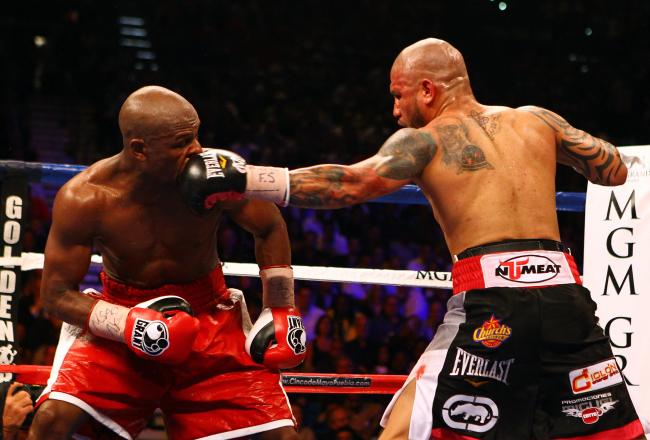 Mayweather-Cotto Round 8: Could arguably be Mayweather's most difficult round as a professional. Cotto is closing in and landing at will against Mayweather. He's hitting Mayweather to the body. Cotto's third-straight winning round. It's become very interesting.
Cotto's round: 10-9 (Mayweather: 77-75)
Mayweather-Cotto Round 7: Cotto's connecting again-Cotto is beginning to make this competitive. Cotto may have stolen this round with a late flurry. Cotto is coming on--the sway of this fight is starting to swing to Cotto.
Cotto round: 10-9 (Mayweather: 68-64)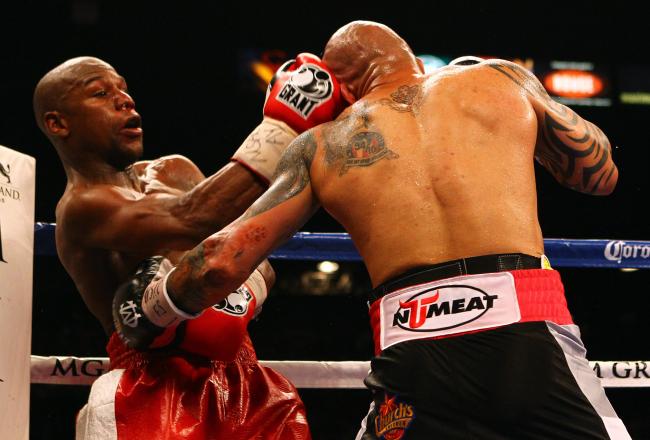 Mayweather-Cotto Round 6: Cotto's best round. Cotto is forcing Mayweather against the ropes and landing. Mayweather may be shaking his head-but he's been also taking some shots.
Cotto round: 10-9 (Mayweather winning: 59-54)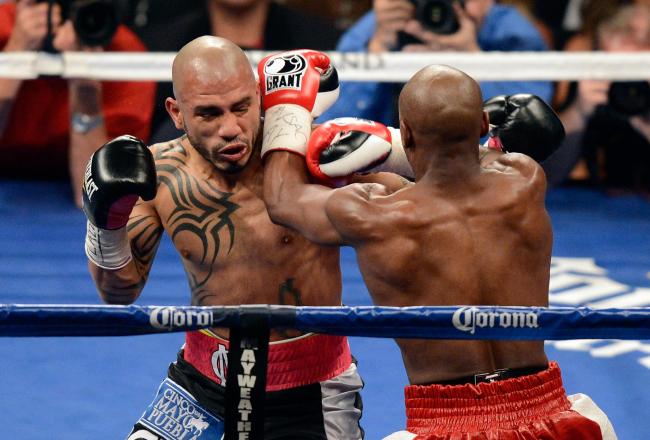 Mayweather-Cotto Round 5: Cotto very competitive round-but Cotto not doing much, though it seems Mayweather is connecting here and there.
Mayweather round: 10-9 (Mayweather: 50-45)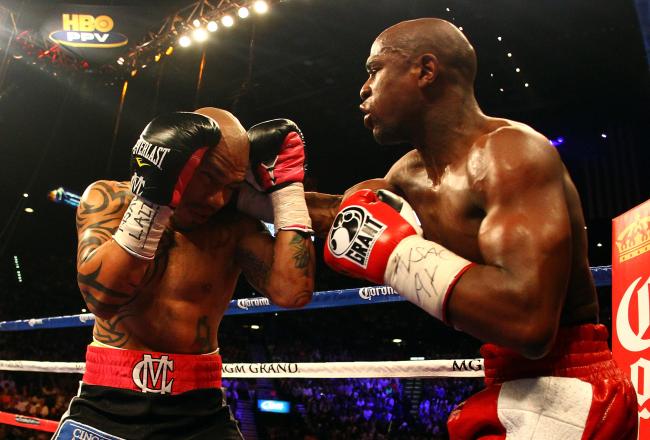 Mayweather-Cotto Round 4: Mayweather using his shoulder roll very effectively. Mayweather surprisingly has landed 40 of 97 power shots for 41-percent after four rounds.
Mayweather round: 10-9 (Mayweather: 40-36)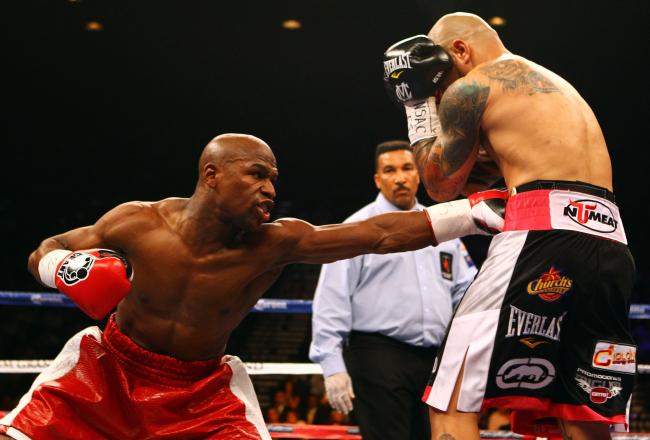 Mayweather-Cotto Round 3: Cotto lands right to the body, but that's opened Cotto to Mayweather's counter right--and it's accurate and lands. Mayweather's defense too hard to penetrate right now.
Mayweather round: 10-9 (Mayweather: 30-27)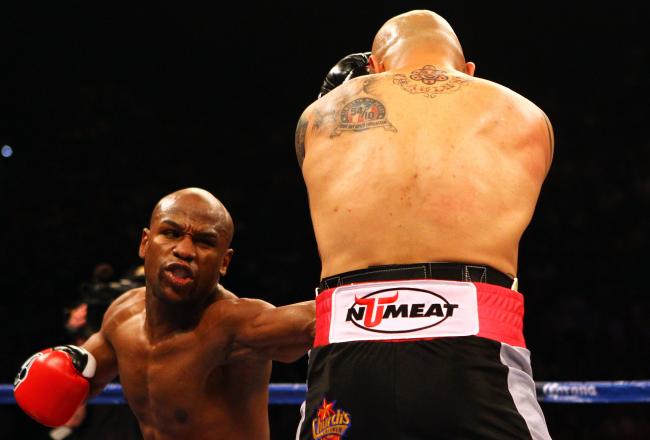 Mayweather-Cotto Round 2: Mayweather goes up 2-0, but Cotto trying to muscle Mayweather up against the ropes. The Mayweather shoulder roll still very effective making his body much tougher for Cotto to land the body punch.
Mayweather round: 10-9 (Mayweather: 20-18)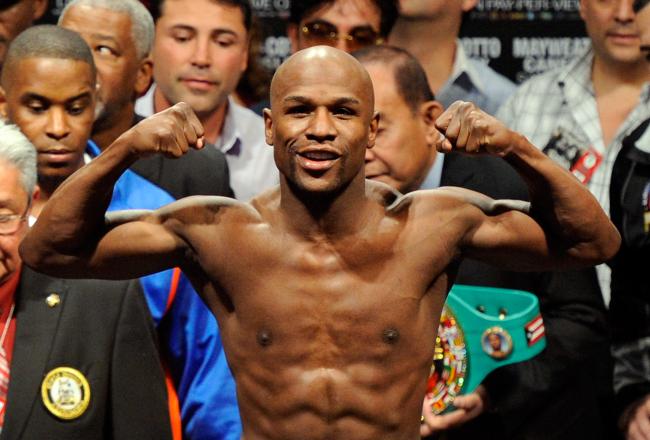 Mayweather-Cotto Round 1: Interesting that they're using 10-ounce gloves for this fight. Floyd looks good at 154, able to glide in and out. Cotto looks dry and a little zapped. Mayweather poking at Cotto, who isn't much of anything. Cotto cutting off the ring, Cotto tapped Mayweather with a few punches. Neither fighter did much-Mayweather did a little more.
Mayweather round: 10-9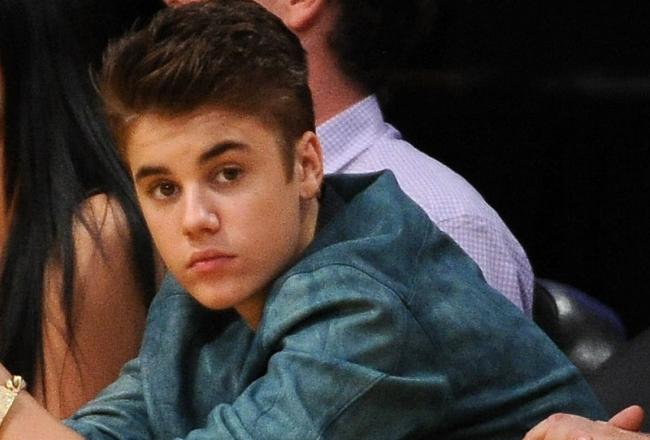 Mayweather entrance: How about Mayweather entering the ring with the Biebs-Justin Bieber. Biebs getting street cred points for coming into the ring with Mayweather. What a trio-Triple-H, Biebs, and 50-Cent. What doesn't belong here?? And isn't it past the Biebs bedtime?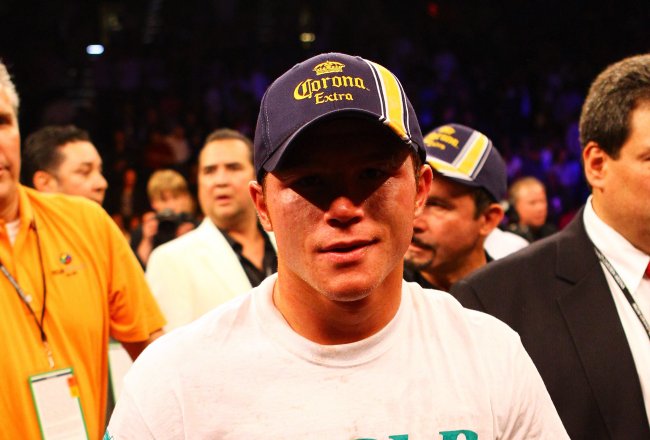 Canelo won rather easily.
Al Bello/Getty Images
Alvarez-Mosley Rounds 10-12: This was no surprise. Alvarez looked strong, taking off the eighth round. We'd like to think this is going to be Shane Mosley's last fight, but, regrettably, this probably won't be. Alvarez did was what expected, battling a veteran like Mosley. Buffer may be able to attach "Great" before describing Mosley.
Bernard Hopkins makes an appearance-Question: DID HOPKINS NEED TWO EXTRA SEATS NEXT TO HIM FOR THE BIG BOBO FRAMES IN HIS GLASSES?
Alvarez wins easily: 119-109 (giving Mosley the eighth round on my card). But the eye test was strong enough for this. Here are the scores: 119-109-118-110-119-109 to the winner by unanimous decision-Canelo Alvarez.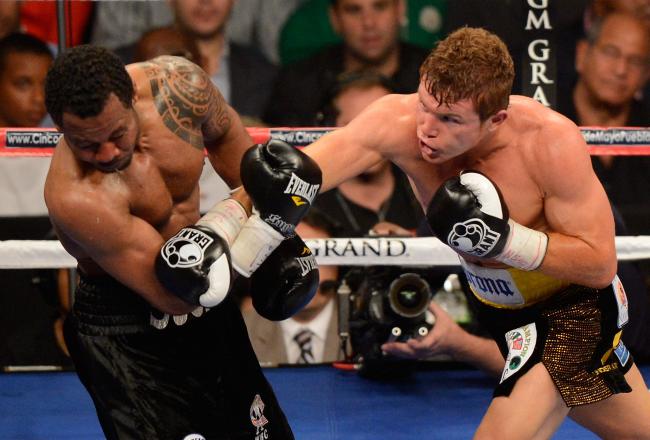 Alvarez-Mosley Round 9: Canelo ripping now shots to the body. We also know everyone loves Shane Mosley--but whatever Lamps-please don't cry over the demise of Sugar Shane. There has to come a time when Richardson realizes this is getting bad.
Alvarez: 89-82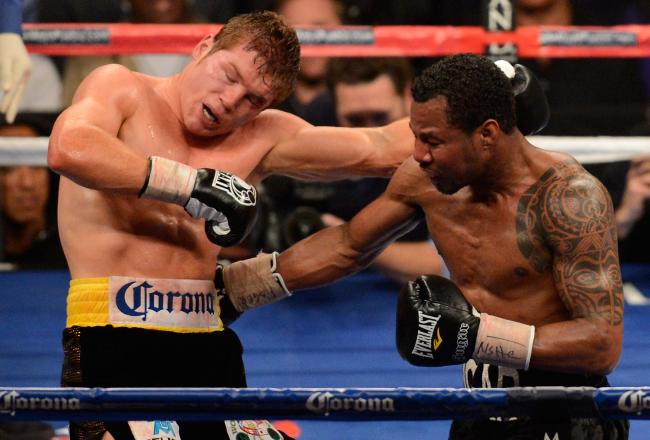 Alvarez-Mosley Round 8: Mosley's best round so far. Shane effective with some pitty-pat, but Mosley looked sprite in that round. Mosley's round 10-9
Alvarez: 79-73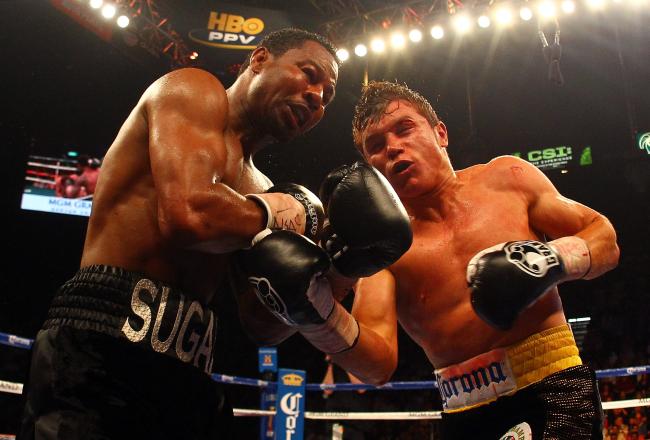 Alvarez-Mosley Round 7: This is starting to get baaaaaaddddddd!!! Mosley's trainer, Naazim Richardson, better start thinking about the amount of punishment his fighter is taking. Richardson is talking to Mosley--is Mosley buying it. He may be thinking more about what the heck am I doing in here with this red-headed monster!!
Alvarez up 70-63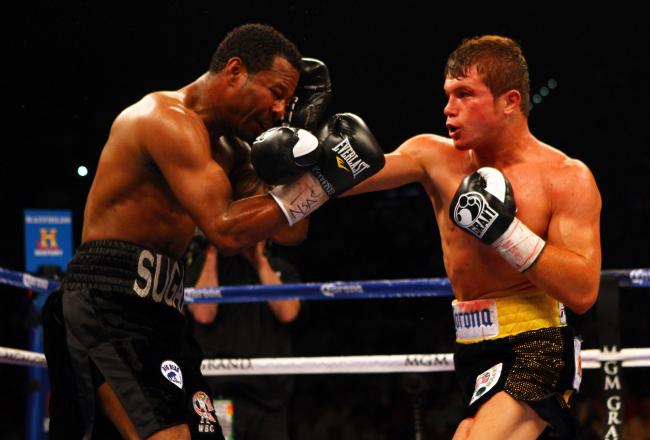 Alvarez-Mosley Rounds 5 & 6: Canelo's three-punch rip in the sixth makes him something special. Alvarez is landing power shots at close to 70-percent--and Mosley may not be able to take much more of this pounding. It's been very lopsided so far. Mosley can't hurt Canelo. The fear is Mosley's courage and stubborness-the qualities that made him so great-could lead to his downfall in this.
Canelo ahead 60-54 after six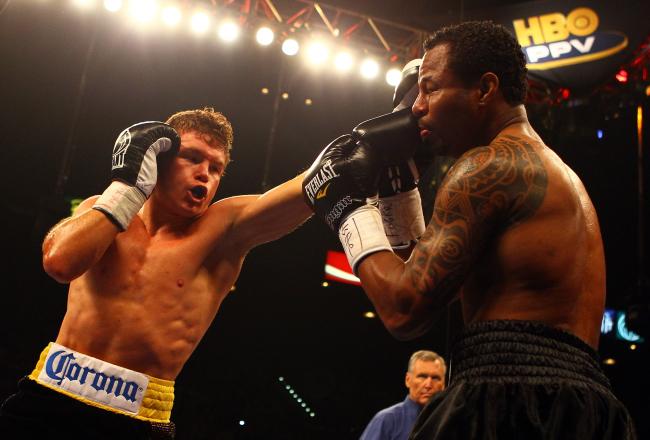 Alvarez-Mosley Rounds 3 & 4: More Canelo pressing his will on the older Mosley. Alvarez experiences the first cut of his career in the third round on an accidental head butt in the third round-no Coco Beware coconut butt. Canelo is landing great punishment to Mosley's body-both rounds Canelo.
Canelo 10-9 third and fourth rounds (Canelo 40-36)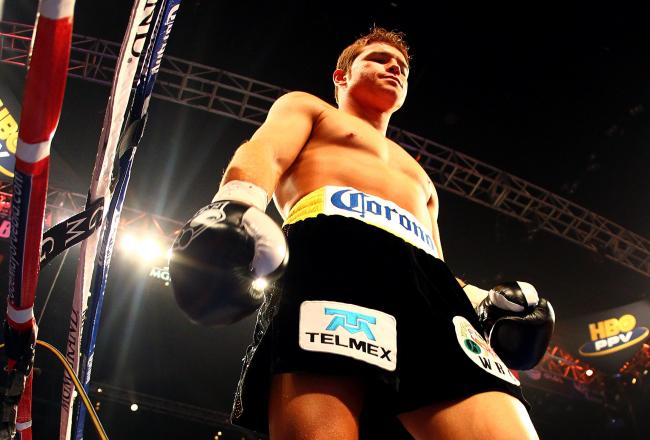 Alvarez-Mosley Round 2: Canelo lands a left to the body and a left hook to the body. Canelo beginning to increase the intensity. It may be a matter of time before Alvarez starts zapping that 40-year-old body of Mosley.
Alvarez round: 10-9 (Canelo up 20-18)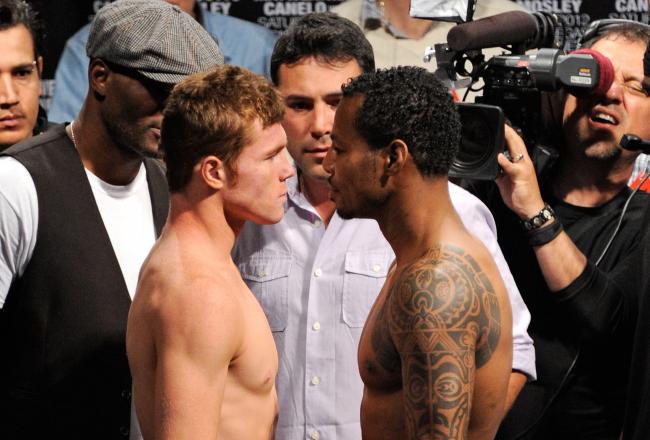 Alvarez-Mosley Round 1: Canelo hasn't done too much here. Canelo going to the body-Mosley seems a little skittish to engage. Mosley also doesn't seem to be putting anything on his punches. Mosley is pitty-patting--Canelo lands left hook that is received with some oohs-and ahhs.
Alvarez round: 10-9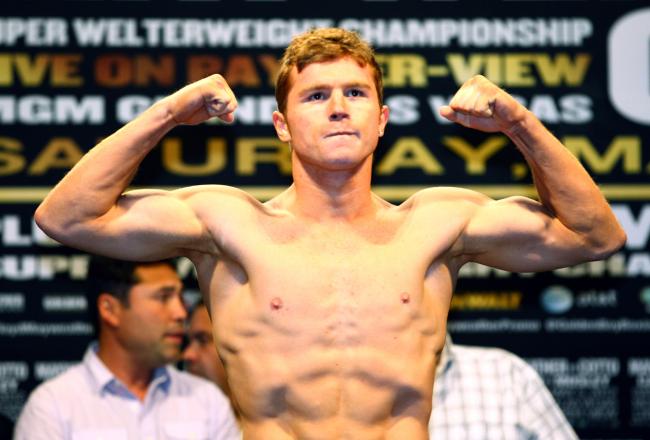 Is it me, or does Canelo Alvarez look like Blake Griffin's Mini-Me? Why is Shane Mosley doing this?? Mosley can love boxing all he wants, this kid is a killer, and will be looking to pound on Mosley's dusty 40-year old bones to prove he belongs on the pantheon of today's best fighters. Right now, Canelo is on the brink of the top 10. Will smashing a shot Mosley prove he belongs among the top-10 pound-for-pound for that. Prediction--you want a prediction-to quote Clubber Lang-PAIN!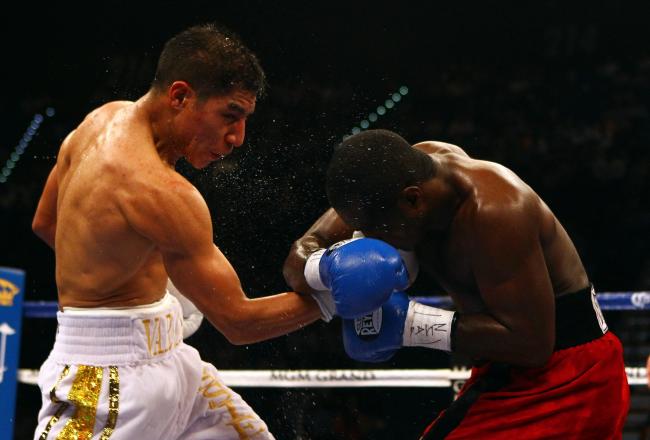 Vargas wins: No real surprise here. Forbes was in here to lose. He landed 152 punches and took an easy unanimous decision. My card had it Vargas up 99-91. Michael Buffer--ya' need to chill pretty man: "One of the all-time greats" in describing Stevie Forbes. Nice guy-yes. Nice fighter-yes. All-time great? Come on Johnny Handsome.
This article is
What is the duplicate article?
Why is this article offensive?
Where is this article plagiarized from?
Why is this article poorly edited?