Mosley vs. Alvarez: What Sugar Shane Needs to Do to Pull Monumental Upset
May 5, 2012

Al Bello/Getty Images
Sugar Shane Mosley is a huge underdog against Saul Alvarez, but that doesn't mean he is just going to lay down against Canelo.
Mosley still thinks he can win another championship belt before his 40-year-old body finally gives out on him. How exactly will he pull off the huge upset and take home the WBC light middleweight title?
Well, besides prayer, prayer and a lot more prayer, Mosley needs to do the following things if he wants shock the world at the MGM Grand in Las Vegas.
Get to the inside of Alvarez
Shane Mosley may be over and near the bottom of the hill, but he continues to stay on his feet. Even against powerful punchers like Manny Pacquiao and Floyd Mayweather, he has gone the distance.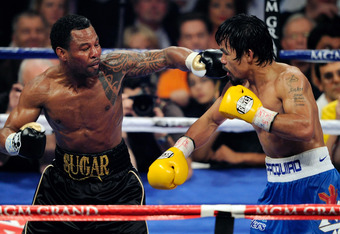 Ethan Miller/Getty Images
In fact, he has never been knocked out in his career. He can afford to get close to Alvarez.
Canelo has some power, but he's pretty much been untested on the inside. Sugar Shane has only a fraction of what he used to have in terms of speed, so he's going to have to test constantly test Canelo's chin.
Shane won't win this one with his defense—his only shot is to get aggressive and score a knockout or knockdown. 
Hey, it could happen.
Slow it down
Mosley needs to get on the inside and he needs to be aggressive, but he can't let things get out of control or speed up. 
Because if he needs to rely on being his old, quick self, then this one is going to be all but over for him. Instead, Sugar Shane must hold up Canelo the best he can and really slow this fight to a snail's face.
Terrible for fans. Smart for Mosley. 
Keep it simple, stupid
This ties in with the first two points, but the 40-year-old Mosley cannot afford to try and put together anything special.
He just needs to use his experience and fight like a true veteran fighter. If he tries to get too crafty, he'll get in trouble. Instead, he must just stay inside and land his punches with ferocity to the body and chin.
Old. Fashioned. Boxing.
ESPN's Diego Morilla further explains this:
"But Mosley needs to stick to the basics and make the most of his best tools rather than improvising and relying on his versatility. The upstairs 1-2, lateral movement, two-fisted attacks on the ropes -- the basics must be there, and only then should Mosley give any consideration to building on that foundation."
Sometimes simple is better.