UFC on FOX 3: Predicting Results for All Main Card Fights
May 6, 2012

Michael Nagle/Getty Images
The UFC on FOX 3 main card isn't heavy on title fights, but it does have some battles that you won't be able to look away from. 
Good enough for me. 
Here's a look at how I think each fight on tonight's main card will play out. 
Pat Barry vs. Lavar Johnson
This is probably the fight I'm most looking forward. Lavar Johnson, who likes to punch holes in people, versus kickboxing master Pat Barry. 
Michael Nagle/Getty Images
No matter what happens, this one is going to be a slobberknocker, and it's going to end in a hurry.
And it's going to be really fun to watch.
All I know is this: I'm not betting against a guy who knocked out Joey Beltran with relative ease in the first round (Knockout of the Night). Johnson has 14 knockouts in 16 wins and he's the younger brother of "The Rock."
I'm sold, although he better be careful with Barry's kicks. 
Prediction: Lavar Johnson knocks out Pat Barry in Round 1
Rousimar Palhares vs. Alan Belcher
Much like we know the first fight will end with a knockout, we know this one is going to end with a submission.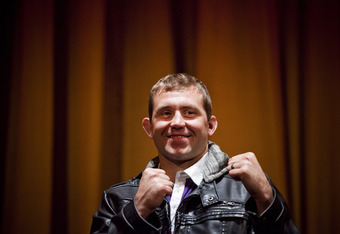 Michael Nagle/Getty Images
The 32-year-old Palhares has 10 submissions in 14 wins and has seen four of his last five wins end with a submission, and that includes his heel hook of Mike Massenzio in just 1:03.
On the other side is Belcher, who is a black belt in Brazilian jiu-jitsu and has eight knockouts and seven submissions. He's certainly comfortable on the ground, but he can also fight standing up and that versatility might help him against Palhares. 
Nonetheless, I like Palhares in this one.
Prediction: Rousimar Palhares submits Alan Belcher in Round 2 via heel hook
Josh Koscheck vs. Johny Hendricks
The No. 4 and No. 5 welterweights square off in this one and sit should be fairly even until the end. 
Koscheck recently lost to Georges St-Pierre, so I think fans would rather see Hendricks, who recently scored a knockout in 12 seconds against Jon Fitch, get the victory.
I think he'll get it.
Prediction: Johny Hendricks defeats Josh Koscheck via unanimous decision
Nate Diaz vs. Jim Miller
Nate Diaz is a good fighter, but he isn't good enough to beat Jim Miller.
Whatever happens, though, this is going to be a good clash of styles. Diaz is a solid boxer and uses jiu-jitsu while Miller is a grappler and goes for the submission.
This one will go the distance, but don't be surprised when Miller controls most of the fight.
Prediction: Jim Miller defeats Nate Diaz via unanimous decision