Kentucky Derby 2012: Horses That Won't Live Up to Hype
May 5, 2012

Matthew Stockman/Getty Images
One of the hardest things for a horse to do is live up to their hype, especially in the Kentucky Derby.
The Derby is one of sports' most prestigious events, and the pressure to succeed is tremendous. The owners feel it, the trainers feel it, the jockeys feel it, and I have no doubts that the horses can somehow feel it.
There are a few horses in the 2012 version of the race that have some pretty good odds coming into the race, but they aren't going to be able to live up to their hype.
It's not the fact that these horses aren't good enough, it's just that you never really do know what's going to happen.
The oddsmakers can only be so accurate with their morning lines and pre-race odds. It's all about past performances, intangibles, pedigree and measurables.
There's something about the Kentucky Derby that is hard to measure though. Like I said, you just never know.
The favorite to win right now is Union Rags. He's a great looking horse and he's trained by Michael Matz, who was the trainer for Barbaro when he won in 2006. While I do think having an experienced trainer who dealt with such an excellent horse like Barbaro gives Union Rags an advantage, I really do wonder if that team is going to be able to live up to the hype.
When all is said and done, I don't see Union Rags putting up the No. 1 performance many are hoping for. He'll get in the top three, but we won't see a winner there.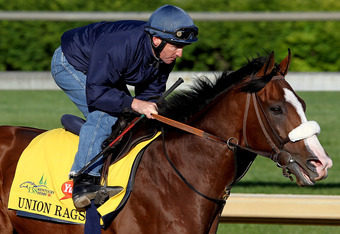 Matthew Stockman/Getty Images
The other horse a lot of people are looking at is Bodemeister, who is currently a 6-1 favorite. The problem with this horse though is that there are a number of early chargers in this race that want to get ahead and set the pace. If Bodemeister wants to stick with them in the beginning, he may not have that final push at the end.
There are a ton of very fast horses in this race, so speed alone wont sent Bodemeister apart. Also, consider the fact that he never raced as a two-year-old.
These are two of the biggest names in the race, but I don't see them having the success that their teams want for them, and that's the No. 1 spot.