25 Wackiest College Football Stadium Names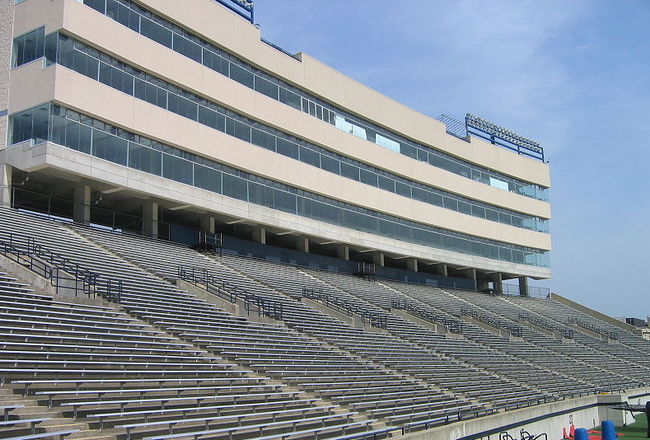 Let's face it, most college football stadiums have pretty boring names. They're named after famous coaches, wealthy donors, famous alumni or corporations.
And then there's the ultimate cop-out: Memorial Stadium. There's five stadiums in the FBS alone with that name.
But these are the stadiums whose names and back-stories are worthy of attention. Some of them are ironic, while others are just plain goofy.
What are they? Read on.
Alamodome, UT San Antionio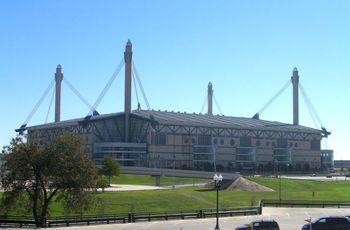 The Battle of the Alamo is a huge part of San Antonio and American history. But remembering my history, I have just one question for UT San Antonio, one of college football's newest FBS teams:
Didn't the Texans defending the Alamo get slaughtered? Sure, they put up a valiant fight, but still...
Waldo Stadium, Western Michigan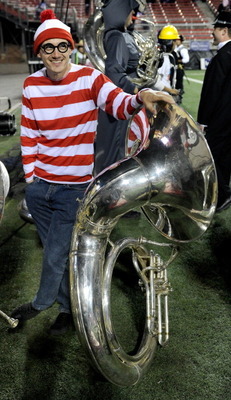 Where's Waldo?
Well, in Kalamazoo, Michigan.
Obviously.
Sure, the stadium is named after the first Western Michigan University President, Dwight B. Waldo, but I'm sure that's not the first thing that you think of when you hear about "Waldo Stadium."
And besides, looking for the random student dressed as Waldo at Waldo Stadium is enough to bring back those childhood memories.
Cajun Field, University of Louisiana-Lafayette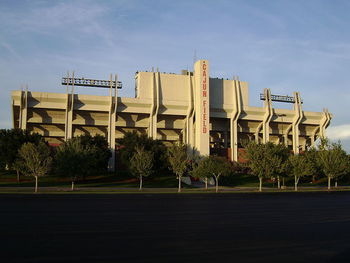 You know what I think of when I hear the words, "Cajun Field?" I envision a bunch of Cajuns cooking up some crawfish, and some jambalaya, and gumbo...
The second thing I think of is why I'm not over at Cajun Field enjoying all of that wonderful Louisiana food.
And yes, the locals call it "The Swamp," but there's only one true "The Swamp" in college football—and that belongs to Florida...
Bright House Networks Stadium, Central Florida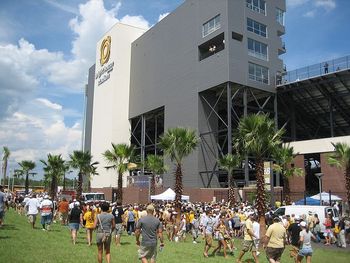 Although the real name of this stadium is a bit boring (a stadium named after a cable company? Yawn.), the nicknames of this stadium put it on this list.
For this stadium is also known as the "Bouncy House" or the "Trampoline." That's because the upper decks are notorious for bouncing as the fans jump up and down to Zombie Nation.
Sounds like a fun time to me!
Romney Stadium, Utah State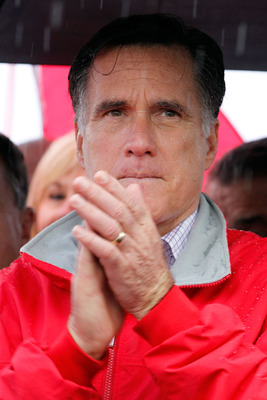 Tyler Barrick/Getty Images
This stadium's name takes on new meaning as Mitt Romney runs for the U.S. Presidency.
No, this stadium wasn't named after Mitt. It was named after Dick Romney, one of Utah State's most successful head coaches.
Still, isn't this a logical place for Mitt Romney to stop and catch a game while taking a short break from campaigning?
Sun Devil Stadium, Arizona State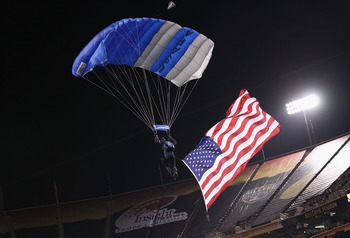 Christian Petersen/Getty Images
I don't know, but what makes you want to watch a game in a place named for Sun Devils? I mean, doesn't that just sound, well, hot?
Sure, Sun Devil is the appropriate name as that's the nickname of Arizona State. But I don't know how appealing sitting with a bunch of Sun Devils sounds to me...
Its nickname as the "House of Heat" doesn't sound too inviting, either. Maybe that's the point...
Dowdy-Ficklen Stadium, East Carolina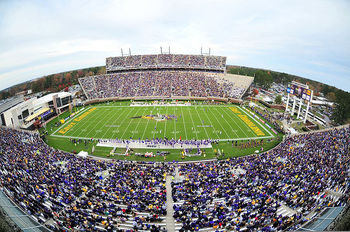 As cool as ECU's Dowdy-Ficklen Stadium appears, its name suggests other things.
When you look up "dowdy" in the dictionary, it means an unfashionable person without style.
Sure, your average pirate back in the day probably wasn't the most fashionable person around, but do the Pirates want to put that in their name?
OK, this stadium has the Dowdy name because Ronald and Mary Ellen Dowdy gave $1 million to the school in 1994. But still...
Heinz Field, Pitt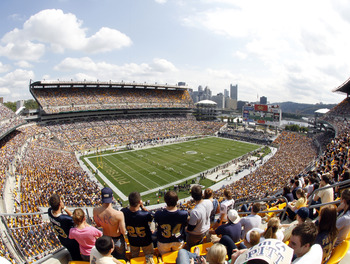 Justin K. Aller/Getty Images
I get that a lot of stadiums have needed to resort to naming their stadium after businesses to get the money to built those stadiums.
But naming your stadium after ketchup giant Heinz?
Well, I guess that's what you can put on your hot dogs as you watch Pitt do their thing.
Jim Wacker Field at Bobcat Stadium, Texas State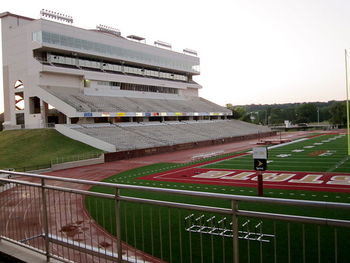 Bobcat Stadium isn't that strange of a name, but the name of the field is just awesome.
Jim Wacker Field.
Jim Wacker is a famous Texas State coach who won two back-to-back Division II National Championships. And you know what Wacker expected his players to do to the opposing team?
Wack them!
Strawberry Stadium, Southeastern Louisiana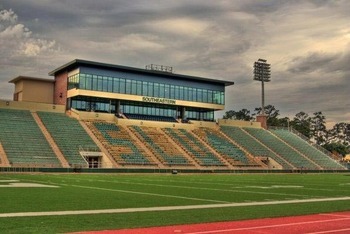 Even Syracuse isn't so bold to name their stadium after a fruit.
Don't get me wrong, I love strawberries. But I've never heard of people playing football in a strawberry field. It's just too...sticky.
Papa John's Cardinal Stadium, Louisville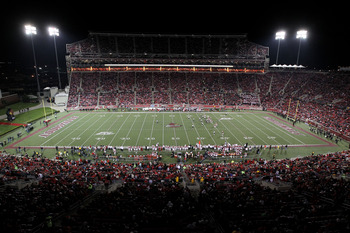 Andy Lyons/Getty Images
Better ingredients. Better football. Louisville Cardinals.
Oh, wait. This stadium isn't a commercial for Louisville football. Cardinal Stadium had to become a giant advertisement for Papa John's Pizza.
And don't get me started on the KFC Yum! basketball arena...
Glass Bowl, Toledo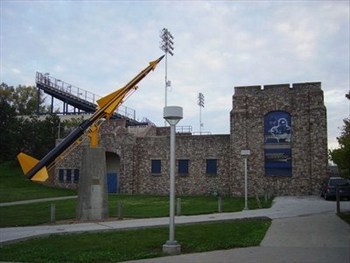 Yes, I get that one of the biggest traditional industries of Toledo is glass, and giving the stadium the name of "Glass Bowl" is a way of paying homage to that.
But doesn't the Glass Bowl seem too fragile for a rough and tumble sport like college football?
Darrell K. Royal Stadium, Texas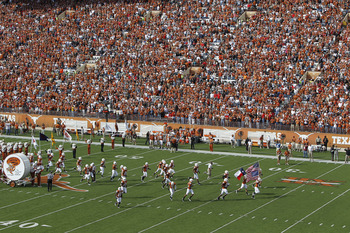 Erich Schlegel/Getty Images
Darrell K. Royal is a name near and dear to the heart of Texas. As a head coach he won three national championships for the Longhorns and had an overall record of 167-47-5. So, there's little surprise that Texas decided to name their stadium after him.
But there's just one thing that makes this name a bit wacky:
Darrel Royal played for Oklahoma from 1946-1949. In 2000, he was inducted into the Oklahoma Sports Hall of Fame.
How about that, Texas? Your stadium is named after a one-time Sooner.
DakotaDome, South Dakota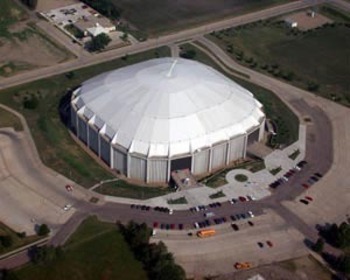 I'll admit, the DakotaDome is exactly what it claims to be: a dome in the middle of the Dakotas.
But I dare you to say DakotaDome three times fast and not burst out laughing.
Legion Field, UAB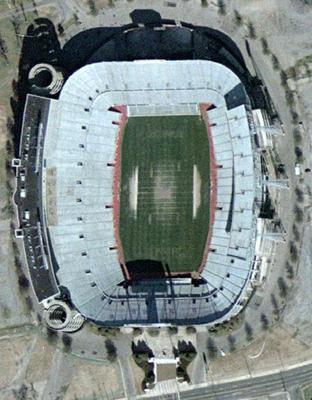 With a name like Legion Field, I can't think of a better place for the zombie apocalypse to start. Besides, the overall rough shape of Legion Field just has an...otherworldly feel to it.
I certainly wouldn't want to get trapped there on Halloween night. Then again, that just might be a great fundraiser for the underfunded UAB athletic department...
Kidd Brewer Stadium, Appalachian State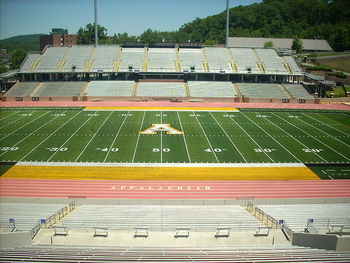 Kidd Brewer sounds more like the name of a prohibition-era bootlegger than a football stadium.
But in this case, truth is stranger than fiction.
Kidd Brewer was one of the Mountaineers' most successful coaches. In 1937, he went undefeated during the regular season and outscored his opponents 206-0. Later in life, he was a secretary to several U.S. senators.
He also served time in 1963 for bid rigging.
Gillette Stadium, UMass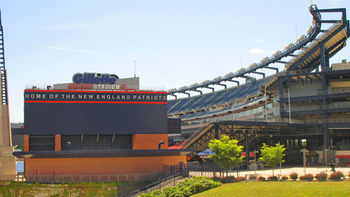 When I envision early American Minutemen, I see men who had to get ready for battle in under a minute.
Of course, that would mean that these men wouldn't have time to shave before running out the door.
So, why is the UMass Minutemen's stadium named after one of the largest razor companies?
Welcome Stadium, Dayton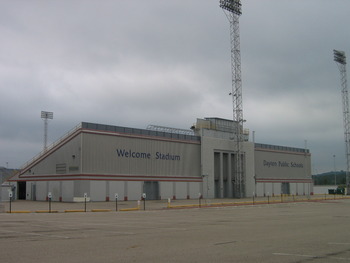 When the opposing team walks into your stadium, you want them to be anything but welcome.
Just ask Hayden Fry. He had the locker rooms at Iowa painted pink just to get into the opposing team's head.
So, while naming your stadium "Welcome Stadium" is mighty neighborly, it just seems a bit too nice of a name for a college football stadium.
Summa Field at Infocision Stadium, Akron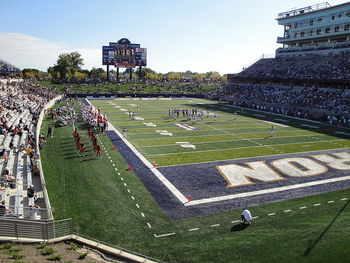 While some stadiums are named after one rich donor or a single company, Akron's home field is named after two.
I guess the Zips are just that much more hard up for cash.
I like the old field's name of "Rubber Bowl" better.
J. Lawrence Walkup Skydome, Northern Arizona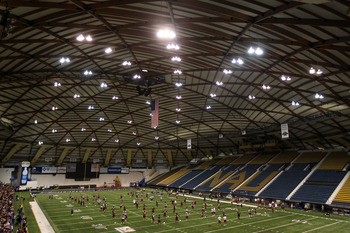 Christian Petersen/Getty Images
This name is a treasure trove for people who like bad puns.
Add a couple of words to the name to this stadium and it would be a sentence. J. Lawrence Walk[ed]up [to the] Skydome.
Carrier Dome, Syracuse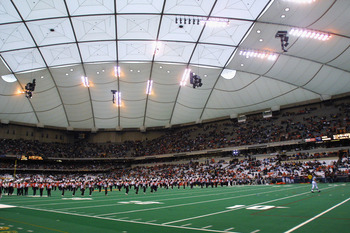 Rick Stewart/Getty Images
Despite being named after Carrier Air Conditioning, the Carrier Dome has no AC.
You'd think that Syracuse would have used some of the money that they got from carrier to put in an air conditioning unit. Or, maybe they could have gotten Carrier to install some ACs as part of their advertising.
It just seems that there was an oversight somewhere along the way.
Kibbie Dome, Idaho
I don't know. The first thing that I think about when I hear the name "Kibby Dome" is Nintendo's Kirby.
But even that pink ball of...whatever Kirby is full of, is more interesting than this football field disguised as an airplane hanger.
Lincoln Financial Field, Temple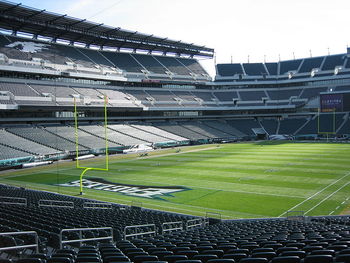 This stadium name combines four things that don't have anything to do with each other.
First, you have Abraham Lincoln, the 16th President of the United States and famous Illinois native. Financial, which I'm sure Lincoln wasn't a financial mind, as he was too busy fighting the Civil War. Then, you have football field.
And last, but not least, you have Temple, which is a public research university in Philadelphia.
What do these things have to do with each other? Just the stadium name, apparently.
Ross-Ade Stadium, Purdue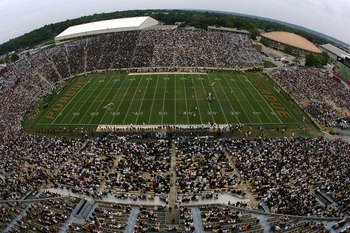 Ronald Martinez/Getty Images
Ross-Ade sounds like a high-class version of Kool-Aid.
You know, I wonder what a high-brow version of Kool-Aid would taste like. Maybe they ought to start selling something like that at Ross-Ade Stadium.
Sounds like money to me.
Autzen Stadium, Oregon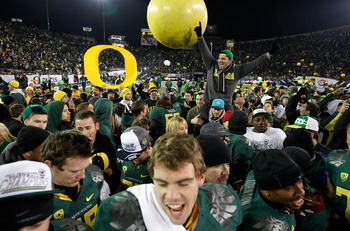 Jonathan Ferrey/Getty Images
You know, Autzen Stadium has an artsy ring to it, which is fitting given Oregon's reputation as college football's fashionistas.
But as fitting as this name seems, the man that this stadium is named after, Thomas J. Autzen, was a Oregon State Alumni.
How now, Ducks?
Keep Reading