Green Bay Packers: Another Promotion Coming for Eliot Wolf
May 6, 2012

Rudyard Kipling once wrote, "For the strength of the Pack is the Wolf, and the strength of the Wolf is the Pack." A pretty apropos statement when it comes to talking about the Green Bay Packers, huh?
The Packers have seen their scouting department getting smaller the past three years with the departures of Lenny McGill to Denver (assistant college scouting director), John Schneider to Seattle (GM), Reggie McKenzie to Oakland (GM) and last week when Shaun Herock was appointed the Raiders' director of college scouting.
That means there were be added responsibility for Eliot Wolf in the front office of the Packers later this month. It is expected that Wolf will take over the role of McKenzie for the Packers, who was the team's director of football operations.
Last June, the Packers promoted Wolf to assistant director of player personnel. Wolf, as most of you know, is the son of Ron Wolf, the former GM of the Packers. Wolf, who is just 30, served the previous three years as assistant director of pro personnel, after spending his first four seasons working as a pro personnel assistant.
Before one can talk about Eliot Wolf, one has to look back at what his father Ron accomplished as GM of the Pack. The Packers were swimming in mediocrity before then President Bob Harlan made a bold move and hired Wolf to lead the football operations of the Packers on 11/27/1991. Wolf's background in the NFL proved to Harlan that he could acquire the talent needed to get the Packers to being an upper-echelon team in the NFL.
Wolf started out in the NFL under Al Davis of the Oakland Raiders in 1963 at age 25, first as a scout and then as a key member of the front office of the Raiders. Wolf helped bring Oakland a number of talented players in the draft, including Gene Upshaw, Art Shell, Ken Stabler and Jack Tatum. All of those players had key roles for the Raiders as Oakland won Super Bowl XI in 1976.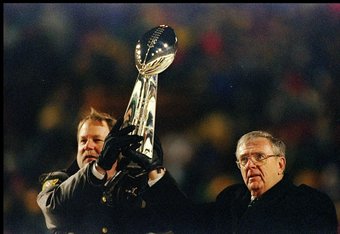 Matthew Stockman/Getty Images
Wolf left Oakland in 1975 and moved on to Florida to head football operations of the expansion Tampa Bay Buccaneers. Wolf brought in some very talented athletes, drafting players like Lee Roy Selmon, Doug Williams and Ricky Bell. That group led the Bucs to the NFC title game in 1979.
However, Wolf was not around to see what developed that year, as he resigned from the Bucs in 1978 and returned to work with his mentor Davis. Wolf stayed on with the Raiders until 1990. Once again, Wolf was able to bring in talents such as Marcus Allen, Howie Long and Matt Millen, and the Raiders won two more Super Bowl titles in that time frame.
Wolf then spent a year with the New York Jets front office, before taking the reins in Green Bay. Wolf's first move was to fire then-head coach Lindy Infante and then to hire Mike Holmgren as his new head coach.
Wolf also brought on a guy to help out in the scouting department for the Packers. The guy's name was Ted Thompson. One of Thompson's first jobs was to review tape of a player the Packers were thinking about possibly acquiring via trade. Thompson looked at the tape of the player and gave his endorsement to Wolf about trading for the player.
The player's name was Brett Favre. Wolf obviously made the trade, and the rest, as they say, is history.
Wolf used the draft to build the Packers during his time in Green Bay, but he also used trades and free agency to get excellent talent as well. The Favre trade was huge, but Wolf was also able to get excellent talent in the trade market by getting players like TE Keith Jackson, S Eugene Robinson and RB Ahman Green over the years.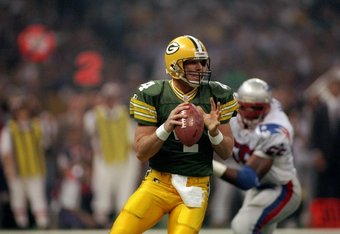 Rick Stewart/Getty Images
Wolf also acquired the best free agent perhaps in NFL history when he signed DE Reggie White in 1993. Wolf used free agency quite often, and he also signed players such as S Mike Prior, DE Sean Jones, WR Don Beebe, DT Santana Dotson, WR/KR Desmond Howard and WR Andre Rison.
Wolf oversaw 10 drafts with the Packers and although he hit on some pretty good talent in early rounds—LB Wayne Simmons, G Aaron Taylor, CB Craig Newsome, S Darren Sharper, DT Vonnie Holliday, Bubba Franks and Chad Clifton are examples—it was Wolf's expertise in the mid- to late-round picks that brought a boatload of talent to the team.
WR Robert Brooks, RB Edgar Bennett, TE Mark Chmura, OT Earl Dotson, RB Dorsey Levens, FB William Henderson, LB Brian Williams, WR Antonio Freeman, G Adam Timmerman, CB Tyrone Williams, LB Keith McKenzie, CB Mike McKenzie, WR Donald Driver, DE Kabeer Gbaja-Biamila and Mark Tauscher are prime examples of that efficiency.
All of this led to one of the greatest periods in the history of the Packers. From 1992-2000, the Packers had a 92-52 record (a .639 winning percentage), won three NFC Central titles, had seven straight winning seasons, six straight playoff appearances, were in three consecutive NFC Championship games (winning two of them) and also were in two consecutive Super Bowls, with the Packers winning Super Bowl XXXI. Although there have been a couple of bumps in the road, the Packers have continued that excellence since Wolf left the Packers.
From 2000-2009, the Packers had a .594 winning percentage. In 2010, the Packers were 10-6 and won the Super Bowl. In 2011, the Packers were 15-1. Overall, since 1992, the Packers have won eight NFC Central/North titles, played in in 28 playoff games (winning 16), won three NFC championships and two Super Bowls.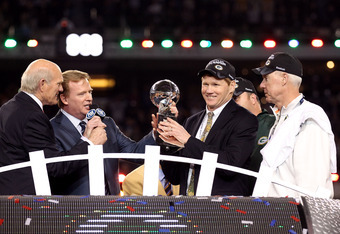 Al Bello/Getty Images
When one looks at the consistent pattern of winning, the hiring of Thompson by Wolf is a huge reason why the Packers are among the favorites to get to Super Bowl XLVII.
On February 6th, 2011 the Green Bay Packers defeated the Pittsburgh Steelers 31-25 in Super Bowl XLV. The man who put the Green Bay roster together, Ted Thompson, was elated after the game. And he should have been for a number of reasons.
For one, the MVP of Super Bowl XLV was QB Aaron Rodgers, who threw three TD passes vs. zero picks for 304 yards and had an 111.5 QB rating. In addition to that, S Nick Collins picked off a Ben Roethlisberger pass and returned it 37 yards to give the Packers a 14-0 lead.
What is the importance of all that? Rodgers and Collins were the first two draft picks that Thompson selected after he became GM in 2005.
Thompson has presided over seven NFL drafts since he took over for Mike Sherman as GM. Every one of his draft classes played an important part in the recent success of the Packers, which culminated in the win in Super Bowl XLV.
Thompson has a definite formula to build a successful franchise in the NFL, and he has steadfastly held to that ideology, even as critics tried to lambaste his tactics. Thompson's formula starts with the draft, where the bulk of the talent on the Green Bay roster has been accumulated.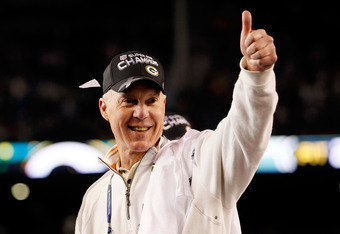 Kevin C. Cox/Getty Images
Yes, occasionally Thompson will play the free-agency game, but it is a rare occasion when that happens. The biggest splash Thompson made in free agency was in 2006, the same year Thompson hired Mike McCarthy to be his new head coach. Thompson brought in CB Charles Woodson and DL Ryan Pickett that year to help the team become more successful.
However, in 2012, Thompson did make some noise in free agency, when he signed C Jeff Saturday, DE Daniel Muir and DE Anthony Hargrove. Unfortunately, Hargrove has been suspended for eight games in 2012 for participation in New Orleans' bounty program when he was a member of the Saints in 2009. Hargrove is appealing that decision by Commissioner Roger Goodell.
Thompson stayed aggressive during the 2012 NFL draft when he traded up three times to select players he coveted. That was as many times as Thompson had ever traded up in the previous six years he had run the draft for the Packers.
Bottom line: The Packers' 2012 draft was top heavy in getting some talented defensive help for the Packers, a team which was 15-1 in 2011, but also ranked 32nd in total defense in the NFL.
Thompson spent the first part of his front office career with the Packers from 1992-1999. From 2000-2004, Thompson went out to Seattle to work with Holmgren and the Seahawks, an effort that put Seattle in the Super Bowl after the 2005 season. When Thompson came back to the Packers to run the front office, the Packers had a Wolf in the scouting department, but it was Eliot, not Ron.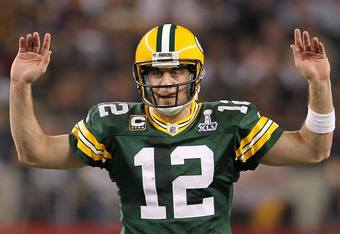 Jamie Squire/Getty Images
Eliot was hired by the Packers in 2004 (before his 22nd birthday) and already had a large resume.
Eliot first started working with his dad Ron unofficially at age 10, watching film. He then started working the NFL draft and has now been part of 20 consecutive drafts for the Packers. Eliot Wolf has also been to 20 consecutive NFL Scouting Combines.
In addition to that, Eliot had nine NFL scouting internships—five with the Packers, three with the Atlanta Falcons and one with the Seattle Seahawks. Wolf basically grew up in Green Bay, as he was nine years old when his dad joined the Packers. Eliot graduated from Notre Dame Academy in Green Bay, before going to Miami (Fla.) for college, where he graduated in just three-and-a-half years.
Ironically, Wolf's first job with the Packers was also the same type of job Thompson had when he was hired by Eliot's dad Ron. Eliot has helped Thompson bring in pro talent, along with Reggie McKenzie, before he left for Oakland. Besides Woodson and Pickett, the team also brought in LB Brandon Chillar as a free agent in 2008 and also traded for RB Ryan Grant in 2007.
The Packers also picked up a notable street free agent by the name of Tramon Williams in 2006, who had a Pro Bowl season in 2010 and an even better playoff performance for the Packers, as he picked off three passes in the postseason, returned one for a TD and also broke up the 4th-and-5 pass that clinched the win in Super Bowl XLV for the Packers.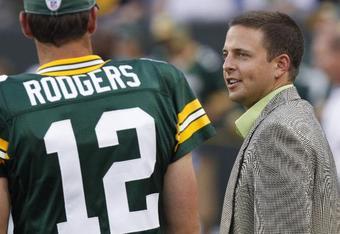 The Packers also acquired S Atari Bigby the same way in 2005. A couple other key street free agents currently with the team are P Tim Masthay and LS Brett Goode.
The Packers have also gotten their fair share of waiver acquisitions as well. Included on this list are FB John Kuhn, DB Jarrett Bush and S Charlie Peprah, who is on his second stint with the Packers now.
In 2010, when the team was going through an abundance of injury issues (15 players on IR), the team brought in three players to help their depleted LB and special teams units. They were Erik Walden, Matt Wilhelm and Diyral Briggs. Wilhelm and Briggs played key roles on special teams, while Walden played ROLB after Zombo was injured late in the season.
Wolf got a new title with the Packers last June, and his boss was very pleased to have him. "Eliot is an important part of our personnel staff," Thompson said in a statement released by the team last June.
Over the years, his responsibilities and duties have continued to grow. His contributions to our efforts in pro scouting have been tremendous, and he has taken on more in the college scouting and draft preparations. We believe this adjustment is an appropriate recognition of his continued growth within our personnel group.
The Packers have rewarded Thompson and head coach Mike McCarthy last year with contract extensions that will keep both of them with the team through 2015. Thompson is now 59 years old. He will be 62 years old after the current extension he was given. Thompson may continue on running the football operations of the Packers at that time, or he may decide to retire, depending on the circumstances. Why retire?
There is no one in the NFL that works harder or more diligently than Thompson. Thompson will not rest on his laurels either, as he knows hard work is the cornerstone to success. He learned that from Ron Wolf, who hired him back in 1992.
Whenever Thompson decides to move on from the Packers, a logical choice in succeeding him would be Eliot Wolf. Wolf's goal one day is to become a GM, as a matter of fact. 
It's obvious that the Packers are high on Eliot Wolf's accomplishments in the Green Bay front office, and Eliot is still a very young man. Either way, the Wolf family has been very accomplished in bringing very talented players to the Packers, along with a winning tradition.
A championship tradition, in fact.