NBA Draft 2012: Teams That Can Improve Their Stock Most on Draft Day
May 5, 2012

Dilip Vishwanat/Getty Images
There are plenty of teams that are thanking their lucky stars that the 2012 NBA draft is less than two months away. 
Adding one blue-chip player to a roster can immediately return any team to relevancy (see Kevin Durant, Derrick Rose, Kevin Love, etc. for confirmation). 
In this year's draft, there are a handful of teams that stand to drastically improve their stock with the addition of just one athlete fresh out of college.
Here are three of those teams.
Charlotte Bobcats
The most obvious of such teams are the Bobcats, who have their sights set on drafting the freshman phenom Anthony Davis out of Kentucky.
Charlotte could add anybody to its brutal roster of has-been and never-was players to become a better team right away.
Michael Jordan's organization is in a rebuilding period, and the firing of Paul Silas confirms that. 
In Davis' lone season with the Wildcats, he put up 14.2 points, 10.4 rebounds and 4.7 blocks per game on an absolutely loaded team from which all five starters declared for the draft.
Davis could be the next Kevin Garnett at a time in which "The Big Ticket" is in the twilight of his career. He's just as skinny as Garnett was and displays the same, if not better, defensive prowess that KG did coming out of high school.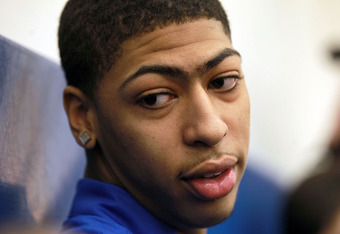 Andy Lyons/Getty Images
The defense that Davis can provide will help the Bobcats in their quest to allow less than 100 points per game. Charlotte finished at No. 27 in opponent points per game for the 2012 season.
The Bobcats would presumably move the 6'9" Bismack Biyombo to power forward to make room for Davis. That would give them a decent big-man rotation of Davis, Biyombo and Byron Mullens, a seven-footer who began to make a name for himself in 2012.
The Bobcats won't become contenders right away if they choose to go with Davis at No. 1 overall, but they have a franchise player who can quickly bring in fans. 
Milwaukee Bucks
The Bucks traded away their big man, Andrew Bogut, at the trade deadline, basically robbing the Golden State Warriors for the services of Monta Ellis. 
The Bucks also got Ekpe Udoh in that trade, who has a 7'4"-inch wingspan and has shown flashes of being an effective NBA player.
Milwaukee could go with the seven-foot Tyler Zeller out of North Carolina. Zeller got better in each of his four seasons under Roy Williams and improved on virtually every meaningful statistical category year-to-year.
Zeller was named the ACC Player of the Year in his senior season. He is incredibly fast for a center and has the speed to beat most big men down the court, something that will fit well with an offense run by Ellis and Brandon Jennings (if Jennings decides to sign with Milwaukee after his rookie contract expires).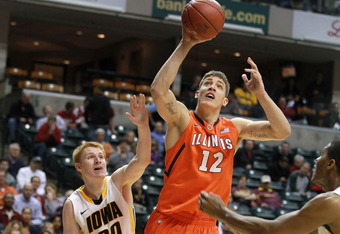 Andy Lyons/Getty Images
He works the post just like Bogut did with the Bucks before his season was cut short by injury and can even shoot from farther out.
With Drew Gooden on the decline and in need of more time on the bench, Zeller would be a great fit for a decent Bucks team that had a chance to make the playoffs in 2012 prior to its late-season swoon.
Boston Celtics
The Celtics are old. Really old. And there's no way around it.
The Big Three is probably in the midst of their last real playoff run together, but things aren't looking too bad in Boston.
Rajon Rondo has an ungodly talent to find his teammates in the most creative ways. He's not the only good young guard they have, as Avery Bradley has proved that he is extremely valuable to the future of the organization.
The Celtics have back-to-back picks at No. 21 and No. 22 this year. Odds are, Kentucky's Doron Lamb will still be on the board, providing Doc Rivers with a shooter to replace Ray Allen.
Terrence Jones will probably be gone by No. 22, and the Celtics need some size to replace Kevin Garnett. They could go with Meyers Leonard, a seven-foot center out of Illinois, if he is still available. Leonard can help them to improve on their terrible rebounding totals.
If Leonard is gone, Danny Ainge could go with Royce White, a small forward out of Iowa State, to eventually be plugged in for Paul Pierce.
White is very strong, shows impressive passing skills and has an extremely high ceiling.
Whatever route the Celtics choose, their two first-round picks will be able to dispel the notion that the organization will see a downward trend after the departure of Allen, Garnett and Pierce.