NBA Playoff Schedule 2012: Power Ranking Top Sunday Game 4 Matchups
May 5, 2012

Jeff Zelevansky/Getty Images
The 2012 NBA playoffs have been superb so far, and they're only going to get better as Sunday is jam packed with great games. 
It's the Eastern Conference games dominating the Sunday lineup, but there's absolutely nothing wrong with that. 
Each game has star power and plenty of good storylines to follow, so spending your whole day watching the playoffs would be a wise decision. 
With that said, here's how I rank Sunday's Game 4 matchups. 
4. Chicago at Philadelphia 
Tipoff: 1 p.m. ET on ABC
Compared to the other games, the Bulls and the 76ers lack the firepower that will keep fans hooked. 
Yes, the past couple games have been close, but with Derrick Rose out, this series has become much less entertaining. 
Philadelphia has won two games in a row now, and with another home game they should take a sizable lead in the series. 
Chicago was hit hard with the injury bug, which resulted in this series becoming almost a snooze fest. 
Prediction: 76ers 89, Bulls 81 
3. L.A. Lakers at Denver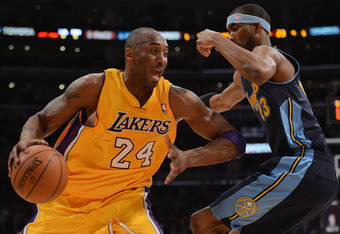 Harry How/Getty Images
Tipoff: 9:30 p.m. ET on TNT
Kobe Bryant and company should be up three games and looking to sweep the Nuggets here, but instead the Lakers dug themselves a whole and just couldn't make a comeback.
A poor performance from Kobe, (7-of-23 from the field and just 3-of-10 from three-point land) hindered the Lakers, but they can easily take care of business tonight. 
The Lakers have to prove they can win on the road in the postseason, or else they're in real trouble. 
This is a series Los Angeles should have no trouble closing out, so look for Kobe and the rest of the Lakers to pick up their third win of the series on Sunday. 
Prediction: Lakers 101, Nuggets 92
2. Atlanta at Boston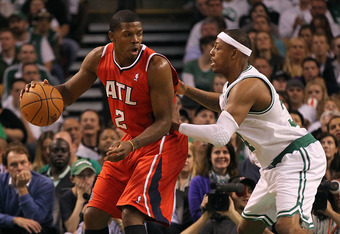 Jim Rogash/Getty Images
Tipoff: 7 p.m. ET on TNT
The Hawks and the Celtics continue to fight hard, and their overtime game on Friday night was a great indication this will be a tough series. 
It wouldn't surprise me at all to see this series go to a Game 7, which would be spectacular for the first round of the playoffs. 
Atlanta desperately needs a win, but playing in Boston is no easy task. It's up to Joe Johnson to carry the Hawks again, and considering how much they pay him, he better come through. 
This would be the top game for Sunday, but my gut tells me Miami and New York are going to put on one heck of a show.
Prediction Celtics 87, Hawks 83 
1. Miami at New York 
Tipoff: 3:30 p.m. ET on ABC
Yes, the Heat happen to be up 3-0 on the Knicks, but that doesn't mean this isn't a game to watch. In fact, its' the top game to watch on Sunday. 
New York has their back against the wall, which should force them to play even harder. The Knicks have been blown out the entire series, but this is their last shot. They're going to play better and deliver a great game. 
Miami thinks it has this game in the bag, but that will be the Heat's downfall as New York will play very well, keeping fans on the edge of their seats all game long.
Amar'e Stoudemire hopes to return to action, but even if he doesn't, the Knicks will be motivated enough to avoid embarrassment, giving Miami a tough fight. In the end, I have the Heat winning, but it'll be much closer than most think.  
Prediction: Heat 97, Knicks 95