Kentucky Derby 2012: Last-Second Predictions from Around the Web
May 5, 2012

Rob Carr/Getty Images
For the 2012 Kentucky Derby, we have fans of the sport making picks, we have those that anticipate the betting portion making picks, and of course, more importantly, we also have the picks of expert analysts.
The question is not who the fans or betting sites think is going to win, it's all about which horse these experts—who have been around the sport and have the insider info—think will win when all is said and done.
Are the experts going with the odds and taking Union Rags at Churchill Downs? Or are the underdog horses like Creative Cause offering reasons why they can take the title?
These are the latest updates and predictions from those experts around the horse racing world.
New York Times and New York Daily News Going With Union Rags
According to CBS News, two of New York's more prestigious news outlets have Union Rags taking home the first of the three Triple Crown events.
The Times and Daily News go with the majority with this selection. Union Rags is the clear favorite heading into the contest.
James Scully, Jill Byrne Going With I'll Have Another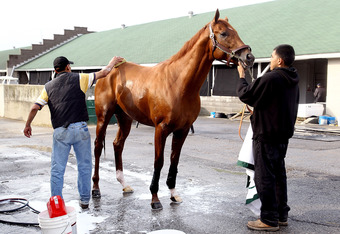 Matthew Stockman/Getty Images
I'll Have Another, one of the more underrated talents in this year's Derby, is the pick of both Scully and Byrne according to the Kentucky Derby official website. 
Scully has followed the sport for decades while sitting on the panel at the 2010 race at Churchill Downs. Byrne is director of on-air communications and official handicapper at Churchill Downs, according to the website.
Andrew Beyer of the Washington Post Pulling For Bodemeister

Horse columnist Andrew Beyer is hoping for Bodemeister to win and described him as a horse with a plethora of potential and skill.
Beyer also believes that both Creative Cause and Hansen are two especially fast horses with the potential to take down Bodemeister.
Beyer adds that the most impressive thing about Bodemeister is that he continues to show composure and perform with greatness in his most recent outings.