Kentucky Derby 2012 Picks: Projecting Where Top Favorites Will Finish
May 5, 2012

Elsa/Getty Images
The 2012 Kentucky Derby has some very talented horses competing in it, but it's the favorite horses that naturally draw the most attention.
Churchill Downs will be full of excitement the second the horses begin walking to the starting gate, and it won't end until we have a winner.  
For current odds, check out KentuckyDerby.com, where you'll see which long shots are generating buzz.
The top favorites are listed below, along with how I see each finishing the "Run for the Roses."  
Bodemeister 
Early this morning, Bodemeister began at 4-1 odds, but the line has since moved to 7-1 odds. 
Still, the colt is the top favorite in the 138th edition of the Kentucky Derby, and rightfully so. Trained by Bob Baffert, a three-time Derby winner, Bodemeister is going to excel at Churchill Downs. 
Having recently won the Arkansas Derby, Bodemeister is ready to rock, and drawing the post position No. 6 also helps his chances. 
Projected Finish: First place 
Gemologist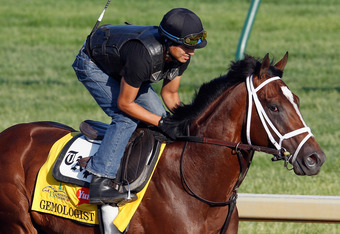 Rob Carr/Getty Images
Currently sitting at 8-1 odds, Gemologist will have some work to do coming from post position No. 15, but the three-year-old has the talent to win it all. 
With an undefeated record, Gemologist is a hot name right now. However, the colt hasn't been tested during his five-race win streak, which will be his downfall. 
Gemologist hasn't competed against any of the elite horses of the Derby, which will doom him once the race gets underway.
Still, he'll finish strong, but it won't be in the top three spots. 
Projected Finish: Fifth place  
Union Rags 
The big favorite before the post positions were announced, Union Rags remains at 9-2 odds to win the Derby. 
Trained by Michael Matz, winner of the Kentucky Derby back in 2006 with Barbaro, Union Rags is in great shape and fully capable of ousting all his competitors Saturday evening. 
It won't be easy, but with great closing speed, Union Rags will excel from post position No. 4, putting up a good time and just barely missing out on winning the "Run for the Roses." 
Projected Finish: Second place