Floys Mayweather Jr. Sends a Verbal Warning to Camp Cotto
May 5, 2012

Ethan Miller/Getty Images
"I'm not Antonio Margarito, I'm not Yuri Foreman. He's facing Floyd Mayweather. This is a little different," warned Mayweahter Jr. in a recent interview.
"I don't want them to remotely put in his mind that this is going to be an easy task. I don't think he thinks this is going to be an easy task," continued Floyd. "Even though Antonio Margarito cheated, he's not that fast and he was still able to hit [Cotto] with those shots," reminded everyone Floyd.
This is, of course, something that Mayweather Jr. would be expected to say, and it's something that Camp Cotto should remind themselves of as well.
Fighting Mayweather Jr. in a similar fashion as he's fought others will simply not work for Cotto. When talking about Floyd, his fighting style and technical ability pose a lot of problems for anyone, especially an opponent who likes to throw. The more you try to hit Floyd, the more you get hit.
A good counter-puncher is needed in order to create roadblocks in Floyd's style—but not just a counter-puncher, they need to be an intelligent one. Juan Manuel Marquez, had he been a little younger and a tad taller, would have given Floyd the fight of his life.
When Cotto fights, he fights like a brave, yet dumb, warrior—he seeks a brawl. He likes to throw wide power punches, especially to the body—which can be seen in most of his fights—and if he plans on utilizing those in his fight against Mayweather Jr., you can safely count him out already.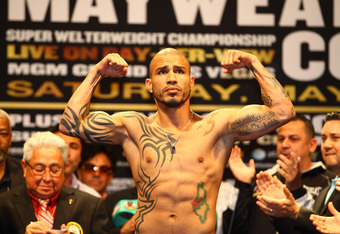 Al Bello/Getty Images
There is a very good reason that fighters talk about a "blueprint" to their opposition. There are flaws, a noticeable lack of certain or few attributes, which are used to create a plan of action. Ability to use those flaws to one's advantage is what creates opportunities for fighters to connect.
Floyd, despite having flaws just like any other fighter, has yet to be beaten. Thus, those flaws have not been successfully tested as of yet. It is ignorant for his opponents to claim, over and over, that they have a plan to beat Floyd, as all the plans have already been chewed up before. What I would like to hear one of his opponents say is that they will do what many other have done, but try to do it better.
Floyd can be beat. He can be knocked down and most certainly out. He can be out-boxed, outworked, and even outsmarted. The question is, who will get it done, and how?
To tell you the truth, I think that, of all the mentioned names (Khan, Pacquiao, Cotto, Martinez, Canelo, etc), Cotto's chance is higher than most think.