Bandwagon Knicks Fans to Become Brooklyn Nets Fans? Who Else Will?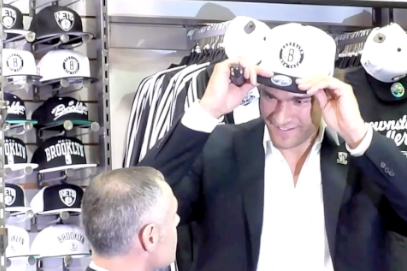 Brook Lopez is the first NBA player in black and white Nets swag ...with Nets CEO Brett Yormark (BrooklynFans.com)
How do you introduce an NBA franchise to the New York Knicks' market and win enough fans to fill a new billion-dollar arena every night?
The Brooklyn Nets are moving into their new home this week, stealing as much attention as they can from their playoff-floundering orange-and-blue Manhattan neighbors.
Die-hard basketball fans in Brooklyn already have their loyalty set in stone. In NBA terms, all five boroughs have always been all about the Knicks.
But when the Miami Heat finally put the Knickerbockers out of their misery, will frustrated bandwagon NY fans stroll across the Brooklyn Bridge toward their new-look neighbors?
Who will be the fanbase of the Brooklyn Nets?
Begin Slideshow

»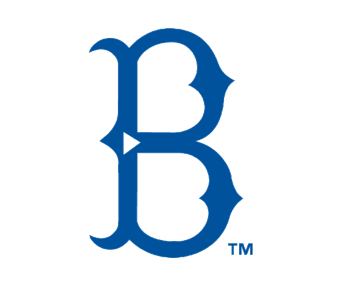 Generations of Brooklynites refuse to forget
You've seen how fanbases react to losing their team. Throughout the decades, no one has been more stubbornly defiant than Brooklyn Dodgers fans.
There's no way the Nets will ever ease the pain you can still see on the faces of Brooklynites in the 60+ age group. Grizzled grandmas and grandpas have handed down their bitterness.
But Brooklyn has proven they'll take any team and hang onto them for dear life; just look at their single-A Brooklyn Cyclones, who routinely draw over 7,000 fans a night for short-season minor league baseball.
For many of these families, sports went back to being just sports when the Dodgers left. Having a team with BROOKLYN on their uniforms will again make it much more than that.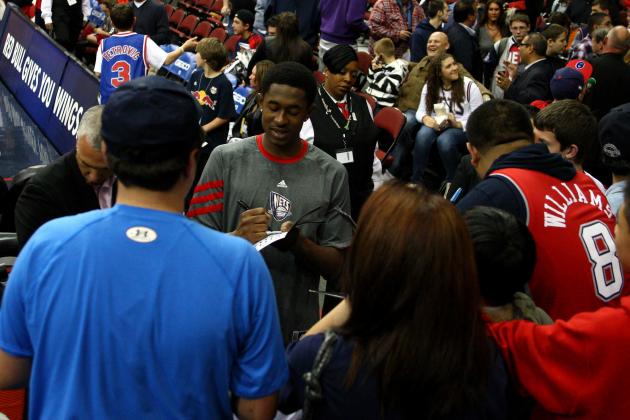 Chris Chambers/Getty Images
The Nets franchise did everything they could to pack their Jersey fans and take them to Brooklyn with them
13 miles.
That's the distance from the Nets' old arena to their new one. Trains from New Jersey (and all over NYC and Long Island) take you right up to the entrance of the Barclays Center. The Nets will still be on TV in Newark.
Fans who aren't all that hurt about losing "New Jersey" from the name get to keep their history and handful of good memories, plus they'll see their team finally propped up with a big-time NBA atmosphere.
When the Nets announced their arrival in Brooklyn Monday (cleverly, inside a Modell's store LOADED with new team gear)...one fan at the front of the line grabbed four new Brooklyn Nets hats and several black-and-white Jay Z-inspired shirts.
"I'm from New Jersey," he said. "I'll follow the team wherever they go."
Thanks to careful appreciation of their fans from the Garden State, the Nets will see plenty of followers come across the Hudson with them.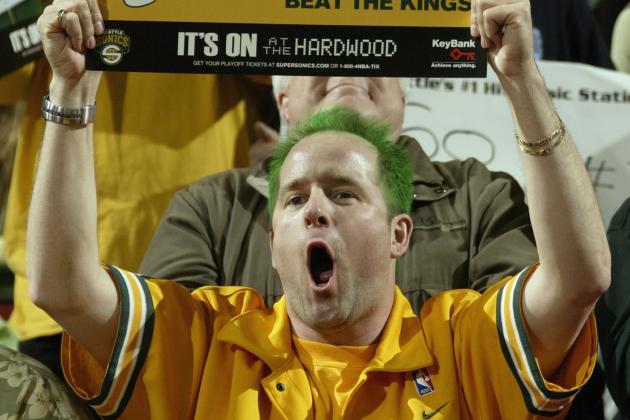 Otto Greule Jr/Getty Images
There's a romanticism to Brooklyn that will lure NBA fans who don't have a team right now
Team-less fans in Seattle and Kansas City and Pittsburgh and London won't simply adopt the Nets overnight, but the NBA's freshest franchise is a much better fit than the alternatives.
There seems to be a glaring void staring back at NBA fans right now...if you don't have a home team, which franchise do you actually like?
Of the game's players and teams right now, far too many have turned off the national fan base. Most push the DISLIKE button on Kobe and the Lakers, LeBron and the Heat, Dwight and the Magic, Carmelo and the Knicks...and on and on and on.
Enter the clean-slate Nets, into GQ's Coolest Place on the Planet, with the simple and bold black-and-white motif, and see if they don't get their share of national and global fans on board.
Sonics fans will be up in arms at the suggestion they might cheer for anyone else while waiting to get their team back ...but in truth, if you're gonna watch NBA basketball, watching the new-look Nets announces loud and clear "No, I don't root for Oklahoma City!"
Artists and bloggers and indie bands and yuppie families are moving to Brooklyn in droves.
There's only one Manhattan, but Brooklyn is the place to be to experience both NYC and a quality neighborhood life without getting totally lost in the shuffle.
Many of these types ignore sports as often as possible, but it's a game changer if Brooklyn is stamped on it. It's a brand people latch onto, and the Nets know it. A total of 2.6 million people live in the borough, and millions across the country have some family or emotional tie to Brooklyn.
Old-school stoop sitters, hipsters and everyone in between will wear it proudly if it says Brooklyn on it ... and the team has been in the community making friends just about every week for the last six months.
Sports fans and non-sports fans...Brooklyn is ready to support their team.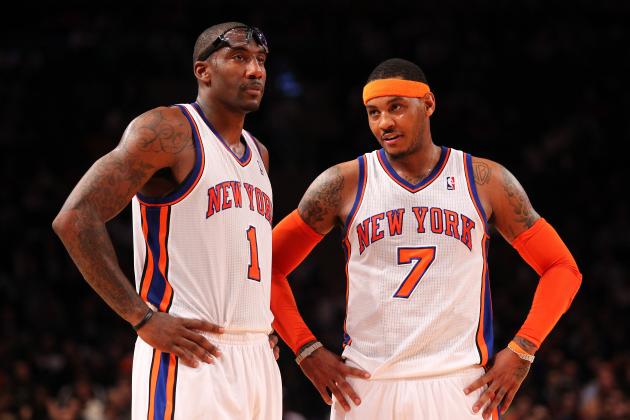 Al Bello/Getty Images
Are New Yorkers proud to wear their Knicks colors right now?
You've heard of bandwagon fans. Well, that sound you hear NOW is thousands of them tumbling off that wagon at this moment.
The timing of another Knicks playoff embarrassment couldn't be much better for the Brooklyn Nets. True, the franchise again is missing from the postseason, but at least they're not ticking people off with disgusting underachievement and alienating superstar meltdowns.
True sports fans stick with their teams. But there are millions of casual fans who got sucked in by Carmelo and then Linsanity and then NBA championship dreams...bandwagon fans who now would love to stick it to the Knicks and root for their stylish underdog younger brother.
Scratch the black-and-white surface of the Nets' new fanbase, and more often than not you'll find an old coat of orange-and-blue paint underneath it.