New England Patriots: Early Look at How the 53-Man Roster Could Shape Up
May 5, 2012

Marc Piscotty/Getty Images
Every year, it's a shot in the dark to predict how Bill Belichick's roster will shape up for the season. Here is a very early look at what the 53-man roster could look like in September when the New England Patriots take the field against the Tennessee Titans.
Quarterback: (3)
Brian Hoyer
Ryan Mallett
Cut: Mike Hartline
Rationale: Brady, Hoyer and Mallett are all obvious locks unless either back up is traded, but even that seems extremely unlikely. Barring injury, Hartline's best chance would be the practice squad.
Running Back: (5)
Stevan Ridley
Shane Vereen
Danny Woodhead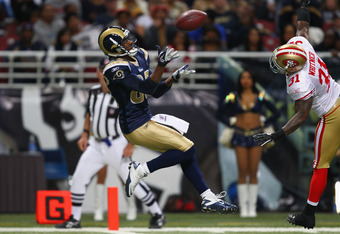 Dilip Vishwanat/Getty Images
Spencer Larsen
Joseph Addai
Cut: Tony Fiammetta, Eric Kettani and Brandon Bolden
Rationale: The Patriots keep a veteran in Addai after not selecting a back in the draft. He will add some depth behind Stevan Ridley, the projected starter. Update 8:18 PM Patriots are likely to sign Joseph Addai according to Mike Chappell of the Indianapolis Star, so he would become the veteran back, rather than Tim Hightower like originally predicted.
Wide Receiver: (6)
Brandon Lloyd
Wes Welker (unsigned franchise player)
Jabar Gaffney
Deion Branch
Julian Edelman
Matt Slater
Cut: Donté Stallworth, Anthony Gonzalez, Britt Davis, Jeremy Ebert and Matt Roark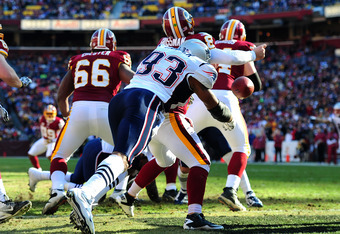 Scott Cunningham/Getty Images
Traded: Chad Ochocinco
Rationale: The Patriots trade Ochocinco for a conditional seventh-round pick during training camp once it becomes obvious he will be cut. Stallworth and Gonzalez do not have spots on the roster with the presence of the other veterans. Either Ebert or Roark will likely be a practice squad candidate.
Tight End: (3)
Rob Gronkowski
Aaron Hernandez
Daniel Fells
Cut: Brad Herman
Rationale: Fells seems to be a lock for the roster and there is just no more room to keep Herman on the roster.
Offensive Line: (9)
Nate Solder
Logan Mankins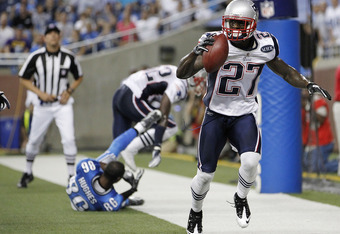 Leon Halip/Getty Images
Dan Koppen
Brain Waters
Sebastian Vollmer
Dan Connolly
Robert Gallery
Marcus Cannon
Matt Kopa
Cut: Ryan Wendell, Nick McDonald, Donald Thomas, Kyle Hix, Jeremiah Warren and Markus Zusevics
Rationale: Wendell will the toughest cut, but with Gallery's presence he becomes expendable. Kopa sticks on the roster as the fourth tackle.
Defensive Line: (9)
Vince Wilfork
Kyle Love
Jonathan Fanene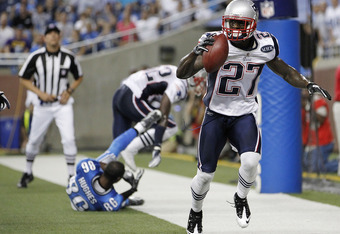 Leon Halip/Getty Images
Chandler Jones
Andre Carter (projected free-agent signing)
Jake Bequette
Brandon Deaderick
Myron Pryor
Justin Francis
Cut: Ron Brace, Jermaine Cunningham, Gerard Warren, Trevor Scott, Markell Carter, Marcus Harrison, Marcus Forston, Alex Silvestro and Aaron Lavarias
Rationale: All things seem to point at Andre Carter's return once his rehabilitation is complete later this year. Ron Brace and Jermaine Cunningham both have their time run out after being second-round picks in 2009 and 2010, respectively.
Gerard Warren could likely return at a later time if there is an injury. Markell Carter, Lavarias and Silvestro are all candidates to return to the practice squad. Justin Francis continues the streak of undrafted free agents making the roster in New England.
Linebacker: (7)
Jerod Mayo
Dont'a Hightower
Brandon Spikes
Rob Ninkovich
Dane Fletcher
Tracy White
Jeff Tarpinian
Cut: Bobby Carpenter, Niko Koutouvides and Mike Rivera
Rationale: Bobby Carpenter fails to carve out a role in New England and becomes expendable. Koutouvides is cut despite playing a key role on special teams.
Defensive Backs: (8)
Devin McCourty
Ras-I Dowling
Sterling Moore
Alfonzo Dennard
Patrick Chung
Tavon Wilson
Steve Gregory
Nate Ebner
Cut: Will Allen, Josh Barrett, Sergio Brown, Marquice Cole, Ross Ventrone and Malcolm Williams
Traded: Kyle Arrington
Rationale: Kyle Arrington is shipped away for a mid-round pick despite being the most consistent player at the position over the past two seasons. The influx of young cornerbacks like Dennard, Moore and Dowling makes him expendable.
Ebner makes the team as a pure special teamer. Veteran corner Will Allen is released in what could be the final stop in his solid career.
Specialists: (3)
Stephen Gostkowski
Zoltan Mesko
Danny Aiken
Cut: Chris Koepplin
Rationale: There is no reason to upgrade at kicker, punter or long-snapper, so all three should be safe. Koepplin is released for the second time in two years as the Patriots only carry one kicker.