Mayweather vs. Cotto: Possible Pacquiao Fight a Needless Distraction
May 6, 2012

Al Bello/Getty Images
The fight that's next on the schedule pins Floyd "Money" Mayweather against Miguel Cotto in what is certainly going to be a good bout, but the only showdown that anybody cares about anymore is the one that will see Money go head-to-head in the ring with Manny Pacquiao.
What a needless distraction this feud is becoming...
Pacquiao and Mayweather are kind of like Batman and Robin, except they aren't on the same team and they don't like each other.
Oh, and they don't fight crime.
None the less, just like the famous superhero pair, it's hard to mention one without talking about the other. They are paired together for life in the eyes of the public—like it or not—and no matter what we do, we can't escape that match.
At this point it's becoming a huge distraction for boxing fans though. Those who actually know and care about the sport realize that it's so much more than Pacquiao vs. Mayweather.
Those who know and care realize that while Mayweather is great—he's 42-0, so great may be a huge understatement—he will still have his hands full with Cotto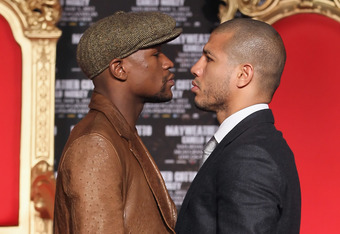 Jeff Gross/Getty Images
Cotto is quite the decorated boxer himself, with a record of 37-2-0, and a highly doubt he's going to lay down and play dead when Mayweather shows up in the ring flaunting his greatness.
Boxing is a fight, and this bout is going to be a very good one. It's worth talking about, it's worth analyzing and it's certainly worth the watch. Yet, all anybody is going to want to focus on is the potential of a Mayweather vs. Pacquiao fight.
The irony is that fight may never happen.
Perhaps it's time to start focusing on the bouts that we know will happen.
Tonight is a good time to start.