UFC on Fox 3 Fight Predictions: Josh Koscheck vs. Johny Hendricks
May 5, 2012

Michael Nagle/Getty Images
The classic old vs. new matchup will be center stage when Johny Hendricks faces off against Josh Koscheck at the UFC on Fox 3 event.
Koscheck has been around the UFC since the original Ultimate Fighter and has become the ultimate villain to many UFC fans. Kos entered the UFC as a one-dimensional wrestler but has since transformed his game into a well balanced machine.
Hendricks entered the UFC much in the same way as his opponent. He's one of the most accomplished collegiate wrestlers to enter MMA and has used the dynamite in his hands to defeat his foes. His last bout was one of the biggest shocks in MMA in 2011 as he defeated Jon Fitch with a single punch.
Although Kos has become well rounded, he's seemingly forgot what brought him to the dance. Abandoning his wrestling skills, Koscheck has chosen now to focus on his striking. Other than neglecting his best skill set, Koscheck also relies too much on his power strikes. He does have power but unfortunately doesn't set his strikes up to land them.
We've also seen holes in his striking defense as Matt Hughes and Mike Pierce were both able to get through Kos' defense. I'll give Kos a pass with the Hughes bout as it was his first time back from eye surgery and he was likely nervous to take a punch from a four-oz glove. But he looked rather lethargic in his bout with Pierce.
While Koscheck has looked slower and slower each time he comes out, Hendricks continues to build momentum. The Fitch win set him up for great things moving forward if he can get past Koscheck. UFC President Dana White recently let it be known that if Hendricks wins, a UFC title shot will be in the Oklahoma State grad's future.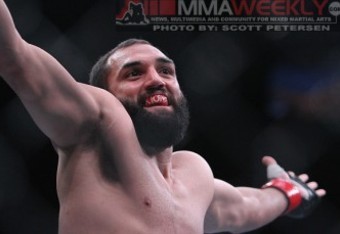 The way I see this fight playing out is Koscheck attempting to work his more diverse strikes with Hendricks looking to land a heavy counter. Near the end of round one, look for either man to shoot for a takedown in order to secure the round on points.
I don't see Koscheck being able to take Hendricks down as Hendricks' wrestling skills are likely better at this point in Kos' career. Hendricks has the better wrestling skills and has more power in his hands but will need to set up his power punches.
It's nice to knock a guy out with a single punch, but let's hope Hendricks hasn't gotten punch-happy and wings power shots without setting them up. If Georges St-Pierre can beat Koscheck for five rounds with just a jab, I've got to believe Hendricks can at the very least wobble Kos with his power.
Look for Koscheck to get rocked and Hendricks to swarm him for another great finish for the rising welterweight star.