UFC on Fox 3 Fight Card: Rousimar Palhares vs. Alan Belcher
May 5, 2012

In what surely will be the Fight of the Night winner, Rousimar Palhares takes on talented striker Alan Belcher.
Belcher, you may recall, suffered from a near career-threatening eye injury recently. He made a recovery and was successful in his UFC return last year. Now that Belcher is back to his winning ways, he faces a tough task in taking out Palhares.
Brazilian Jiu-Jitsu specialist Palhares is an unstoppable machine on the ground. I don't mean to say he's unstoppable as in opponents can't defeat him (because they have), but to make mention of the fact everyone knows what he's going to do yet so many have been unable to stop it.
Examining the fight on the feet, one would have to give an edge to Belcher. Although Palhares has shown improved striking in his last few fights, Belcher is undoubtedly the more technical striker. That's not to say Belcher's striking is totally conventional, as he does have a flare for the dramatic at times; like spring-boarding off the cage to attempt a superman punch.
Once the fight hits the mat, and it will no doubt reach the floor at some point in this bout, the fight could be an interesting game of chess between these two. Although Belcher is primarily known for his striking, he has a good jiu-jitsu game as well. He may surprise Palhares a bit with his ability on the mat.
Meanwhile, the Brazilian will surely be looking to grab a hold of Belcher's legs. Palhares has been able to lock in his favorite weapon—a heel hook—on many of his unfortunate opponents. Even if the heel hook hasn't been there for him, Palhares has switched to a knee bar attempt in his last few fights.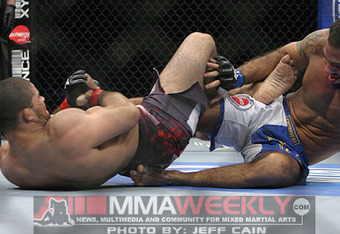 The key to this fight for Belcher is to stay moving while using his striking to keep Palhares off balance. Belcher is confident in his grappling skills, but being on the mat with Palhares is like playing Russian roulette; every twist and turn on the mat provides Palhares with the opportunity to grab a limb.
Palhares will look to take the fight to the mat in order to achieve victory. He's shown improvements in his striking, but getting into a striking battle with Belcher isn't the smartest strategy in this fight. He's the better grappler and hopefully has worked on his takedowns so he doesn't have to resort to pulling guard any more.
Belcher is the feel-good story that anyone (and everyone) could root for, but I still see Palhares getting his hand raised. I believe Belcher can do enough to stifle Palhares' submission game but the Brazilian will be just too much for him to handle.
I do feel it will be a close bout with the possibility of a controversial split decision being the end result.