UFC on Fox 3 Fight Predictions: Nate Diaz vs. Jim Miller
May 5, 2012

Michael Nagle/Getty Images
Two possible future lightweight title contenders will square off when Nate Diaz and Jim Miller meet inside the Octagon for the main event of the UFC on Fox 3 event.
Both men are coming off impressive showings in their last bouts. Diaz earned perhaps his best win of his career when he defeated the talented Donald Cerrone and Jim Miller survived an early blitz to tapout Melvin Guillard.
The two fighters couldn't be any different not only with their personalities but also their fighting styles.
The ever brash and confident Diaz is always looking to turn the bout into a straight up fight. Despite being an accomplished jiu-jitsu artist, Diaz often times would rather stand and pick apart his foes with his superior length.
Meanwhile Miller is calm and collective inside the Octagon and out. He doesn't make headlines with his words and has quietly racked up wins against some of the best fighters in the division.
When the two meet you can expect some trademark Diaz taunting to attempt to get Miller out of sync. In contrast Miller will want to stay focused on a game plan that surely involves utilizing his wrestling.
Diaz has struggled with wrestlers in the past who could hold him down and work some strikes while defending his jiu-jitsu game.
Even if Miller can hold Diaz down for a single round it may be enough to frustrate the Stockton based fighter enough to give Miller a psychological edge.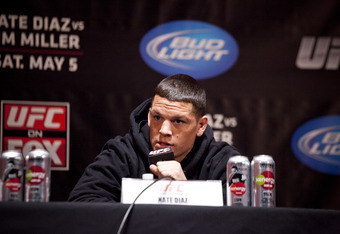 Michael Nagle/Getty Images
If Miller can get the fight to the mat, he will need to be very strong on top to prevent Diaz from maneuvering his hips and using his long limbs for a submission. Miller has a good enough submission game where he should be able to play defense while working some strikes on the ground.
For Diaz, the key will be to using his physical gifts against Miller. Diaz is very tall and lanky for 155 pounds, something that has served him well at lightweight in the past.
Using his length to set up stiff jabs and mixing in some uppercuts to thwart Miller's takedown attempts will be key for Diaz. Miller will eat a couple shots attempting to close the distance so Diaz needs to make sure he not only connects, but also sidesteps out of the way to prevent Miller getting a hold of him.
I'm sure Diaz will do his best to make this into an entertaining affair but I still believe Miller will be able to use his wrestling skills to either hold Diaz against the fence or on the mat. Diaz will have his moments of excitement but I see Miller taking this one by decision.