Kentucky Derby 2012 Weather: Updated Forecast and How It Will Impact Race
May 5, 2012

Rob Carr/Getty Images
The Kentucky Derby will go off at 6:24 p.m. EST from Churchill Downs and the biggest concern right now, like it has been all week, is the weather. Rain would significantly impact one of the year's most important horse races.
Let's take a look at an updated forecast and how the different weather would impact the first leg of the triple crown. The race was run on a muddy track back in 2010 with Super Saver picking up the victory.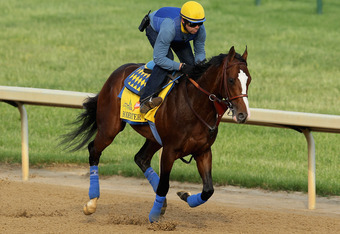 Elsa/Getty Images
Forecast
According to weather.com, the early afternoon should be clear. The chance of rain up until 4 p.m. is only 10 percent with temperatures steadily increasing into the middle 80s. That would be perfect racing weather for the derby.
Things start to get a little shaky after that, however. There's a 30 percent chance of isolated thunderstorms starting at 5 p.m., but as of now that drops back to only 20 percent for the post time.
So the odds are still on the side of things remaining clear throughout the day. But even a brief downpour would change the conditions on the track, which has already been upgraded to fast after a few races.
Impact
If the conditions in Louisville remain clear, the race shouldn't change at all. Trinniberg will be expected to gain an early lead to set the pace and every other horse will fall in line behind him waiting to make their move.
Should rain start falling, however, it would become a more wide-open race. The horses concerned about the speed factor, such as Prospective and Sabercat, suddenly turn into sleeper picks because that element of the race would be severely alerted with a wet track.
As of right now it appears it's safe to make your Kentucky Derby picks worrying about the weather, but make sure to keep checking the forecast to see if anything changes. It will be an exciting race no matter the conditions.
For the latest information on track conditions, check out Bleacher Report's Kentucky Derby weather blog that will be updated throughout the day.