Media Target Practice: England at Euro 2012
May 5, 2012

Jamie McDonald/Getty Images
There is a major soccer tournament set for this summer which takes place in the disparate lands of Poland and Ukraine, and pits Europe's top nations against each other for the right to be called the continent's best.
But while Euro 2012 begins on the evening of June 8 in Warsaw, the "hunger games" have already begun for England. It is something of a cottage industry in the land which gave us football, for punters and scribes alike to pick their own versions of the English national team. Everyone has an opinion and an expert one at that. Sure, they do it in Italy, Spain, Germany and Holland, but for some reason, the spotlight shines brightest on England and its love/hate relationship with its heroes.
Despite the national team not having won anything for 46 years, the population never appears to waiver in its belief that it will be the year for them.
Let me be clear. There is no poison in this pen for the England team. Far from it—I actually feel for the lads who will represent the Three Lions this summer. After all, I see them more times per week than some family members, yet these "friends" of mine will have to walk around for the next several weeks with very weighty targets on their heads.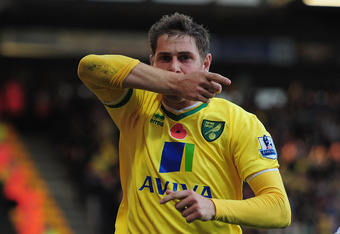 Jamie McDonald/Getty Images
The pressure placed on them by their own media is nothing short of scandalous. Showing a despicable absence of logic, the boys from Fleet Street will pick their countrymen to win Euro 2012. They haven't done it yet, but they will. How do we know?
Because they do it every time.
Everything points to the technically elite Spanish retaining their title. If there are to be challengers, they will come from the Russians, from the blue shirts of Italy, from the irrepressible Dutch, or from perhaps the biggest obstacle to the trophy's return journey to the Iberian peninsula, Germany.
After that, look at France, Portugal and hosts Ukraine as outsiders. Then, and only then, should one consider England.
It's not their fault. The English player is as patriotic as any representing his country this summer, and surely will fight as if his life depended on it for Roy Hodgson. But John Terry and Co. will enter the ring with one hand tied behind their backs, because of their lack of technical ability.
Ditto the other English style team in the tournament—Ireland—who surrenders possession willfully and woefully.
There will be little sympathy around the football world for England's players this summer should they fail to deliver, partly because they are viewed as among the wealthiest and most privileged footballers on the planet, and partly because the players themselves do not expect to carry home the trophy. And then of course, there's the inevitable let down following the lofty expectations placed on the England players by their own media.
Therein lies the conundrum of English international footballer—viewed across the globe as a prince of world football, thanks to the stage that is the Premier League, but exposed as a footballing pauper when in the colors of the national team.
Masters of the square pass, England has shown over the years a distinct distaste for teamwork and ball retention at the major tournaments. Yet despite this, the Three Lions have traditionally been a match for the best countries in the individual stakes. And Euro 2012 will be no different.
So like everyone with a pulse in England in the coming weeks, I will join in in the picking of the "perfect" England team.
And this time I'll have the toughest judge of all—myself.
I'll have to justify each selection and painstakingly prove to myself that the player in question will fit into a machine whose moving parts work well together. If they don't—there's no place for passengers in Poland/Ukraine.
England won't win the tournament but if their manager can pick a team willing to work for one another, a quarter-final place for the Three Lions is entirely possible.
So let's start handing out the shirts...or not.
Sorry Scott Parker. Despite some rave reviews this season, taking you to the Euros is something that was all too prevalent in past England squads. It didn't work then and it won't now. And what of Gerrard and Lampard? Great players both but they've tread in each others' footsteps far too often when in an England shirt. Take one—but not both!
Further forward, is there a more combustive attacking threesome in the tournament than Daniel Sturridge, Danny Wellbeck and Ashley Young? Probably not. But will Roy Hodgson see it that way?
The West Brom boss will be bringing Wayne Rooney, and rightly so, but it should be with the proviso that the former Evertonian fights his way, after that two-game hiatus, into what looks like a very potent forward line.
And will the new manager recognize the need to bring a big man to the party?
As much as England and indeed Ireland, Scotland, and Wales are trying to correct the technical deficiencies in their game, they're not there yet. And so a big English style center forward will be needed for Plan B. Step aside Andy Carroll. Grant Holt—because of his ability to make the ball stick in the final third, and that little goal getting knack he's had this season—deserves a seat on the plane.
In the engine room, Paul Scholes, having graced the English top flight with his presence this term, is reportedly ready to pull on an England shirt one last time. It would be a big coup for the new manager and is a quest well worth pursuing. If only Jack Wilshire was there to assist the flame-haired midfielder.
Wilshire will one day lead a new and more evolved generation of English footballer to brighter times, but for now, Joe Cole is the creative force in midfield.
Frank Lampard? The Chelsea midfielder is not Cole, Scholes, or even Wilshire. A hero at club level, Lampard has been found wanting for England, as has Steven Gerrard at the big show.
So perhaps this is the time to separate the misfiring pair.
The England team, were it to be picked by yours truly, would be a 3-4-3 unit.
Protected by the best goalkeeper in the land—Joe Hart—defender Micah Richards and midfielder Ashley Cole's pace would nicely complement John Terry's positioning.
Paul Scholes would be the anchor man, coming short to receive his defenders' passes and building the attack from deep as he did so often for Manchester United on foreign fields.
Helping Scholes in the middle would be the chief distributor, Lampard.
Why?
Because he has marginally more experience of the big game and is better suited to the measured international pace than the effervescent Gerrard. Crazy to leave the Liverpool man at home? Maybe.
Lampard would sit in behind fellow Londoner, Joe Cole, who would, hopefully, use his silky skills to bypass a tackle or two and play the ball into space for any or all of Young, Sturridge, and Wellbeck.
And then, there's a bit of a mental block. Who gets the fourth berth in the middle and with what role? Adam Johnson, Gareth Barry, Stewart Downing, Aaron Lennon, Walcott, Oxlade-Chamberlain?
The Ox is perhaps the most exciting talent out there but his participation for his country, were the manager bold enough to pick him, would surely be from the bench?
Fact is that the struggle to fill this final place demonstrates a lack of talent for Hodgson. Ultimately the berth should go to Barry because of his ability to hold the ball and construct from the middle. The Manchester City man's ability to put a foot in when needed also helps his cause.
This England team, with its speed at the full-back positions and steel throughout, all the way from Richards to Scholes to Wellbeck, and little bit of guile where it matters, could overachieve at Euro 2012.