NBA Playoff Schedule 2012: Predicting Winners for Every Matchup This Weekend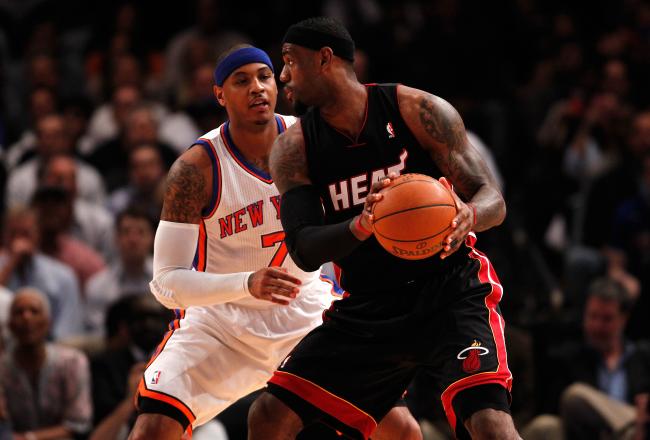 Jeff Zelevansky/Getty Images
The 2012 NBA Playoffs are in full swing as we head into the second weekend of postseason basketball.
Already some teams have begun separating themselves as championship contenders, while others have managed to disappoint just a week into the win-or-go-home action.
So who will prevail and who will fall this weekend?
Read on to discover this weekend's NBA playoff schedule and how it will play out.
Saturday's Schedule/Predictions:
No. 3 Indiana Pacers Over No. 6 Orlando Magic - Game 4 - Saturday, 2:00 PM ET, ESPN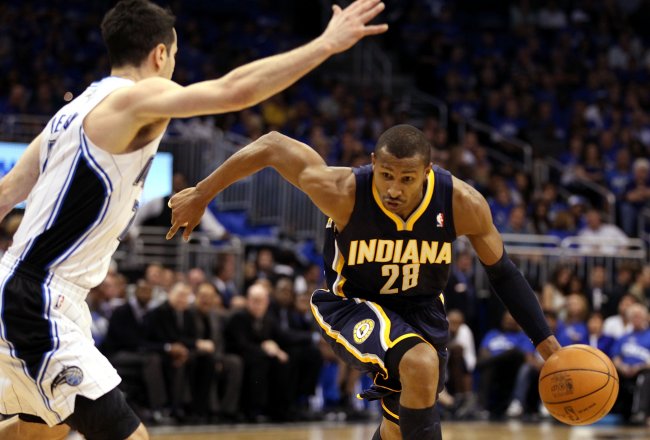 Marc Serota/Getty Images
After Orlando's unlikely Game 1 win in Indiana, this series looked to be up for grabs, but since then the Pacers have taken two from the Magic, and look primed to wrap it up in five games. When Glen "Big Baby" Davis is your go-to-scorer come playoff time, you know you're in some trouble. With Dwight Howard out, Orlando is helpless and simply out-manned.
Indiana's Danny Granger is averaging 20.3 points per game this series and big man Roy Hibbert is playing well on the backboards, averaging 12 rebounds per game against Orlando this spring. The Magic have and will continue to struggle to score points, and that gives the Pacers an undeniable edge this weekend.
No. 5 Los Angeles Clippers Over No. 4 Memphis Grizzlies - Game 3 - Saturday, 4:30 PM ET, ESPN
Who will win Game 3 of Grizzles-Clippers?
The Clippers' crowd at Staples Center on Saturday is sure to be loud and jumping for Lob City's first home playoff game since 2006. The Grizzlies got back in the series with a Game 2 win in Memphis, but are unlucky to not be headed to Hollywood with a 2-0 lead after squandering a 27-point lead in Game 1.
The power struggle between Rudy Gay and Zach Randolph will continue to be an issue for the Grizzlies, and the Clippers will take full advantage. Chris Paul is playing like an MVP this postseason, averaging 21.5 points and 8.5 assists for Los Angeles, and will scratch and claw the Clippers to a 2-1 series lead on Saturday afternoon.
No. 2 Oklahoma City Thunder Over No. 7 Dallas Mavericks - Game 4 - Saturday, 7:30 PM ET, TNT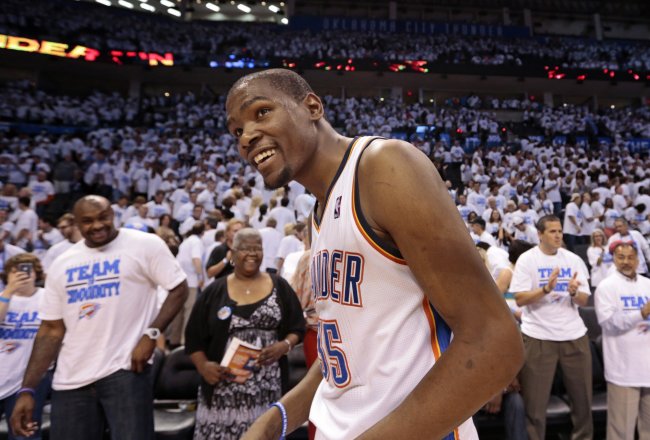 Brett Deering/Getty Images
The defending NBA champions look anything but this postseason, as they find themselves in a 0-3 hole to the Oklahoma City Thunder. After two games in OKC it looked like this series was poised to go seven games, but after a dominating effort by the Thunder in Game 3 in Big D, this series is all but history.
Durant is averaging more than 27 points per game against Dallas this spring, while Russell Westbrook is averaging more than 25 points per game. Dirk Nowitzki has carried Dallas, averaging more than 24 points per game against the Thunder, but his lack of a supporting cast will be Dallas' downfall this May.
No. 1 San Antonio Spurs Over No. 8 Utah Jazz - Game 3 - Saturday, 10:00 PM ET, TNT
Who will win Game 3 of Spurs-Jazz?
The Western Conference's No. 1 overall seed, San Antonio Spurs have thrashed the Utah Jazz in two games thus far, beating them by 15 points in Game 1, and then by 31 points in Game 2. Look for the trend to continue in Salt Lake City, as the Jazz simply have no answer for Tony Parker and the Spurs' pick-and-roll game.
In two games in San Antonio, Parker is averaging 23 points and 8.5 assists. Meanwhile Paul Millsap is Utah's leading scorer, averaging just 14.5 points per game for a Jazz squad with little firepower that has made matters worse by playing little to no defense.
Sunday's Schedule/Predictions:
No. 1 Chicago Bulls Over No. 8 Philadelphia 76ers - Game 4 - Sunday, 1:00 PM ET, ABC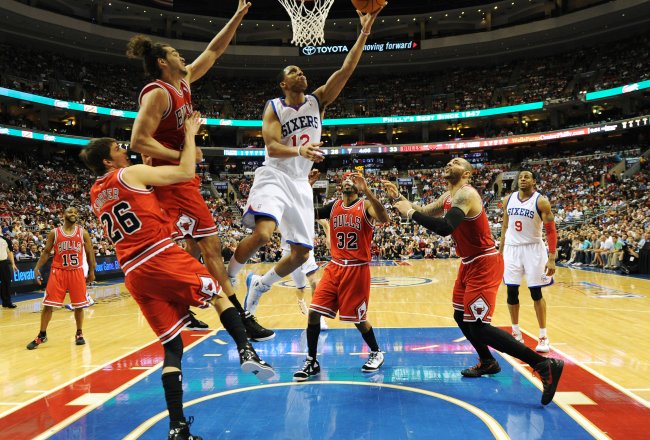 Drew Hallowell/Getty Images
Disregarding how much the Chicago Bulls miss Derrick Rose, they can't fall into a 1-3 hole to the offensively-challenged Sixers, can they? Though both teams play superb defense, the Bulls are a much more consistent defensive team, and that should pay off in the long run.
As bad as things look for the Bulls after three games, a win on Sunday will regain them home-court advantage as the series shifts back to the Windy City. The keys for Chicago will be Richard Hamilton continuing to score in bunches and the health of Joakim Noah inside. If Noah can't return quickly from his left ankle injury, the Bulls could be headed home early.
No. 2 Miami Heat Over No. 7 New York Knicks - Game 4 - Sunday, 3:30 PM ET, ABC
Who will win Game 4 of Heat-Knicks?
The New York Knicks have looked totally inept this postseason, being outscored by the Miami Heat by 60 points total in three games. Amar'e Stoudemire will likely not return after lacerating his hand following NY's Game 2 loss in South Beach, and that only puts more pressure on Carmelo Anthony to score against one of the league's best defenses.
The Heat are firing on all cylinders at the moment, and this series has nothing left to offer NBA fans outside of Miami. Both teams are trending in different directions and on two completely different levels. Get out the brooms.
No. 4 Boston Celtics Over No. 5 Atlanta Hawks - Game 4 - Sunday, 7:00 PM ET, TNT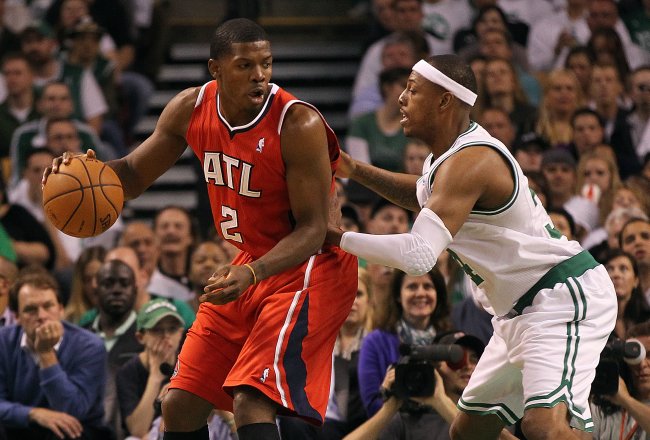 Jim Rogash/Getty Images
Boston's Game 3 win over Atlanta might have been a dagger to the heart of the Hawks, who could be without Josh Smith again on Sunday night. The Celtics did not play particularly well and still outshone the Hawks, who have looked overwhelmed in the postseason for the past few years now.
Though Jeff Teague and Joe Johnson have been playing well for Atlanta, averaging more than 18 points per game, Paul Pierce and Kevin Garnett have matched them point for point. That makes Rajon Rondo the x-factor in this series, and if he can play smart and stay on the court, Atlanta is in trouble.
No. 3 Los Angeles Lakers Over No. 6 Denver Nuggets - Game 4 - Sunday, 9:30 PM ET, TNT
Who will win Game 4 of Lakers-Nuggets?
The Lakers have too much size for the Nuggets and that will prove to be fatal for Denver in this series as it wears on. Los Angeles also has Kobe Bryant, who is averaging more than 30 points per game this postseason. Denver is led by tiny point guard Ty Lawson, who is averaging 19 points per game himself, but that won't be enough to top a team with as much scoring prowess as LA.
Andrew Bynum and Pau Gasol are double-doubles waiting to happen every night, and Denver's lack of experience on the interior is a ticking time bomb. The pressure of evening the series and going back to Hollywood in need of a win will be too great for the young Nuggets on Sunday though, as the Lakers take command of their first-round series with a gutsy road win.
Follow Patrick Clarke on Twitter for more on the 2012 NBA Playoffs.
This article is
What is the duplicate article?
Why is this article offensive?
Where is this article plagiarized from?
Why is this article poorly edited?