NBA Playoffs 2012: Game 3 Grades for Philadelphia 76ers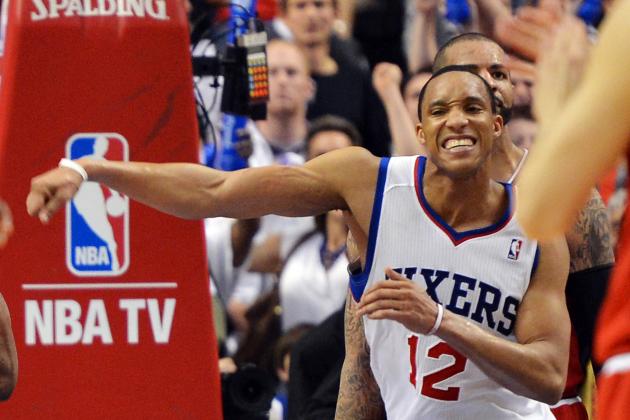 Drew Hallowell/Getty Images

Despite shooting just 34 percent from the field, the Philadelphia 76ers found a way to grind out a tough win in Game 3 of their first-round series against the Chicago Bulls. After playing to a draw in the first half, the Sixers looked like they would be able to control the Bulls with some stingy defense.
Things changed in the third quarter. The Bulls outscored the Sixers 21-11 in the game's penultimate quarter, and held a nine-point lead entering the fourth.
With no answer on offense (the Sixers shot just 1-14 from three) and no presence on the glass, it appeared that a Game 3 victory was in hand for Chicago.
Then, something strange happened. After Joakim Noah exited with a severe ankle sprain, the Sixers found life. The Sixers would end the game on a 26-7 run, led by Spencer Hawes and Evan Turner. Who would have guessed that?
Hawes and Turner have both had their fair share of struggles, but it didn't matter on Friday night.
It's clear that Hawes and Turner will be getting high marks for their performances in Game 3, but who else will?
Here are the 76ers' grades from Game 3.
Begin Slideshow

»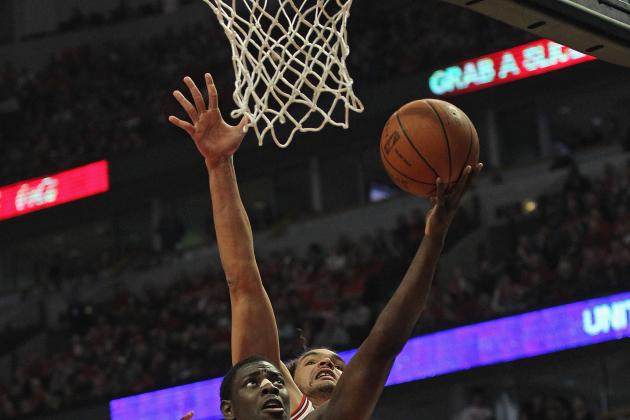 Jonathan Daniel/Getty Images

Jrue Holiday played a different kind of role on Friday night. Instead of being the go-to scorer, Holiday was more of a stabilizing force. Holiday was one of four Sixers who finished in double-figures, netting 17 points on 5-of-10 shooting from the field and 7-of-9 shooting from the free-throw line.
After Holiday's Game 2 performance in which he poured in a game-high 26 points, many called for the 21-year-old to step up as the team's go-to scorer.
Although his offensive production has been a pleasant surprise, Holiday's defense on Rip Hamilton has been even more impressive.
With Evan Turner shadowing C.J. Watson, Holiday has been tasked with tailing Hamilton all over the court on those pesky off-ball screens. While Hamilton did score 17 points, he was a meager 4-of-15 from the field in Game 3.
Grade: B+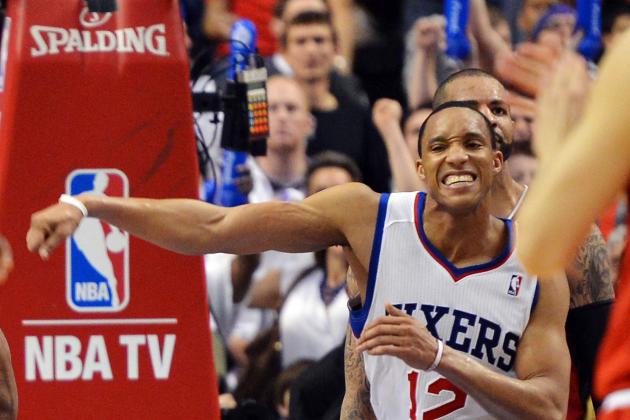 Drew Hallowell/Getty Images

Evan Turner has been waiting two years to make his presence felt. On Friday night, he made sure everyone knew why he deserved to be selected No. 2 overall in the 2010 NBA Draft.
Turner was an integral part of the Sixers' fourth quarter comeback, and he finished with 16 points on 5-of-12 shooting and added six key free throws that helped ice the game for Philadelphia.
However, the biggest play Turner made all night was on the glass with just under 30 seconds to go. With the Sixers up one, Turner drove to the basket and missed several layup attempts, but would grab consecutive rebounds, as he fought with Chicago's frontcourt for possession. Ultimately, Turner would get fouled and sink two free throws to put the Sixers up three.
Turner's effort on that one possession exemplified the dichotomy between the Sixers and Bulls in the closing stages of Game 3. One team was full of fight, and the other was simply exhausted.
Grade: A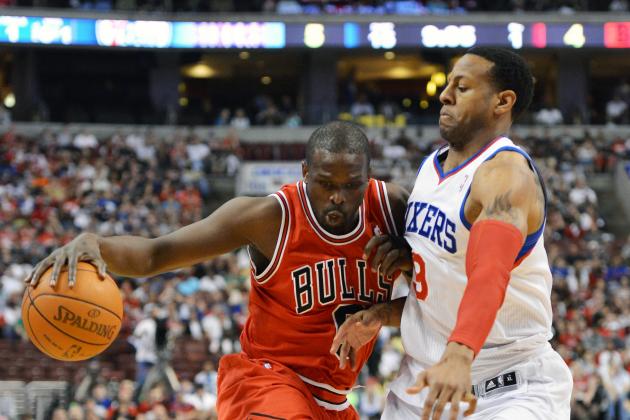 Drew Hallowell/Getty Images

Offensively, this was as poor a game as Andre Iguodala has played in some time. However, Iguodala's numbers alone don't tell the story.
Despite shooting just 2-of-9 for five points, Iguodala was able to hold Luol Deng, perhaps the Bulls' biggest scoring threat, to five points.
In fact, if you really want to get technical, the Sixers' margin of victory was just five points, so without Iguodala perhaps the Sixers lose this game. Just a thought.
In Game 3 the offense seemed to revolve much more around Jrue Holiday and Evan Turner, as they worked the ball into the lane, while at times receiving passes from Spencer Hawes at the top of the key.
Expect Iguodala to return to form in Game 4 where the Sixers will hopefully be able to get out on the break a bit more.
Grade: C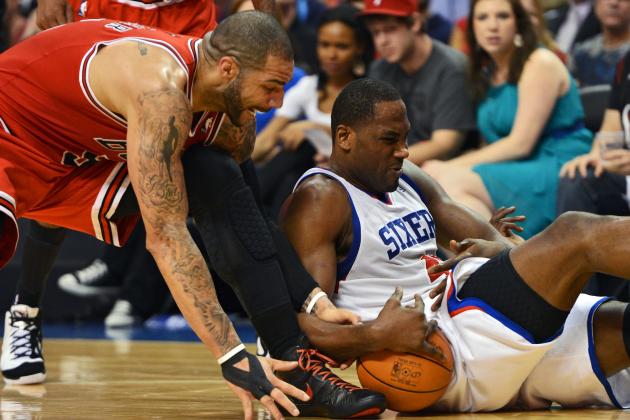 Drew Hallowell/Getty Images

As I previously mentioned, the Sixers offense wasn't its usual self on Friday evening. Evan Turner and Jrue Holiday ran the majority of the offense, and they rarely worked the ball into the post for Brand.
Typically the Sixers will run a few sets for Brand at the beginning of games to get his jumpshot going, but they didn't go that route on Friday.
Brand was 0-of-5 from the field and failed to record a single point in 26 minutes of work. Brand only pulled down two rebounds, and as a team, the Sixers were out-rebounded 49 to 43.
At only 6'9'', Brand showed some grit and determination on defense going up against Carlos Boozer, Taj Gibson and Omer Asik. Although he failed to fill up the stat sheet, the Sixers were plus-9 when Brand was on the court last night.
Grade: C-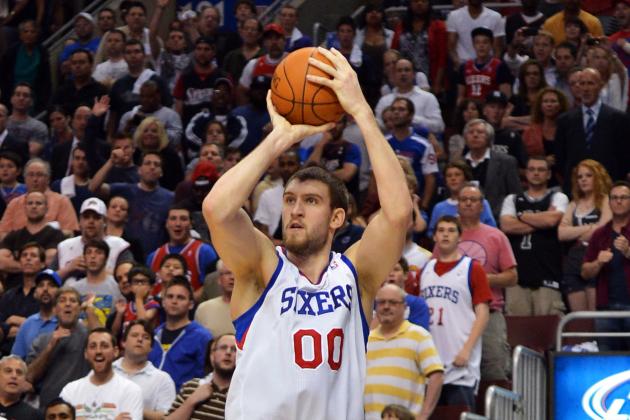 Drew Hallowell/Getty Images

If you had asked me what grade Hawes deserved at halftime, I would have said a C. However, there's no question that he deserves an A for his performance down the stretch.
Hawes finished with 21 points on 7-of-15 shooting and was easily the Sixers' best jump shooter in Game 3. Hawes also grabbed nine rebounds, and he recorded many of them late in the game when his team was looking to ice things.
The biggest difference in Hawes' game on Friday was that he showed improved confidence. Hawes was confident in all of his moves to the basket, driving to the hole and spotting up without hesitation.
If Hawes can keep this up, not only will the Sixers win this series, but he will be looking at a new contract this offseason.
Grade: A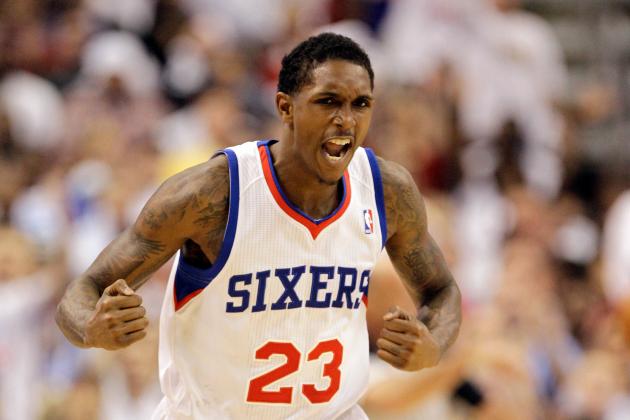 Rob Carr/Getty Images

After exploding in the latter stages of Game 2, Williams took a step back in Game 3. Finishing with 14 points on just 5-of-14 shooting, Williams appeared hesitant and a bit sluggish.
When Williams has been on the floor the Bulls' defense has focused primarily on limiting his touches and open looks, forcing him out to half-court at times with some creative trapping.
Perhaps the Bulls' stingy defense has gotten in Williams' head a bit, but he was able to knock down a big shot down the stretch to cut the deficit to three in the final moments of the fourth quarter.
If Joakim Noah is unable to go on Sunday due to his bum ankle, look for Williams to drive to the hoop more looking for contact.
Grade: B-