Miami Marlins: Should the Fish Trade Hanley Ramirez?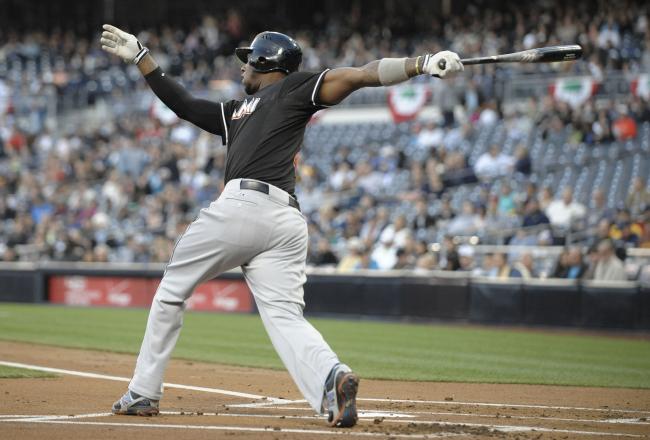 Hanley Ramirez has swung a hot bat for most of his career, but has recently seen his offensive numbers decline
Denis Poroy/Getty Images

After the Miami Marlins broke the bank to sign Jose Reyes, Mark Buehrle and Heath Bell this offseason, the idea of trading a franchise cornerstone like Hanley Ramirez might seem insane. At the very least, it sends a mixed message; why sign all these big-name free agents in order to win in 2012, and then trade Ramirez, one of the best players in baseball over the past few years?
And make no mistake, Ramirez has been one of the most valuable players in baseball since his first full season in 2006. From 2006 to 2011, Ramirez is sixth in FanGraphs Wins Above Replacement at 31.1. Still, coming off of an off-year in 2011, and seemingly struggling both at the plate and in the field so far in 2012, the Marlins may want to consider selling (relatively) high on Ramirez.
Ramirez's offensive numbers have been in decline every year since 2009. After posting a .954 OPS in 2009, he followed it up with a .853 OPS in 2010, a .712 OPS in 2011, and this year has a .672 OPS as of May 5. His wOBA in 2009 was .410, but it went down to .373 in 2010, .317 in 2011, and is .309 so far in 2012.
The obvious follow-up question is, why has Ramirez's offensive performance gotten worse over the past couple of years? In some ways, his plate discipline has improved—his BB percentage has actually gone up every since 2009, and his K percentage in 2010 and 2011 were both close to his career mark of 16.3 percent.
One of the only other statistical areas where Ramirez has declined every year since 2009 is his BABIP (batting average on balls in play). His BABIP in 2010 was the third-lowest of his career as a full-time player (.327), in 2011 it was the second lowest of his career (.275), and it's .214 so far this year.
This decline in BABIP could mean a few things. It could mean that Ramirez is getting unlucky; league average BABIP is generally somewhere around .295 to .300. Perhaps Ramirez is just hitting a disproportionate number of balls right at fielders. Maybe soon his luck will change—soft bloops will fall safely in the outfield grass, ground balls will find holes and his offensive stats will improve.
Then again, maybe the declining BABIP isn't a "luck" thing so much as it's a "Hanley isn't hitting the ball as hard as he used to" thing. His line drive rate declined from 19.8 percent in 2009 to 16.3 percent in 2010 to 15.9 percent in 2011. He's getting fewer extra-base hits as well: 67 in 2009, 51 in 2010, and 26 in 2011 (although it's worth noting Ramirez only had 385 plate appearances last year).
All of this implies that Ramirez is, for whatever reason, making weaker contact over the past couple of years than he has in the past.
Then there's the question of his defense after switching to third base. Ramirez has a UZR of minus-0.9 this year, and while it's still way too small of a sample of games he has played at third to draw any meaningful conclusions from this number, it still isn't a promising start.
But Ramirez is still adjusting to third, and although he was a poor defensive shortstop by basically every defensive metric, he might become a solid defender at the hot corner in the future. Personally, I wouldn't put money on him doing so—especially considering that it's unlikely he becomes a better defender as he gets older and his range (presumably) decreases—but still, it might happen.
This is all to say that as of right now, Ramirez is not a particularly good baseball player. He has been in the past, but he isn't right now, and he will not be one in the future if he continues to decline offensively. Which begs the question: should the Marlins look into trading Ramirez while he still has relatively high value?
At this point, I think the answer is no. Ramirez has been a very good to excellent hitter every year of his major league career with the exception of 2011. Generally speaking, great hitters don't just forget how to hit overnight.
More importantly, like I mentioned earlier, the Marlins are going for it all this year. Rebuilding teams don't sign three marquee free agents, and they don't trade players like Ramirez for prospects. While the Fish have gotten off to a disappointing 12-14 start this year, it's still very early and they have plenty of time to make a run for the NL East championship. If the Marlins do end up contending for the division title, odds are that Ramirez has a lot to do with it.
But if Ramirez continues to struggle this year? Then it may be worth it to actively shop him to other teams.
The Marlins don't have a particularly deep farm system, and the prospects Ramirez could bring back in a trade might go a long ways toward replenishing it. He is in the fourth year of a six-year, $70 million contract that would pay him $15.5 million in 2013 and $16 million in 2014 (via Cot's Baseball Contracts), and the Fish would certainly benefit from the added financial flexibility trading Ramirez would give them.
More importantly, Ramirez will be thirty going into next year, and coming off of two subpar years, there isn't necessarily reason to believe that he would improve going forward.
Ramirez has been one of the bright spots on a Marlins team that has struggled since winning the 2003 World Series. He is arguably the face of the franchise. But going forward, the Fish may find that they have more reasons to cut bait with him than to keep him.
This article is
What is the duplicate article?
Why is this article offensive?
Where is this article plagiarized from?
Why is this article poorly edited?

Miami Marlins: Like this team?