WWE SmackDown Results and Reflections: Over the Limit Still Needs Build-Up
May 5, 2012

If you want my Cliff's Notes version of SmackDown!, scroll to the end of the article. If you want to find the questions I hope you'll answer for me, SKIM THE ARTICLE FOR ANYTHING IN ALL CAPS. If you want to skip to my predictions, look for the ***.
Sheamus is the first man out tonight. After a forgettable few moments on the mic, Sheamus starts trying to get the audience to join him in a "Yes!" chant. So now, apparently, Bryan's opponents can use his chant as well? Get your own catchphrase, Sheamus!
Daniel Bryan is the World Heavyweight Champion's opponent tonight. As I was watching this, I thought to myself, "Why are they giving us this match again?" But not a minute goes by before my question is distracted by Alberto Del Rio's personal ring announcer, Ricardo Rodriguez, attacking Sheamus with a high cross body from the top rope. The match is declared a No Contest. 
Bryan expresses his displeasure to ADR's face. Could Daniel Bryan face off against Sheamus and Del Rio at Over the Limit? Could he be given a WWE Championship and World Heavyweight Championship title shot in the same night?
If so, he could run with the claim that he'll be the first superstar since Y2J to compete for—and win—both major titles in the same evening. That could lead to a great mic war (and a phenomenal free-television match) between Bryan and Y2J sometime between now and OTL.
*** I'm calling it right now: Sheamus will lose the title at the PPV, but they'll blame it on his shoulder, so as to soften his loss.
I'm not a big fan of Kofi Kingston and R-Truth wearing the Tag Team Titles. If this is who the WWE is having represent their tag team division, they better have something good in mind. Clearly Hunico and Camacho won't get a victory over the champs.
But before the match can start, out come the former champs, Epico and Primo, with Rosa and apparently their new representation, AW. We are reminded more than once that "AW" is short for "All World," alluding to the name of his agency. They all sit in chairs at the top of the entrance ramp, not interfering at all as the champs get the clean win over the their Latino opponents.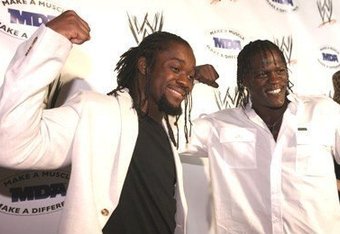 I feel like WWE is struggling to form a solid tag team division or Divas division. HOW DO YOU THINK THEY COULD FIX EITHER DIVISION? Humor me for a moment, will you? What if (for either championship) they had title change on a weekly basis, the belt(s) going to someone else on TV every time they are defended, until it sets a new record for most consecutive unsuccessful title defenses. Michael Cole continually remarks about how weak the division is.
Then, one week, there is a major challenger. I'm not sure who the new, dominant tag team would be, but for the Divas division, it would clearly be Kharma. This dominant challenger(s) takes the title(s) after Cole has been running it into the ground. They firmly establish that the championship means something again, and the weak division rapidly has some credibility again. That would be believable for Kharma, but is there a tag team that could take the division by storm?
Next up, we have the Funkasaurus, Brodus Clay, against the All-American American, Jack Swagger. Clay is accompanied by the "Funkadactyls" (yes, they were officially announced as such), while Swagger is accompanied by Vickie and Ziggler. Two segments in a row featuring a manager with more than one superstar under their guidance. Could this be the re-emergence of the manager stables, a la Bobby Heenan, Mr. Fuji and "The Doctor of Style" Slick? Swagger leaves mid-match, losing via count-out.
That gives the Funkasaurus televised victories over Ziggler and Swagger within the last six days. I don't really know where they're going with this… On a side note, now the Funkasauras celebrates a victory by bringing little kids into the ring to dance with him and Naomi and Cameron.
Really now, are we pretending like Naomi and Cameron are good role models for little girls? They have the most sexually-arousing moves within the WWE, other than Rosa Mendes. Yes, please have pre-teen girls want to follow their lead. Good call, WWE.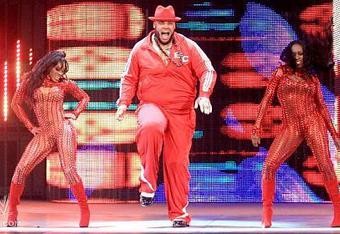 Confession time: I don't have cable. I watch SmackDown! via illegal stream from the UK. I know there are slight variations between the UK and the US versions of SmackDown! and Raw, but did the US version really have a Cena promo video? I mean, that's what we normally use for mid-carders who can't get over on their own, right?
Why are we devoting this time to someone who has been on top for the last half-decade? This is followed by a Raw Rewind of John Laurinaitis and Lord Tensai destroying Cena. Are there really people who watch SmackDown! but not Raw? Who are you and why would you do such a thing?
Backstage, we see Daniel Bryan and Alberto Del Rio arguing with Eve about who the number one contender should be and both demanding that Sheamus be forced to wrestle tonight. Now I'm really feeling the Daniel Bryan double-title shot.
That would give him a legitimate cop-out for losing both matches: he could dominate both Sheamus and ADR in a triple threat match, only for one of them to get a lucky pin after Bryan takes out the other.
Then he could blame a loss to CM Punk on the fact that he had a triple threat match earlier in the evening. On another side note, does anyone else get a little turned on when someone as gorgeous as Eve flexes her power muscles as an administrative authority figure? Power is sexy.
After weeks of cliché promos, we finally get the debut of Damien Sandow. He is facing some guy from NXT I've never heard of (Derrick Bateman - ED.), because like most people, I haven't watched NXT since the season that was highlighted by the members of Nexus. But before the match starts, Damien says he's not going to waste his time with the NXT jobber and leaves.
(On yet another side note, Damien Sandow reminds me of what I think would be the result of someone trying to create a wrestling persona for Thom Stark. Sandow is the "self-professed intellectual Savior of the masses.")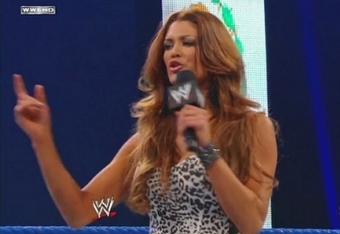 Apparently, NXT Jobber earned this SmackDown! match on an episode of NXT, and demands—from Eve and TEDDY… what a newb—the fulfillment of his match. This queues Ryback.
Now, during the days of the WCW/WWE war, I was ultra-faithful to Vince McMahon and never watched WCW. I was never fully aware of what the nWo was all about, or why people cared about some roided version of Stone Cold named Goldberg. 
During his last two televised appearances, Ryback has received "Goldberg" chants. For those of you that watched WCW, IS RYBACK REALLY THAT MUCH LIKE GOLDBERG? As you would expect, he makes quick work of the NXT talent.
We get a brief promo for WrestleMania 29. Is this Angels and Airwaves (or is it Blink182… or Boxcar Racer?) song the official WM29 theme song? I'm already as sick of it as I have been of the last three WrestleMania theme songs. Yeah, I'm talking to you, MGK.
Next up we have The Big Show and Randy Orton vs. Cody Rhodes and Kane. The lovable giant version of The Big Show is already tiresome. If he must remain a face, make him more like Randy Orton, who is always pissed and shows no mercy. Not some ogre that gives away his accessories to elementary kids.
The commentators keeps calling the IC Title match from Extreme Rules a "spoof" since The Big Show lost on a technicality. If you ask me, The Big Show winning was a fluke. No one will legitimately remember that as The Big Show's "WrestleMania moment," and no one cares that he just added the IC Title to the long list of belts he's managed to capture.
Plus, how do you justify one of the "Be a Star" representatives, who lost his match in a completely legal fashion, throwing his opponent through multiple tables after the match was over? Maybe I'm being too harsh, but I'm over The Big Show. If he is really so "embarrassed" by the way he lost at Extreme Rules, play that story up.
Since they're having Round 3 at Over the Limit, why not have Cody ridicule The Big Show for being such a behemoth that he can't stand on a table? Have Cody mock him while standing on a table, jumping on a table, maybe doing a little dance on the table, all the while mocking The Big Show because the table doesn't break underneath him.
Then he could show clips of other stars NOT breaking tables. Obviously, a clip of him using a table at Extreme Rules to land a kick to The Big Show's skull. CAN YOU THINK OF OTHER EXAMPLES OF WRESTLERS *NOT* GOING THROUGH A TABLE?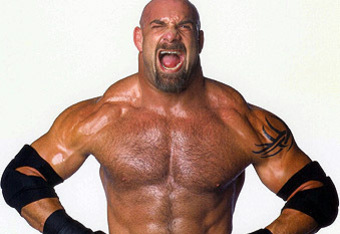 But perhaps a more important question than what they're doing with Paul is what are they doing with Randy Orton? He's now being dubbed as the "franchise player" of SmackDown! Everyone realizes that the brands in the WWE don't matter anymore.  I think they're giving us small hints of the inevitable Orton/Rhodes feud.
*** I predict a #1 Contenders Match (if not a title match) between the two at SummerSlam, if not sooner. Maybe that's not a risky wager, but a smart gambler doesn't take a huge risk at every roll of the dice.
The Big Show gets the pin on Cody Rhodes. What purpose does that serve?
We see Sheamus backstage with his shoulder in all kinds of tape. But, being a babyface champion, he wants to fight anyway! He literally took Finlay's "I love to fight" line in the opening segment, complete with Irish accent. I wonder if that was intentional…
While taking notes on this episode, I wrote the following at this point: "Warning segments are getting more extreme!" An hour after I watched it, I can't remember what that means. Clearly the segment wasn't as powerful as I originally felt it was.
Layla comes out next, showcasing the Divas Championship. When Natayla is announced as her opponent, I get high hopes for a decent match. The announcers note that Layla is receiving heat from the rest of the Divas for being granted a title shot after being on the injured reserve for a year. I wonder if that's true.
I've always thought that Vince should stir up legitimate heat amongst some of the wrestlers. For example, when someone like MVP or Drew McIntyre are supposedly being paid way more than everyone else, WWE should legitimately give them things other wrestlers don't get: limos, hotel suites, private locker rooms.
Then, when they're playing the part of the spoiled man-brat, the heat from other wrestlers will be legit. I just feel like that would come across really well on television. I can't remember how this match ended, but I know Layla is still the Divas Champion.
Backstage, Teddy Long is forced to rub oil on the back of Aksana's new boy-toy, Antonio Cesaro. Maybe this makes me a sadist (or is it masochist, I always get them confused), but I thought the humiliation of Teddy Long was hilarious. I don't miss Teddy as a General Manager. Maybe he'll form his own manager-stable before long to rival with Vickie and/or AW.
We see AJ backstage as she apologizes to her BFF (what's her name again?) (Kaitlyn - ED.) for slapping her last week. Then, after the BFF tries to justify her comments from the week prior, AJ attacks her again. I literally LOL'ed at AJ re-slapping her BFF.  I may have some issues to work through.
I can dig the crazy ex-girlfriend gimmick (as I suspect most dudes can) and I'm interested to see where WWE is going with this. Can a crazy AJ hold her own in the Divas division when Kharma is due back any day now and the Glamazon could return whenever WWE Creative feels she is needed?
Another Raw Rewind. Or is it Raw Rebound? Does it really matter? We are reminded (Raw Reminder?) that Brock is an animal, demonstrated when he "breaks" Triple H's arm.
Finally, the finale. The Sheamus vs. Daniel Bryan match that opened the show (and ended in a No Contest) is restarted, this time with ADR starting at the announcer's booth. Despite Del Rio's attempt to interfere, Sheamus manages to get the W—a clean W, no less. It looks like Sheamus will go into OTL defending the World Heavyweight Championship favoring his right shoulder.
They can go two ways with this: 1) Sheamus is the odds-defying, babyface champion who wins no matter what Johnny Ace puts in front of him; 2) Sheamus is the less-than-Cena face champion who only loses when the deck is stacked against him and a loss doesn't prove he's a weaker combatant.
WHAT'S YOUR TAKE? WHAT DIRECTION ARE THEY TAKING WITH SHEAMUS? Are they building him as the next Cena, the eventual Super-Sheamus? Or are they simply building him to fall at the next PPV?
Cliff's Notes: Sheamus wins despite being targeted by both Alberto Del Rio and Daniel Bryan; when he loses the title, it won't be cleanly. The new Tag Team Champions (R-Truth and Kofi Kingston) and Divas Champion (Layla) are struggling to bring legitimacy to their respective divisions. There is still no clear direction for Cody Rhodes, Kane, The Big Show, or Randy Orton.
Teddy Long is still Johnny Laurinaitis' bitch, and AJ is still crazy. The Funkasaurus is still The Funkasaurus, and Ryback is still Goldberg. The WWE has a lot of work to do in less than three weeks if they hope to build legitimate interest in Over the Limit, especially from the SmackDown! side of things.