Boston Celtics' Only Prayer for Playoff Salvation Is Ray Allen's Healthy Ankle
May 5, 2012

Jim Rogash/Getty Images
The Boston Celtics got a huge lift Friday night in Game 3 of their first-round series against the Atlanta Hawks when not only All-Star point guard Rajon Rondo returned to the lineup, but when future Hall of Famer Ray Allen returned from an injured ankle as well.
Rondo returned after serving his one-game suspension for bumping a referee in Game 1, but it's a great sight for Celtics fans seeing Allen back after missing the past 11 games with an injured ankle.
Boston needed them both to take a 2-1 lead in the series, but looking down the road, it's the return of Allen that gives the Celtics the best chance to make a lengthy playoff run.
Of course, all of that depends on if Allen's ankle is healthy enough for the playoff grind.
He looked good Friday night playing 37 minutes, which is probably more than head coach Doc Rivers initially planned. Allen scored 13 points on 6-of-12 shooting and didn't connect on either of his four three-point attempts, but he gave the Celtics a lift nonetheless.
Boston's starting five of Rondo, Avery Bradley, Paul Pierce, Brandon Bass and Kevin Garnett is playing as well as any starting unit in the NBA, but for the Celtics to make a run, they need steady production from the bench.
That's where Allen comes into play.
Other than Allen's 13, Boston got only six other points off the bench in Game 3, all six from Mickael Pietrus. That's after getting only four points from the reserves in Game 1 and only 14 in Game 2.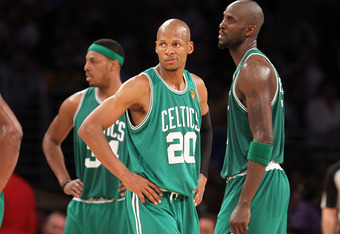 Ronald Martinez/Getty Images
It's been no story that the Celtics have lacked depth all season, but being able to bring a veteran like Allen off the bench is a luxury for Rivers. Simply having a guy who can knock down shots is huge, and before it's all said and done, Allen will make his presence felt in this postseason.
Allen heating up is vital to the Celtics future playoff success. He's been there before and no situation is too big for him. As good as Bradley has been, Rivers now has the option of turning to Allen on offensive possessions late in games.
This may be Allen's last run in a Celtics uniform, but before that chapter of his career closes, expect him to do something big.