Manchester United: Finding It Hard to Keep Faith?
May 5, 2012

Michael Regan/Getty Images
Fans and critics alike were almost unanimous in condemning Sir Alex Ferguson's tactics this past Monday against Manchester City at the Etihad.
The team selection was stifling and lacked imagination, and it suggested the great man was playing for a draw—a far cry from the buccaneering Ferguson sides of eras past.
However, it is not the faith with Ferguson that shows signs of beginning to waver, but rather with some of the players currently in the side. Regarded as one of Manchester United's 'weaker' sides in recent years, even if they do win the league, early exits from both domestic and continental competitions will do little to assuage that unwanted tag.
A remarkable overhaul of Manchester City's lead, then an unfathomable implosion in the final few games of the season has left United second to their inter-city rivals on goal difference with two games to go.
As spectacular as the decimation of City's eight-point lead was, more telling was the collapse that followed—throwing away their own eight-point lead with a loss to Wigan, a 4-4 draw (after leading 4-2) at Everton and a compounding squib of a defeat to Roberto Mancini's men.
The worrying factor is that never before has a United side under Ferguson's helm stalled so spectacularly at the most crucial stage of the season.
The return of Paul Scholes was telling. United won their first 11 games with him in re-instated in centre midfield. However, the Red Devils' cause was helped by some patchy form away from home for Man City. As good as the comeback was, if United don't win the league, it won't lend a huge amount of credibility to a side that already has its fair share of doubters.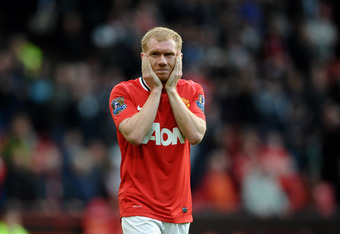 Laurence Griffiths/Getty Images
After his explosive debut season in the Premier League, in which he bagged 14 goals (20 in all competitions) and contributed to a record-breaking 19th title, Javier Hernandez's second season was off to a slow start, thanks to a concussion he suffered on the club's preseason tour.
The rapid Mexican has since found a prolonged period of form hard to come by, despite 10 goals in the league, including stoppage time goals against Liverpool and Chelsea. His "replacement," Danny Welbeck, has been an almost permanent fixture in the starting XI but is still a player yet to live up to the heights required to be a Manchester United footballer.
Despite a key couple of contributions in January with important goals against Manchester City and Arsenal, it is arguable that Welbeck's all-around play doesn't merit such a solidified place in the team.
With Rooney dropping deep to assume a playmaker role (more due to a weak midfield than his excellence in said position), Welbeck has been employed as the out-and-out striker. However, his goals return isn't exactly impressive—nine in 30 Premier League games—and neither is his capacity to assist in goals.
If we delve a little deeper into the subtle nuances of being a centre forward, we can see his "unnoticed" play is—well, just that.
Hernandez will keep centre-backs on their toes with his constant movement and harrying, while Berbatov will always be showing for that ball into his feet to work his magic. Welbeck, meanwhile, doesn't maintain much of a physical presence, nor does he attempt to get in behind defenders and attack with pace.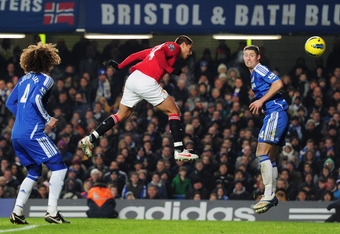 Shaun Botterill/Getty Images
When teams like Arsenal, Chelsea and Manchester City have genuine world-class forwards in Van Persie, Drogba (arguably Torres, too) and Aguero, you have to look closely at the continuing preference of Danny Welbeck.
With a weakness in midfield necessitating Rooney to drop deep and the niggles Hernandez has picked up, it seems like Ferguson has been left with no other choice than to play the local lad Welbeck (if you can explain why the 2010/11 Premier League top goal scorer, Dimitar Berbatov, has been relegated to cleaning boots, enlighten us all in the comments box).
Hernandez should hopefully find some goal scoring form again next season but still resembles something of a diamond in the rough. He's a lethal finisher, and his pace and movement is a handful for defences, but his play on the ball (hold-up play, dribbling, etc) needs work.
The comparisons with Ole Gunnar Solskjaer are not without foundations—an impact player 'Chicharito' could well turn out to be. Who, then, should assume the mantle of the striking role in the Manchester United team?
Does Rooney lead the line akin to his performances in the 2009/10 season? That would necessitate some investment in the centre of the park to allow him the platform to play further up the pitch. Or does Sir Alex continue to use Rooney in a withdrawn role and go into the market for a top-class striker? In the past 25 years, it's a real struggle to pinpoint a genuinely prolific forward that has come through the Manchester United youth ranks.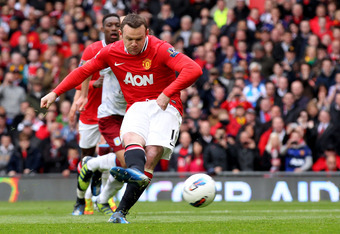 Alex Livesey/Getty Images
As far as forwards go, there are few who have the required potential or ability to fulfill the role of the Manchester United centre-forward. Athletic Bilbao's Fernando Llorente has made for a solid argument, both through his excellent form over the course of the season—29 goals in all competitions—as well as his outstanding performances against United in the Europa League.
He's an old-fashioned target man—strong, fearsome in the air and deadly in the penalty area. He provides a focus for the Athletic Bilbao team if their passing game breaks down, winning balls and chasing down lost causes, but he is more than just that. His movement is sharp, his first touch keen and his finishing superb.
With age comes maturity it would seem [insert generic gag about good wine] as Llorente's best form, for both club and country, has occurred post-25 years old. Would Sir Alex have reservations about signing a forward a little too close to 30?
That being said, Ruud van Nistelrooy was 26 when he signed from PSV Eindhoven in 2001 (albeit a year late due to a catastrophic knee injury), and he went on to become one of the modern game's most prolific goal scorers.
If United were to rely on Rooney as the focal point of their attacking intentions, it may me prudent to look a little deeper to find the complement to his talents.
Ferguson is said to be impressed by the Belgian international Eden Hazard, with Lille manager Rudi Garcia deploying him behind the main striker as of the 2011/12 season. His versatility and aptitude with both feet could very well allow him to fit into a fluid attacking lineup, interchanging higher up the field with the likes of Nani and Young, who can play on either wing, much like Hazard himself.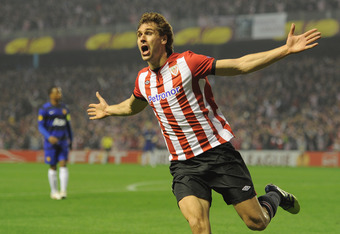 Michael Regan/Getty Images
The more unlikely option, though no less talented, would be the notion of signing Antonio Cassano. The hotheaded Italian is supremely talented and is a shining example of the "second striker" definition—he combines his excellent dribbling ability with an astute eye for a pass to wreak havoc in the hole between defence and midfield.
However, his appearances have been severely limited this season due to a heart operation he underwent in October of 2011. In fact, he only returned in April to the first team fold. There is also the contention of his temperament—keep him in check, and he will work wonders. But just how draining could keeping him happy prove? Just look at United's neighbours City and the eternal muppet Mario Balotelli.
But it is not just Man United's attacking options that could do with sharpening. Evra has had his poorest season to date and hasn't really performed to his optimum since the World Cup 2010 scandal with France. Evans, despite a run of good form, is a player who rarely seems to inspire confidence, while Rio, who is still a fine player, cannot keep going on forever.
With Phil Jones and Chris Smalling, United can feel fairly safe in the fact they have some talented young defenders in their squad. Conversely, Fabio is rumoured to be on his way to Benfica on loan next season due to a noticeable stagnation in his development, while twin brother Rafael has failed to nail down the right-back berth convincingly.
Nemanja Vidic, arguably the best centre-back in the world over the last five seasons, will provide a huge lift to the club when he returns next season, but the indomitable Serb has passed the threshold of 30, and with a serious knee injury behind him, will his performances be affected?
It is not a foreign notion to Manchester United defenders. In the late 90s, classy centre-half Ronny Johnsen, an integral cog in the treble-winning side, saw his career curtailed by serious knee problems. The pit bull-like Gabriel Heinze also found it difficult to replicate his form from his debut season after a terrible knee injury in 2005.
United fans will seriously have to hope that the severity of Vidic's injury won't hamper the colossal centre-back from regaining and maintaining his superb form in a red shirt.
Valencia's David Alba has been mooted as a possible replacement for Evra in the near future, but a strong case can be made for Zenit St Petersburg's Italian full-back Domenico Criscito. First choice for his club and country, Criscito is versatile and classy. Able to play at both centre-back and left-back, he is dependable in defence and provides quality balls into the box going forward.
On the positive side for United fans, Rooney has been insatiable this season, adapting to a deeper role whilst still maintaining a very good goal-scoring record. Valencia has been a revelation on right wing, winning plaudits for his incisive runs, his enviable work ethic and his excellent crossing ability—a feat much underrated in the current European game.
Add to this the promising form of Smalling and Jones, as well as the solid, if not unspectacular, displays off of Michael Carrick and the emergence of David De Gea as looking worthy of his hefty price tag, and there are some definite positives for United fans to consider even if the season ends trophy-less.
With some shrewd purchases in the transfer market, Ferguson can take steps to ensure an end-of-season implosion is avoided come the back end of the 2012/13 campaign. The man has earned his right to mistakes, perhaps even the right to never be questioned for his decisions, but some of the current United players have not.
Have faith in Sir Alex.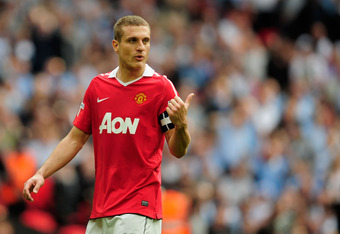 Jamie McDonald/Getty Images