Bulls vs. Sixers: Game 3 Highlights, Twitter Reaction and Analysis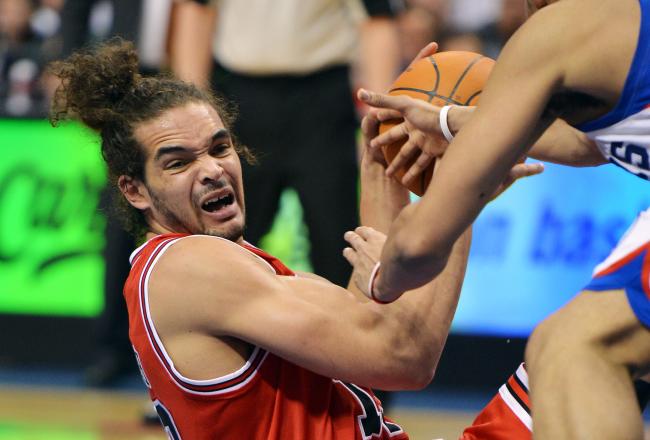 Drew Hallowell/Getty Images
The Philadelphia 76ers started off slowly against the Chicago Bulls in Game 3 on Friday night, but they turned it on down the stretch, coming away with a 79-74 victory and taking a 2-1 series lead, while all of Chicago mourned the loss of Derrick Rose.
Both teams didn't shoot particularly well, but it was the Bulls' poor shooting in the fourth quarter that was ultimately the difference.
Joakim Noah also injured his ankle in the third quarter on Friday. He tried to play on it, but eventually had to be taken out in the fourth quarter.
Tweets of the Night
Andy Sweeney of ESPN 680 Louisville had some harsh words for the City of Philadelphia, as the 76ers struggled to capitalize against the Bulls early on:
Phillies most losses MLB, Eagles laughably inept, college hoops irrelevant. 76ers can barely beat Bulls without Rose. City of losers.

— Andy Sweeney (@TheOnlySweeney) May 5, 2012
Sam Baldwin of MotherJones.com tweeted:
76ers are much more athletic than Bulls and yet Ronnie Brewer, who started at the 2 most of the year, doesn't play in 1st half

— Sam Baldwin (@DireWolf11) May 5, 2012
Basketball fan Tyler Graham, an apparent Bulls fan, tweeted:
The more I watch this Bulls team, the more I believe that it is perfectly constructed around Rose. This also makes me very depressed...

— Tyler Graham (@tgraham1687) May 5, 2012
When Noah was injured in the third quarter, Adam Levitan of Rotoworld.com reported:
Joakim Noah tried to play through sprained left ankle. Couldn't do it. Just limped to locker room, Asik comes on at center.

— Adam Levitan (@adamlevitan) May 5, 2012
Nonetheless, Bulls coach Tom Thibodeau apparently hasn't learned from keeping Derrick Rose on the floor in Game 1. He tested out Noah's ankle in the fourth quarter.
K.C. Johnson of the Chicago Tribune tweeted:
That was a really bad decision to put Noah in the game. Asik is coming in for him but that was brutal to watch.

— K.C Johnson (@KCJHoop) May 5, 2012
Must-See Highlights
Evan Turner, who continues to improve in Philadelphia, exploded past Richard Hamilton in the first quarter and soared for a sweeping dunk.
Noah injured his ankle attempting to go coast-to-coast, rolling it on Andre Iguodala's foot.
Grades for Key Bulls Players
Joakim Noah: B+
Joakim Noah did what he always does on Friday, rebounding the basketball and blocking shots before ultimately leaving the floor in the fourth quarter. He was even efficient scoring the basketball. He finished with 12 points, seven rebounds and two blocks in 26 minutes.
Richard Hamilton: B-
Richard Hamilton shot poorly, but he got to the free-throw line, rebounded the basketball and dished off effectively to his teammates when the 76ers tried to trap him. Hamilton finished with 17 points, seven assists and six rebounds, but he shot 4-of-15 from the field.
Carlos Boozer: A
After getting outplayed by Elton Brand in Game 2, Carlos Boozer stepped up in Game 3, scoring efficiently, crashing the glass and even disrupting defensively with two steals. He finished with 18 points and 10 rebounds.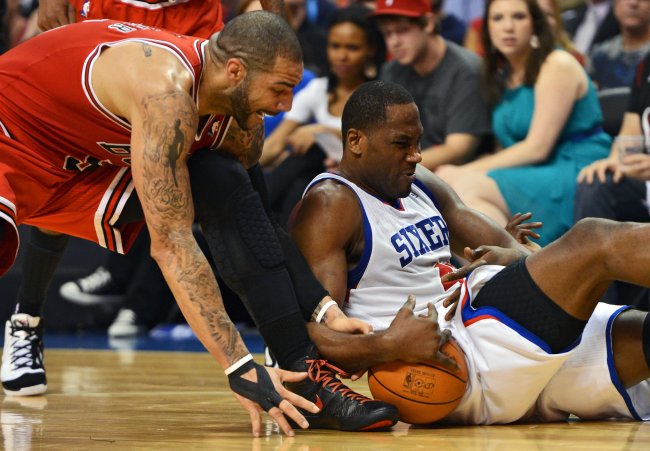 Drew Hallowell/Getty Images
Grades for Key 76ers Players
Evan Turner: B+
The No. 2 overall pick in the 2010 draft has noticeably grown as a player this season in Philadelphia, and he's being rewarded with more playing time in the playoffs. Turner was efficient scoring the basketball, crashed the boards and had some big plays down the stretch. He ended with 16 points and nine rebounds.
Elton Brand: F
After playing well the first two games of the series in Chicago, all of a sudden Elton Brand completely bombed in front of his home crowd. He went 0-of-5 from the floor and finished with a mere two rebounds.
Jrue Holiday: B+
Jrue Holiday was able to use his speed to get into the paint throughout the game. He had a good offensive game, adding some rebounds and assists along the way. Holiday finished with 17 points, six rebounds and six assists.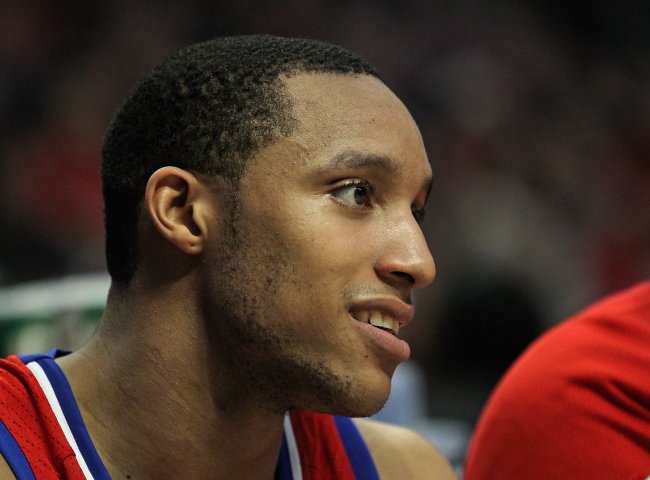 Jonathan Daniel/Getty Images
Will the Bulls lose this series?
Deciding Factor: Fourth Quarter
The game was tight heading into the fourth on Friday, but the Bulls simply fizzled out in the final stanza, with no closer and Noah nursing his ankle. The Bulls were outscored in the quarter, 28-14.
Game MVP: Evan Turner
Evan Turner continues to come of age. He's been more of a work in progress than he was expected to be coming out of the 2010 draft, but he's making serious strides and was a big part of the 76ers' victory in Game 3.
What's Next
The 76ers will host the Bulls in Game 4 on Sunday.
Follow me on Twitter. We can talk about basketball together.
This article is
What is the duplicate article?
Why is this article offensive?
Where is this article plagiarized from?
Why is this article poorly edited?