Los Angeles Lakers vs. Denver Nuggets: Live Blog, Play-by-Play, Instant Analysis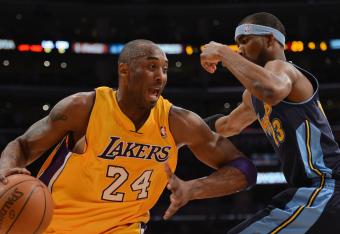 Harry How/Getty Images
The Denver Nuggets beat the Los Angeles Lakers 99-84 in Game 3 of their first-round NBA playoff series on Friday night.
Los Angeles leads the series 2-1, with Game 4 set for Sunday night in Denver.
Scroll down for updates from throughout Friday's game.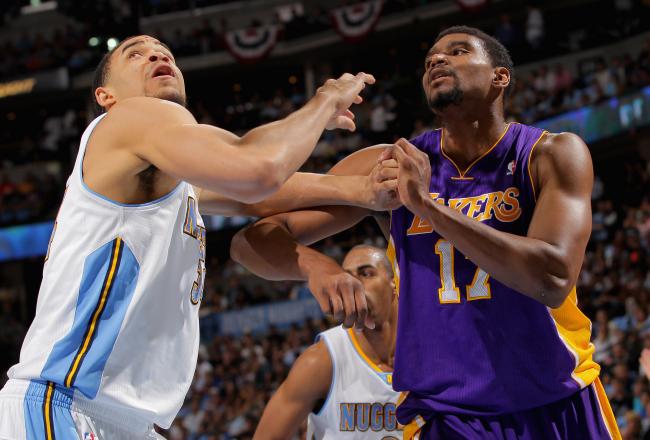 Well guys, the other two games tonight were a lot closer, but this Nuggets-Lakers game was by far the game of the night. There was no overtime and no late-game heroics, but this was the most fun game of the night.
Denver forced their style of play and the Lakers just couldn't keep up. Plus, it didn't help that Andrew Bynum didn't show up until the third quarter and Kobe Bryant left in the third quarter.
The Nuggets won behind the play in the paint and hustle from Kenneth Faried and JaVale McGee who combined for 28 points and 30 rebounds. Wow. Just wow.
Ty Lawson burned the Lakers in the first quarter to bring the Nuggets way out ahead early with 16 points in the first and kept it going with big free throws and some sexy passes.
The game ball has to go to JaVale McGee and his mom. McGee tore up the court with a double-double, 16 points and 15 rebounds to go along with two assists, two steals and four blocks. McGee's mom Pam, meanwhile, pulled into second place for best NBA mom, still a distant second to Ray Allen's mom.
That was a fun one, folks, I can only hope I keep getting these exciting live blogs to do going forward, I haven't had a dull one yet. Until next time folks.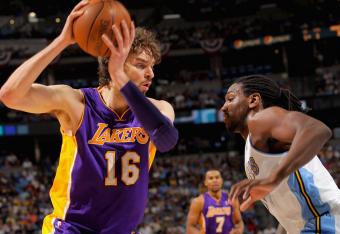 More ridiculous facial hair? JaVale McGee's spindly 16-year-old goatee or Pau Gasol's neckbeard?
Yep, that's the post we're ending this game with.
Denver wins 99-84.
Two free throws by Andre Miller and a steal and a layup by Gallinari just add insult to injury to the Lakers.
Kobe then makes a shot that only Kobe could make to remind us that he can still play basketball, lest you forgot.
Another couple of free throws from Ty Lawson makes it 99-83 Nuggets.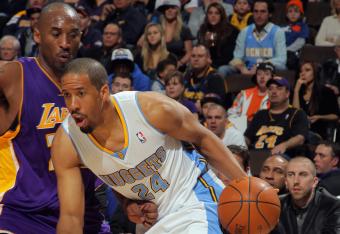 Andre Miller hasn't hit many shots in this game, but that three right there was a dagger.
Denver's up 93-81 and are headed to the free throw line with just over 30 seconds left.
Oh me, oh my, Kenneth Faried gives a monster of a block on Gasol as he goes for the dunk.
LA keeps missing shots and Denver keeps getting rebounds.
Denver 90, LA 81.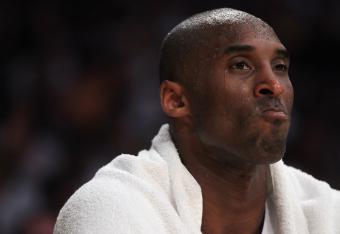 Well, I gave Bynum hell for playing terribly in the first half, now I'll have to give it to Kobe. That one free throw was his first point since early in the third quarter.
Faried then hits a jumper on the other end (see, he does have some range) to give Denver two more.
Sessions with two free throws to make this a seven point game.
Denver 88, LA 81.
These teams are trading terrible shots at this point. Bodies are flying around and guys are hitting the ground hard.
LA is down by eight but Kobe is set to shoot free throws after the break. Just under three minutes left in the game.
Denver 86, LA 78.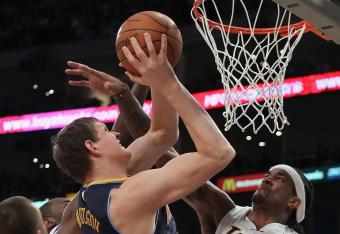 Lots of offensive rebounds for the Nuggets on the Faried miss, but Mozgov drops the ball out of bounds.
Lakers ball with four minutes left and JaVale McGee is set to come back into the game.
The world rejoices.
Andrew Bynum is killing the Nuggets from the free throw line tonight, sinking all eight of his free ones tonight. Lakers still down by eight points.
Steve Blake is atrocious at this point, Mike Brown needs to get him out of there.
Free throws from Andrew Bynum gives Los Angeles two more points as the Lakers are trying everything to get back into this game.
Denver 84, LA 76.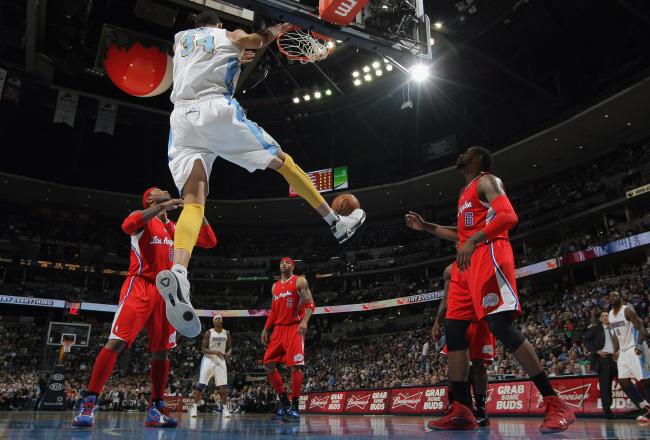 Denver is feeding McGee whether he makes it or not, and you have to love his effort. He just unleashed the prettiest attempt at a sky hook since Kareem Abdul-Jabbar.
He missed it, but still.
Ty Lawson's jumpers aren't falling like they did in the first half, but the Nuggets are still playing with quick hands on defense as Kenneth Faried steals a pass.
JaVale McGee then warps himself around Pau Gasol to get two more points. He's killing it tonight.
Denver 84-74.
Ramon Sessions sinks two free ones as news comes in that Al Harrington has a broken nose. You have to imagine that he'll still be playing in game four.
Denver 82-74.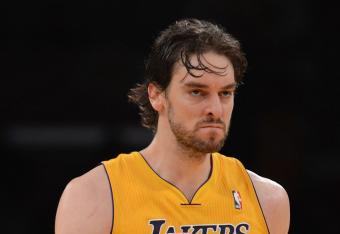 Pau Gasol just took his second three pointer of this game and made it. Pau brings the Lakers to within eight points.
Andre Miller then gets two points back for Denver with a Timmy special off the glass.
Denver's up 82-72.
This is just JaVale's third double-double as a member of the Nuggets. It's amazing how well he's playing when you consider the fact that he's got asthma and is playing in that thin air.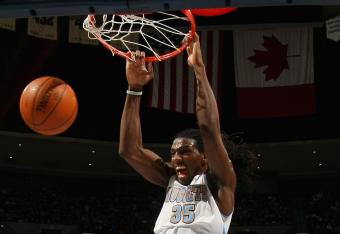 Kenneth Faried is an animal. That is all. Actually, that's not all, Andre Miller can still ball at his age as two generations of hard-workers give Denver four more points.
Denver's up 80-69.
Kobe comes back in after just two minutes of rest in the fourth quarter.
Sessions turns in that possession with a long jumper and two more points.
Dnever 76, LA 69.
McGee's rebound and put-back there gives him 14 points and 13 rebounds so far in this game.
Bynum gets himself two shots on the other end of the floor and then a football heave from Andre Miller to Kenneth Faried gives Denver two more.
Denver's up 76-67.
I just found myself shouting, "Shoot it JaVale!" as McGee stood beyond the three point line. The worst part is that I believed it was going to make him do it.
It feels like Kobe Bryant is Andrew Bynum's step-father in this game. He's trying to keep him in line, but Bynum keeps yelling at referees and going off on tangents while the game is still rolling.
That being said, that was one hell of a quarter by Bynum.
The rarely-seen Faried-Miller connection gets the Nuggets two points before the end of the quarter.
Denver leads by seven with 12 minutes to go, 72-65.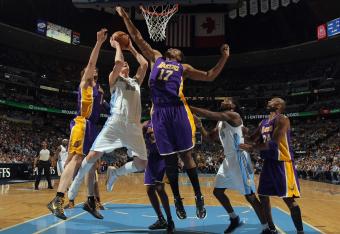 Andrew Bynum continues with his amazing quarter with that block on Andre MIller.
He's up to 12 points, nine rebounds and two blocks so far in the game.
Matt Barnes sinks one of two free throws to pull the Lakers within five.
Denver 70, LA 65.
Remember before the start of this quarter when the Lakers were being out-rebounded 31-18? Well, they're only being out-rebounded 39-35 at this point.
That's just nasty, that is.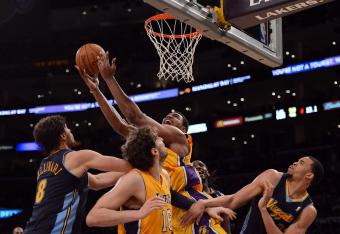 Bynum works for the rebound and puts back a missed shot from Kobe Bryant. He's just ripping JaVale McGee apart right now.
McGee, however, uses those long arms to get two points for Denver on the other end.
Denver's up 70-64.
This article is
What is the duplicate article?
Why is this article offensive?
Where is this article plagiarized from?
Why is this article poorly edited?