Friday Night Edition: Get Caught Up on the 2012 NBA Playoffs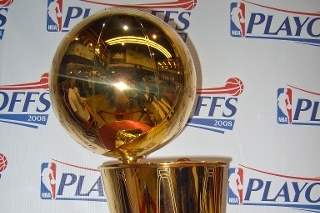 The NBA Playoffs haven't even been on for a week yet, and like a roller-coaster, we've gotten our fair share of ups and downs.
We've witnessed a season-ending injury to the reigning MVP Derrick Rose, watched the Los Angeles Clippers defeat the Memphis Grizzlies after overcoming a 27-point deficit and have been in awe of the rejuvenated San Antonio Spurs tuning out the Jazz. We've seen game-winning plays from Kevin Durant, domination from Andrew Bynum and, maybe most entertaining of all, celebration of a Memphis fan after a Zach Randolph and-one in the Game 2 victory.
These playoff months feel like the best time of the year, especially with the first round televising games every single day. In case you've missed out on the action, here is a quick update on what's been going on.
Begin Slideshow

»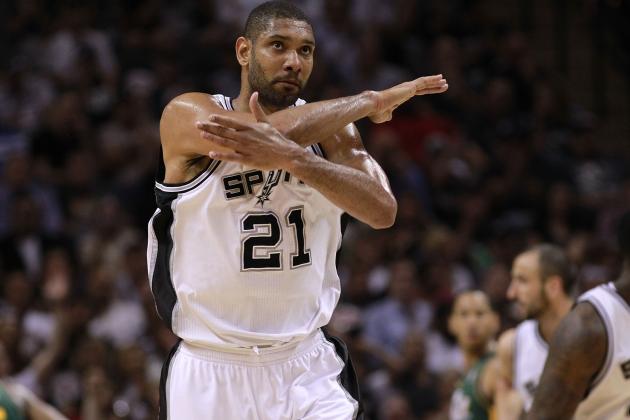 Ronald Martinez/Getty Images

Coming into this series, most of us tried to find some way to justify it being a close series. "The size of Utah with Al Jefferson, Millsap, Favors and Kanter will cause trouble down low for the Spurs," some argued. After last year's disappointing round-one elimination, fans and critics didn't want to fall in love with the same team that let them down only months ago.
With these first two games in the books, we can finally open our eyes and admit that the Spurs are head and shoulders above the competition. With a healthy squad being the main factor, the consistent train that Popovich has been a conductor for looks to be on track for another championship.
In Game 1, the Spurs handled the Jazz in a 106-91 home win on Sunday, with Tony Parker leading the way with 28 points. What is there to say about Game 2? The Jazz lost by 31 points, and the game never felt even as close as that.
Game 3 is Saturday, 10:00 p.m. EST.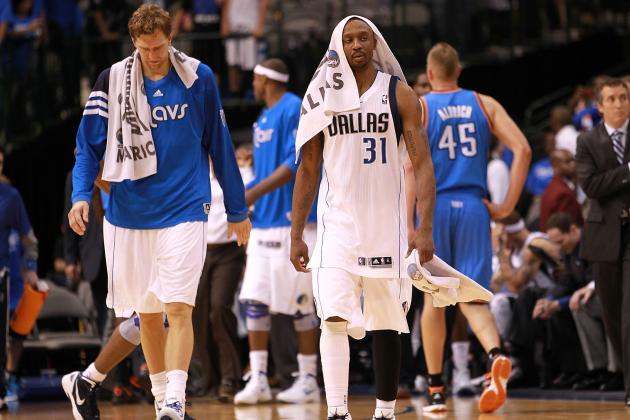 Ronald Martinez/Getty Images

The Thunder are up three to nothing.
The first two games were close, but Thursday night's game in Dallas was ugly for anyone supporting the Mavs. Durant got the Thunder off to a quick start, and they never trailed on way to a 95-79 victory. If Dallas is knocked out, it will be the first time a defending champion lost in the first round since Miami five years ago.
In Game 3, which was a must-win game, the Mavs managed to come up with one of their worst offensive showings, shooting 34.2 percent from the floor. The team has struggled to find offense all season, and now it's a little too late. Go get Deron Williams, have a good offseason training and building chemistry and come back for a legitimate run next year.
I don't want to focus too much on Game 1 because I think Dallas played well most of the game, but it just didn't execute each possession near the end. When it comes down to a game winner like Durant had, it's fair to say both teams put in their all. There was a similar situation for Game 3.
The third game, on the other hand, was shocking. The Mavs had 15 turnovers, while the Thunder only had eight, which leads to more possessions/shot attempts. The point is simple: The Thunder took care of the ball. They took good attempts, and the ball movement was excellent. Westbrook didn't try too hard be a one-man show, instead kept the ball moving without always having to drive. Durant was on fire from the outset, and Ibaka cleaned up the post.
Game 4 is Saturday, 7:30 p.m. EST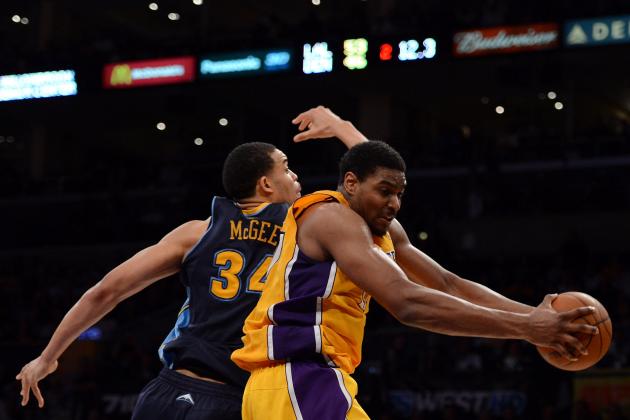 Harry How/Getty Images

The Lakers convincingly won the first two games, behind a solid Kobe Bryant, consistent Pau Gasol and dominating Andrew Bynum. Guys like Devin Ebanks and Jordan Hill have provided solid minutes, infusing some youth and athleticism to keep up with the speedy Nuggets.
Denver was blown out in Game 1, as Bynum posted a triple-double with 10 points, 10 blocks and 13 rebounds in a 103-88 win. Game 2 was much closer, with the Nuggets having multiple opportunities to steal the game, but the result was the same as the previous contest, a victory for Los Angeles 104-100.
I almost guarantee that we'll see a much different Denver team back in the Pepsi Center. They'll shoot with more confidence, and get the ball up the floor even quicker. The Nuggets will look to strike first and build off the lead and crowd. The key for Denver will be to keep the tempo at a high level for 48 minutes. If the Lakers can keep it close though, somewhere between 4-6 points for most of the game, look for a Denver collapse leading to another L.A. win.
Game 3 is tonight, 9:30 p.m. EST.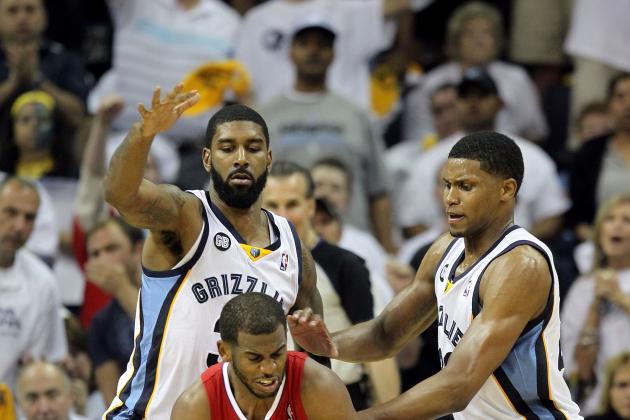 Andy Lyons/Getty Images

The Grizzlies blew a 27-point lead to lose Game 1 on Sunday night while letting the Clippers steal home-court advantage.
They soon got back to their physical style and evened the series in Game 2. Rudy Gay scored 21 points as Memphis showed off its depth with six players reaching double figures. Mike Conley had 19, Zach Randolph 15, Marreese Speights 11 and Tony Allen 10. Chris Paul led the Clippers with 29 points. Blake Griffin had 22, and Mo Williams and Nick Young had 11 each. Similar to Game 1, the Grizzlies had the lead going into the fourth quarter, but this time, the Clippers got no closer than four.
This is easily my favorite series in the playoffs this year. The players on the teams seem to actually hate each other, and that emotion has fueled a fantastic series. It's been physical, and the referees are letting them play.
As the Clippers prepare for their first playoff game in six years in front of their fans in Game 3 on Saturday, they must figure out where to find the motivation to persevere through injuries and banged up bodies. After the Clippers lost Caron Butler in Game 1 with a broken left hand, Mo Williams bruised his right forearm, Eric Bledsoe bruised his left elbow and Nick Young sprained his right thumb in Game 2.
These minor injuries aside, the main Achilles' heel for this team will end up being lack of playoff experience. It sounds cliche, but it's the truth! Chris Paul has ample postseason experience, but the rest of the Clippers' young core is learning on the go.
Game 3 is Saturday, 4:30 p.m. EST.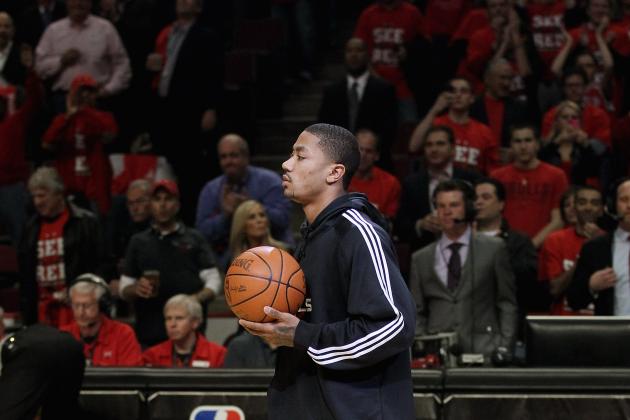 Jonathan Daniel/Getty Images

No one really cares who wins this series. I hate to be that blunt, but once Derrick Rose tore his ACL in Game 1, the outcome of the series became irrelevant. The Bulls went 18-9 without Rose in regular season.
The winner of this series will most likely lose to Boston or Atlanta, and whichever team keeps advancing will lose to the Miami Heat. The Sixers, however, aren't anything special and Chicago has a good chance at winning this series.
The Bulls continue to have the advantage in the paint because Spencer Hawes struggles to find any purpose of being on the court. I cannot convey how awful he's been so far. Can he hit open jumpers? Can he finish around the rim? Can he defend without fouling? He'll have to make some sort of impact if the Sixers want to get past the first round.
For the Bulls, it's all about defense and teamwork. From what I've seen, I think the Bulls should try to run their offense through Joakim Noah a bit more. I know the idea doesn't sound too bright, but during the regular season, Noah averaged 2.5 assists in just more than 30 minutes per game, which is excellent for a big.
Plus, don't forget the heart and passion these Bulls play with. Following the style of their coach, Chicago won't be eliminated easily. Any team with John Lucas III will fight until the buzzer rings.
Game 3 is currently going on in Philadelphia.
Jeff Zelevansky/Getty Images

There aren't too many sure things in life, but one thing you can bet on is the Knicks not getting out of the first round this year. The way things are looking and the way this team is built, any substantial success doesn't seem realistic in the near future.
Game 3 boiled down to a well-rested LeBron James in the fourth quarter going against a worn out Carmelo Anthony. The Knicks brought a knife to a gun fight. Lebron had not played very well until the fourth, limited by foul trouble, but this year's likely MVP came in to score eight points right off the bench to put the Heat up 10. On the other side, 'Melo was ice cold in most of the moments that mattered. He played 43 minutes and ended up going 7-23 from the field. The Heat's defense was smoldering, preventing attacks to the basket and not giving up any easy looks.
For a whole half, the game actually looked like a good one. The Knick defense contained Wade and James, doing a remarkable job on rotations and transition defense. The second half was a whole different story, as Wade went on to hit two threes while Lebron erupted, sealing the game for Miami.
It's the playoffs, and turnovers are going to be the story in most games. The Heat thrive off fast-break opportunities, and were handed those with the 18 turnovers the Knicks managed to have.
Game 4 will be Sunday, 3:30 p.m. EST.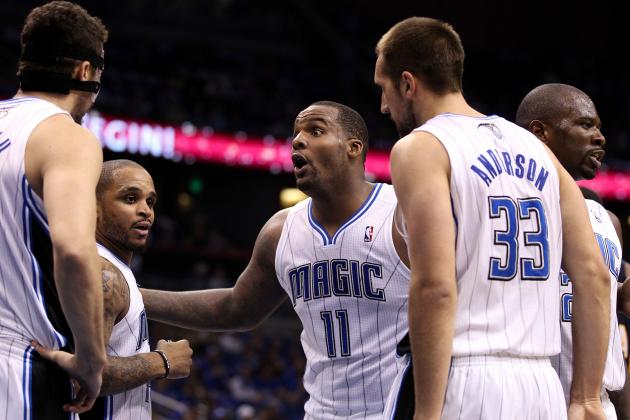 Marc Serota/Getty Images

The best part of this series so far has been Glen Davis' baby. Beyond that, there is very little to discuss or analyze in this one. Orlando came out strong in Game 1 and shocked everybody by stealing one in Indiana, 81-77. Jason Richardson and Jameer Nelson scored 17 points each.
Since then, things haven't gone as well for the Magic. The Pacers managed to get out to early leads, battled constant runs from the Magic and finished strong the following two games to take a 2-1 lead.
Both games combined, Indiana outscored Orlando 62-30 in the third period. In Game 2, it was 25-5; in Game 3, it was 19-5. I had a chance to watch the games, and it was evident that it just came down to defense. The intensity, the hustle, all the things not seen on the stat sheet picked up in the second half of the last two games. The stats back it up—Orlando has averaged 14.3 points in the third quarters of all three games, 37.5 percent shooting and 17 turnovers.
Game 4 is Sunday, 2:00 p.m. EST.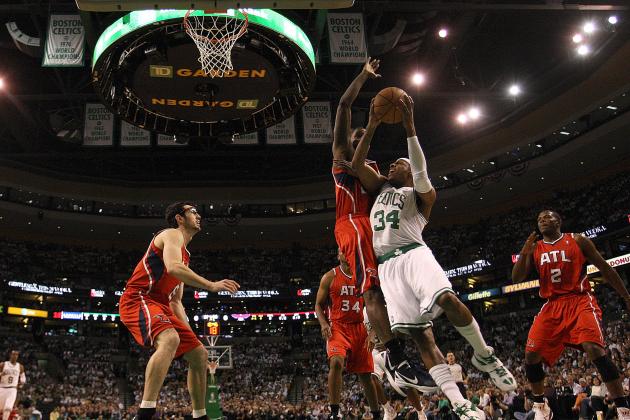 Jim Rogash/Getty Images

This series hasn't been anything extraordinary, but definitely better than some of us expected.
The excitement began with Rondo bumping referee Mark Davis after a couple controversial calls near the end of a competitive Game 1 (83-74 Atlanta win). Rondo was suspended, and Celtics were forced to play Game 2 without their starting point guard and Ray Allen (ankle).
Paul Pierce and the Celtics found a way to put away the Atlanta Hawks in Game 2. Other than a few Celtics enthusiasts, I don't think anybody else saw this coming. We saw retro Pierce, stepping it up for 36 points and 14 rebounds. He even '"Tebowed" during his fourth quarter barrage. Atlanta's Game 2 loss once again put their lack of production from the bench on display. Marvin Williams contributed close to nothing–scoring three points on 1-6 shooting in an ineffective 21 minutes.
If Josh Smith's knee injury is serious, the Hawks should definitely be panicking. He is the only real matchup issue the Celtics have with the Hawks and the biggest reason behind Atlanta's Game 1 victory. By losing both Josh Smith (timetable to return undecided) and giving up home-court in Game 2, we can safely assume Boston wins Game 3 and the series.
Update: Game is currently going into OT. My apologies for doubting the Hawks, the team is showing heart.
Game 3 is currently being played in Boston.