Minnesota Vikings: 5 Training Camp Battles You Can't Miss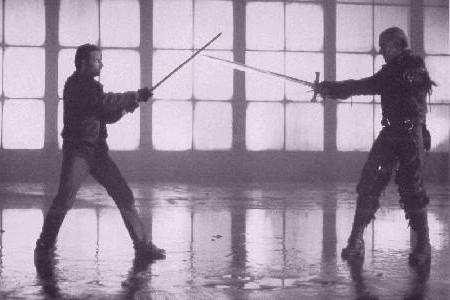 There can be only one!
We've been looking at the five-best training camp battles for all of the NFC North teams this week and finish with the Minnesota Vikings.
As the team is rebuilding, there are very few spots on the roster and in the starting lineup that aren't up for grabs. Christian Ponder is safe for now, Adrian Peterson isn't going anywhere and Percy Harvin is locked in.
Defensively, you can bet Jared Allen, Chad Greenway and Erin Henderson are safe—and probably Antoine Winfield as well.
There's a lot more up for grabs than not.
Two men meet on the practice field, and by summer's end, we'll have a victor.
After all, there can be only one.
Begin Slideshow

»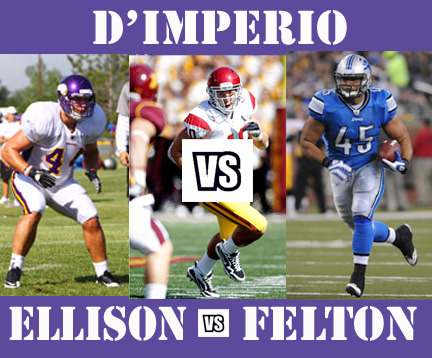 The fullback position isn't the sexiest battle on this list, but it's more important than folks give it credit for.
Whether it's plowing the way for Adrian Peterson and Toby Gerhart or acting as the last line of defense for Christian Ponder, the fullback can be a critical portion of the offense.
Not as many teams use them anymore—the tight end is more common these days as an extra blocker—but they can be a tremendous aid to an offensive line and the key to a big year for a running back.
Ellison is listed as a tight end, but his size and skill set say fullback or H-back. He's a big moose of a guy who can catch the ball and run with it if need be and he's a good blocker as well. He's a blue collar player—nothing special and what you see is what you get.
D'Imperio is entering his second year. He was effective for the most part in 2011, but he's not so good as to not be in danger. He's a better run blocker than a pass protector but knows the offense and already has a rapport with both Ponder and Peterson.
I've followed Felton since he first came into the league in 2008. He's moved around some despite the fact that I've always felt he was a very good fullback with some upside. He's a big brick wall of a guy and both run and catch the ball pretty well if need be.
Like the other two though, he's not special, just a solid blocker with some upside.
Winner: Jerome Felton
Felton has long desired a shot at carrying the ball regularly, and you can't get that on the bench. While it's unlikely winning the fullback spot will get him anywhere near a starting running back spot, given that Peterson was hurt badly in 2011, it's not unreasonable to imagine that he could get some carries.
The Vikings tried to claim him off waivers last year, but Carolina snagged him. They like Felton, and they'll be interested to see what he could do as the most experienced, versatile and effective fullback on the roster.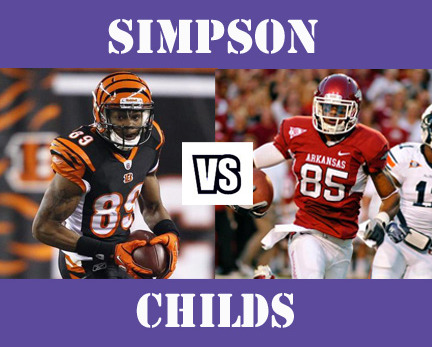 First off, let's remember that Simpson is suspended to start the season—three games in fact. That said, he was slated to resume his duties as a starter until Childs was drafted and clouded the picture.
Simpson was raw coming into the league with the Bengals, and while he improved, he never really hit his potential. At 6'2", he's a big target who could draw defenses away from Percy Harvin and give him some room to move. He's inconsistent though and prone to disappearing during games.
Childs is an even bigger receiver who runs good routes and lulls defenders by starting out a bit slow, then accelerating when they least expect it. This is especially good and effective when he runs an inward slant. Childs has some durability concerns, and he'll have to prove he's healthy and can stay that way.
Both receivers can use their body to block out defenders and play faster than they appear to.
Ponder is going to need a big target to throw too, and Harvin can use some space. Which guy will give them what they need?
Winner: Greg Childs
Childs gets a leg up just being available in the first three weeks. But his ability to sell a fake, his effectiveness as a blocker and his ability to get yards after the catch trump Simpson's.
When Simpson returns, you think he won't have already established a connection with Ponder/
Childs, please!
While Wright and Jenkins are physically very different, both utilize speed and quickness as a major part of their games.
Jenkins has underperformed both in Atlanta and now in Minnesota. While he has shown flashes of talent, he lacks consistency. Even last year, when Bernard Berrian went down, Jenkins would have a very good game followed by one where he just wasn't much of a factor. Last year, some of that was certainly Christian Ponder. However, some of it was and always has been on Jenkins.
He looks to hold onto his spot over Arkansas receiver Kendall Wright.
Wright played a lot of slot at Arkansas, but last year, moved outside and made a real impact. He accelerates very quickly and definitely has that extra gear you look for in a playmaker.
His route running is very raw at times, and on long routes, he sometimes seems to slide off the path. Wright has great hands and concentration and isn't rattled by a looming defender.
Someone needs to go long on occasion and clear the traffic out of the middle of the field. Who is it going to be?
Winner: Jarius Wright
We've seen Jenkins at his inconsistent best, and it doesn't get the job done reliably. While Wright has some very raw aspects to his game, he has great hands and will be another steady target for Ponder.
Between Childs and Wright, it might seem risky to roll out two rookies on offense (three if you count Kalil), but they'll learn to grow together, and if you're building a team, you go with your best bet.
That's Wright in this case.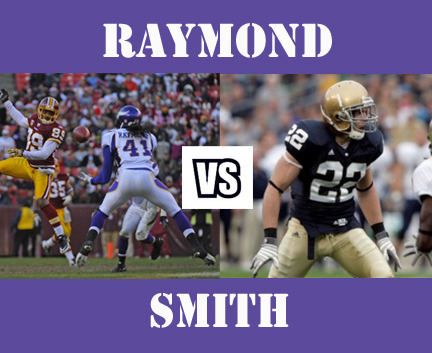 The Vikings didn't trade up to see Smith on the bench, but that doesn't mean they'll just hand him the spot. He has to prove he can keep up with the coverages and support the corners before they start him regularly.
His competition isn't exactly all-world level, though Mistral Raymond played well enough in his first year that the team cut several other players loose. Still, he's not that far ahead of Smith.
Winner: Harrison Smith
While Raymond does have a slight edge in experience, it's true that the Vikings will probably want Harrison in the starting lineup. It's a gamble—if he blows it, they'll get burned very badly. However, if they weren't sure he could do it, they wouldn't have moved up.
Raymond could hold him off, but ultimately, Smith will get first crack to get on the field this season.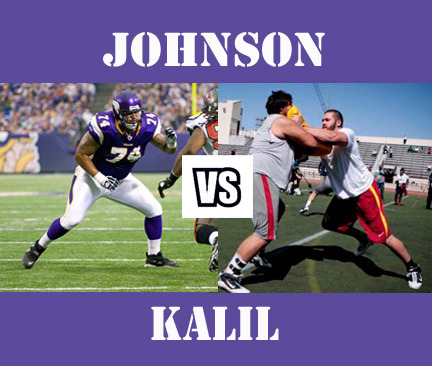 Even if the Vikings really didn't agonize over their first pick, they still put plenty of thought into it, and when they selected Kalil, they expected him to step into a starting job on day one.
But which one? Ideally, it would be the starting left tackle. However, the transition between college and pro has knocked down many a high-profile prospect before, and it's no guarantee Kalil will pan out immediately.
They'll really try to make it happen though.
The guy most likely displaced is Charlie Johnson—the left tackle. Johnson is a solid left tackle but nothing special, competent at blocking the run and for the pass. If Kalil is half the prospect they think he is, he should pass Johnson by before the end of the summer.
We've seen that go awry before though. Anyone remember Michael Oher?
Winner: Matt Kalil
It should play out exactly as we expect it to, really. It's a critical moment in the offseason because, if Kalil stumbles, there's going to be trouble.
Ideally, Johnson kicks over to left guard, and between he and Kalil, they lock down Ponder's blind side and kept him upright.