Oklahoma City vs. Dallas Game 4: TV Schedule, Live Stream, Spread Info and More
May 4, 2012

Brett Deering/Getty Images
Who would have ever thought that the Oklahoma City Thunder would have a 3-0 lead over the defending champion Dallas Mavericks?
The first two games of the series were decided by one possession, but game 3 was ugly to watch and resulted in a 95-79 blowout in favor of Oklahoma City. Now Dallas will have one more shot to defend their title with their backs against the wall.
As we get closer to Game 4 of this western conference playoff matchup, here is everything you need to know about the big game.
Where: American Airlines Center, Dallas, TX

When: 7:30 PM ET, May 5, 2012

Live Stream: NBA League Pass


Betting Line: Oklahoma City -1.5

Key Injuries (via CBS Sports):
Dallas - No injuries reported.
Oklahoma City - Eric Maynor (Out for the year with a knee injury)

What's at Stake?
With Oklahoma City up 3-0, this series is really a do or die for Dallas. They can either roll over and let the Thunder sweep them in their own house, or they can dig deep and pull out a victory. If the Mavericks pull out a victory, Game 5 will be Monday. If the Thunder sweep, they'll play the winner of the Lakers vs. Nuggets series.


What They're Saying:
Mavericks head coach Rick Carlisle says that his team has not lost focus despite losing the first three games of the series. He expects his team to come out and give it their best with their backs against the wall.
"The focus is very narrow, it's on one game," Carlisle said. (Via ESPN) "We're not tense or tight. We understand the nature of competition. We haven't lost any enthusiasm about our approach, and we will not."
Oklahoma City star Kevin Durant says his team can't get relaxed and has to enter Game 4 with the same mindset that helped them earn a 3-0 lead.
"We know we have to be prepared and focused and locked in," Durant said. "We've got a good opportunity. We haven't done anything. That's what we have to think."

Most Important Player to Watch: Dallas PF Dirk Nowitzki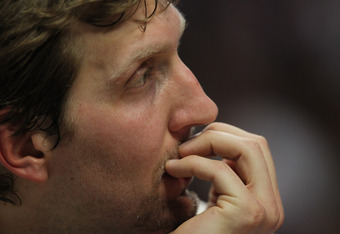 Jonathan Daniel/Getty Images
We all know what to expect from Nowitzki, he's an 11-time All-Star and four-time All-NBA first team player. He had a poor game in the Game 3 matchup, and great players usually bounce back after a bad game.
But Dirk doesn't need to have just a good game; he has to take over this game. He has to make his mark felt and really take control on both sides of the floor. We saw him do it last year in Game 3 against the Miami Heat in the NBA Finals. Sure, the Mavericks lost that game by two points, but he was a monster, scoring 34 points, grabbing 11 rebounds and blocking three shots. That's the kind of performance this team needs from their leader.
Great players are usually good for winning a game pretty much by themselves in an NBA series. This is that game that Nowitzki needs to step up. And who knows, it could possibly breathe life back into this team as they possibly head back to Oklahoma City.
Key Matchup: Delonte West vs. Russell Westbrook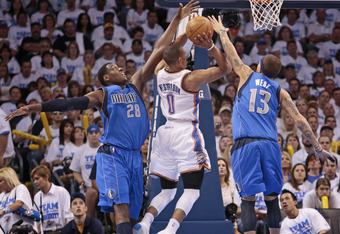 Brett Deering/Getty Images
Dallas has had no luck whatsoever in guarding Westbrook this series. He's shooting 49 percent from the field and is averaging a little over 25 points per game. Putting Shawn Marion on him really isn't an option at this point. Sure, it is, but then who in the world would guard Durant at 6'7"?
Bottom line is that West, or whoever else Coach Carlisle decides to put on Westbrook, has to do a better job of keeping the little guy in front of them and keep him off the foul line. Good thing is that he is a streaky shooter and maybe Dallas can get lucky and he has one of his off nights.
I mean, he can't continue playing lights out like this all series long, can he?

Prediction:
It's hard to imagine Dallas coming back from the blowout in Game 3, but this Mavericks team is still a talented group of players. They're also a veteran group that has a lot of pride. I refuse to believe they'll just roll over and let the Thunder sweep them on their home court. 
I expect to see the Mavericks play much better basketball and find some way to win. Nowitzki will play extremely well, Westbrook goes cold from the field, Jason Terry gets the crowd going and the defending champs don't go down without a fight.
Dallas wins: 96-92