NBA Playoffs 2012: How Trailing Teams on Life Support Can Rebound
May 4, 2012

Ronald Martinez/Getty Images
As the 2012 NBA playoffs are in full swing, five teams find themselves currently down in their respective series. Four of these teams are hanging on life support as the end of their seasons appear very near.
NBA teams have come back from holes before, but it's not the norm, and these respective teams are in trouble.
What can these teams do to rebound and make a series of things? Let's take a look.
New York Knicks (trail series 3-0)
What can the Knicks do to make this a series? Pray.
New York's been banged up, but they've also been outclassed by LeBron James and the Miami Heat throughout three games.
What the Knicks have shown is that despite the nice run at the end of the season, they may still be two or three players away from being serious title contenders.
Teams have come back from down 0-3 before, but not in the NBA. Besides, this current Knicks team is too banged up to do so. This series is over.
Dallas Mavericks (trail series 3-0)
Quite frankly, the Mavs were a couple bounces away from heading home up 2-0 in the series instead of down 0-2. But they had problems executing down the stretch, and the Thunder didn't.
Had they taken taken care of business Thursday night at home, then they may have some momentum heading into Game 4. But they've been unable to contain Russell Westbrook and Kevin Durant, and Dallas isn't getting much contribution from their key parts.
Dirk Nowitzki hasn't been very good, and without Nowitzki playing at a high level, the Mavs have no chance.
They can show that pride and heart that led them to a title last season. If they do, they may be able to steal a game or two, but this series is all but over as well. 
Utah Jazz (trail series 2-0)
The San Antonio Spurs have been teaching class against the Jazz throughout the first two games of the series, but while Utah has very little chance to win this series, they have the talent to rebound and possibly steal a game, maybe two.
If their frontcourt—that features two good players in Paul Millsap and Al Jefferson—can get in a groove early, the Jazz have a good chance to compete.
Defensively they need to put much more pressure on Spurs point guard Tony Parker, possibly picking him up as soon as he crosses half court. Parker's only turning the ball over 1.5 times per game in the series, and the Jazz must try and force him into mistakes and capitalize off them at the offensive end.
Denver Nuggets (trail series 2-0)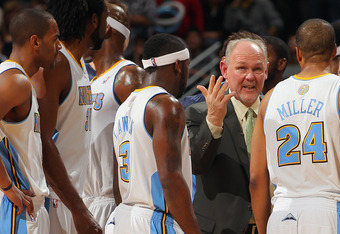 Doug Pensinger/Getty Images
The Nuggets head back home in an 0-2 hole, and must get things turned around in a hurry. Through a pair of games, they haven't been able to get their up-tempo offense in gear, and Kobe Bryant has ripped them a part at the other end of the floor.
To have playoff success, you must be able to execute in the half court and make plays on the defensive end of the floor. George Karl's team can't do that right now.
Yet Game 3 is in Denver, and they have a chance to get going. They must push the tempo and make the Lakers run. Defensively, Arron Afflalo must force Kobe out further and force him to take tough jumpers with a hand in his face.
Orlando Magic (trail series 2-1)
Without Dwight Howard in the lineup, the Magic faced an uphill climb against the Indiana Pacers, but managed to win Game 1.
Since then they've dropped the next two games, losing by a combined 38 points.
While Orlando's not on life support just yet, they are close. They've only gone 13-of-40 from behind the arc in the two defeats. For the Magic to get back into the series, Ryan Anderson, Jason Richardson and J.J. Reddick must catch fire from the perimeter.