Kentucky Oaks 2012 Results: Recapping All the Action
May 4, 2012

Matthew Stockman/Getty Images
This ladies took the field as the Kentucky Oaks kicked off a great weekend for horse racing, and Believe You Can was the big winner on Friday. 
A sea of pink washed over Churchill Downs as one of the most underrated events of the weekend took place. Only you needed to look fairly hard through the rain to spot the pink huddled under the stands at first. 
Rain pushed back the start, but you can't stop the ladies form having a good time. For a full list of results from May 4th at Churchill Downs, visit the Official Page at ESPN. 
American Turf
Rain delayed the turf race, which got off to a great pace despite the presumed soaked field. In the end, it was Silver Max that had a two-length lead at the turn. 
Silver Max would not relinquish the lead, taking the American Turf sweepstakes. 
There was a scary moment when Javier Castellano fell off his horse. He is the jockey that will ride Gemologist at Saturday's Derby, but he later ran in the Kentucky Oaks so it seems that he is doing fine. 
Here is how they finished. 
1. Silver Max
2. Travel Advisory
3. Howe Great
Kentucky Oaks
Here are the results for the 2012 Kentucky Oaks. For a full listing visit the Official Kentucky Oaks Page.  
| Place | Horse | Time |
| --- | --- | --- |
|  1. |  Believe You Can |  1:49.50 |
|  2.  |  Broadway's Alibi |   |
|  3.  |  Grace Hall |   |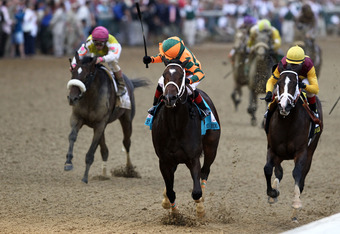 Matthew Stockman/Getty Images
Action
Javier Castellano, the big story heading into the gates, seemed to be sharp and in good spirits. A very ugly fall was well past the jockey. 
But it was truly a day for the ladies, because jockey Rosie Napravnik became the first female to win the Kentucky Oaks. 
It was a two-horse race coming down the stretch. The favorite, Grace Hall, jockeyed by Castellano, made a valiant run but settled for third on a wet day at Churchill Downs. 
Broadway's Alibi had the lead late, making it seem she would take the race at the wire. The fact is John Velazquez is one of the best closers in the business, but it wouldn't happen on Friday. 
It was a fierce battle down the stretch with Believe You Can proving to be the better horse taking the close finish.