NBA Draft 2012: Forecast of Rookie Seasons for This Year's Top 5 Prospects
May 4, 2012

Jeff Gross/Getty Images
The 2012 NBA Draft will be here before you know it and teams high up in the lottery will have the opportunity to dramatically improve their teams immediately by adding one of the top prospects in the game to their roster.
Some of the players drafted among the top five will make an immediate impact in the NBA, while others won't be so lucky.
Here's a forecast of how the top five prospects (based off my big board and latest mock draft) in June's draft will fare as rookies.
Anthony Davis, Kentucky
2011-12 Stats: 14.2 PPG, 10.4 RPG, 4.7 BPG, 1.4 SPG, .623 FG%, .709 FT%
Davis is clearly the top prospect on the board and will make a huge impact in the NBA right away, at least on the defensive end of the floor, just by blocking and altering shots. He not only led the nation in blocks, but blocked 13 percent of the shots that came his way this season.
He will be going to a bad team, but he will play a big role in trying to turn them around. Davis still needs to add muscle to his frame and may not be great off the bat offensively but he's got great footwork in the post and can finish around the rim.
Don't be surprised if he has a big rookie season, but I envision a few bumps in the road along the way as he gets accustomed to the NBA game.
2012-13 Projections: 10.1 PPG, 9.0 RPG, 2.9 BPG, 0.5 SPG, .580 FG%, .725 FT%
Michael Kidd-Gilchrist, Kentucky
2011-12 Stats: 11.9 PPG, 7.4 RPG, 0.9 BPG, 1.0 SPG, .491 FG%, .255 3P%, .745 FT%
Kidd-Gilchrist is a tremendous athlete with a tremendous work ethic and a ton of character. His motor never stops running and is a guy who a franchise can build around.
If there was one guy in this draft who I think could increase some of his collegiate numbers it would be Kidd-Gilchrist. He showed in the NCAA Tournament that he could take over games at time, but due to Kentucky's unselfish style of play, the numbers don't necessarily reflect that.
The only part of his game that concerns me is his perimeter shooting, but that will likely improve through his NBA years.
2012-13 Projections: 14.2 PPG, 7.1 RPG, 0.7 BPG, 1.5 SPG, .475 FG%, .285 3P%, .750 FT%
Thomas Robinson, Kansas
2011-12 Stats: 17.7 PPG, 11.9 RPG, 0.9 BPG, 1.1 SPG, .505 FG%, .682 FT%
Despite standing only 6'9", I like Robinson a lot as an NBA prospect. He is a relentless rebounder and his offensive game progressed from a guy that was just a dunker to a player that can play with both his back to the basket and facing up on a defender.
He was a double-double machine at Kansas, recording 27 on the season. I expect Robinson to have some growing pains as he adjusts to the NBA, but I still expect him to be productive as a rookie.
2012-13 Projections: 13.5 PPG, 8.7 RPG, 0.7 BPG, 0.6 SPG, .478 FG%, .669 FT%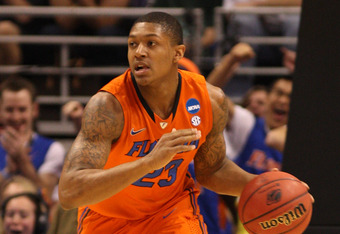 Christian Petersen/Getty Images
Bradley Beal, Florida
2011-12 Stats: 14.8 PPG, 6.7 RPG, 2.2 APG, 0.8 BPG, 1.4 SPG, .445 FG%, .339 3P%, .769 FT%
Beal could turn into the best pure scorer in the draft. He has range on his jumper and the quickness to spilt double teams. When it comes to shooting though, Beal isn't just a catch and shoot guy, but can also create his shot off the dribble and coming off screens.
He's not just a scorer though as he's one of the best rebounding guards in the draft class as well. I expect a solid rookie season for the ex-Florida Gators guard.
2012-13 Projections: 15.2 PPG, 5.5 RPG, 3.1 APG, 0.5 BPG, 1.5 SPG, .471 FG%, .365 3P%, .755 FT%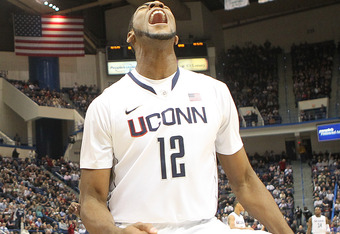 Jim Rogash/Getty Images
Andre Drummond, Connecticut
2011-12 Stats: 10.0 PPG, 7.6 RPG, 2.7 BPG, 0.8 SPG, .538 FG%, .295 FT%
Drummond has a ton of upside and an NBA-body, but even though he will likely be selected very high in the draft and could eventually turn himself into a solid NBA player, Drummond could have benefited from another season at UConn.
He's got the skills, but didn't actually dominate during his freshman season, scoring in single digits in 16-of-32 games and grabbing five or less rebounds in 13 of those games.
Anyone that shoots a dismal .295 from the free-throw line isn't NBA ready just yet. He could turn into a star with time, but Drummond will likely struggle as a rookie.
2012-13 Projections: 7.2 PPG, 6.1 RPG, 1.8 BPG, 0.2 SPG, .491 FG%, .333 FT%