San Francisco 49ers Running Back LaMichael James: By the Numbers
May 4, 2012

Jeff Gross/Getty Images
Earlier this week I focused on A.J. Jenkins, recent first-round pick of the San Francisco 49ers. I took a look at his collegiate numbers from the 2011 season and crunched them to come up with a better understanding of how the former Illinois standout might produce for the 49ers in 2012 and moving forward.
Now it is time to take a look at one of the most exciting college football players of the modern era, LaMichael James. His game film is awe-inspiring, his ability to take it to the house is second to none and his blazing speed leaves many defenders yards behind in a cloud of dust.
However, James wasn't considered anywhere near a first-round talent. Skeptics called him "too small" or a "product of Oregon's spread offense." While those criticisms might be justified, it is hard to argue against production.
So let's take a look at the numbers for a bit here.
2011 Statistics: 247 rushes, 1,805 yards, 7.3 average and 18 touchdowns
James, who led the Pac-10 in rushing yards as a sophomore in 2010, brought the gauntlet again last season. He led the conference in yards from scrimmage and rushing yards once again in 2011, besting players like Chris Polk and USC standout Robert Woods in each specific category.
James also ran for over 1,100 yards in seven conference games last season, a number that beat out each rival by over 200 yards. In the process, the former Oregon back averaged over seven yards per rush and 157 yards per game. 
Overall, James finished second in the nation in rushing yards (1,805) and first in rush average (7.3) among backs with over 200 attempts. Needless to say, there is no reason to question his production.
Crunching the Numbers Further
There has always been a question as it relates to Pac-12 defenses. They are not considered nearly as good as units in the SEC or Big Ten. While this is a fair point to make, James came up big against some of the best defenses that college football had to offer throughout his three seasons in Eugene.
In five career games against Auburn, Ohio State, Louisiana State, Tennessee and Wisconsin, James had the following numbers combined: 591 total yards and five touchdowns.
Going up against Michael Brockers and a stout LSU defense to start the 2011 season, James accumulated 115 yards on 24 touches.This despite the fact that Oregon was playing from behind most of the game and had to rely on the passing game to catch up near the end.
His performance against the best that the Pac-12 had to offer was equally amazing. In eight career games against Stanford and Southern California, James put up a staggering 1,136 rushing yards and 12 touchdowns, including a 257-yard, three-score performance against a Jim Harbaugh-led Stanford team in 2010.
Can James Handle the Load?
At 5'8', 194 James doesn't possess "prototypical" running back size. But what does that term even mean at this point?
Fellow Bleacher Report writer Dan Levy covered this issue in a recent article by comparing James to two of the best running backs in the National Football League.
...James is an inch taller than Maurice Jones-Drew, who admittedly was heavier coming out of college (listed near 207 pounds). James is the same height as Ray Rice, who was listed at 199 pounds out of Rutgers. Rice is now listed at 212 pounds.
Of course this is something you wouldn't hear from skeptics, who consistently point to players like Adrian Peterson (6'2", 217). They conclude a player of James' stature just cannot carry the load at the next level.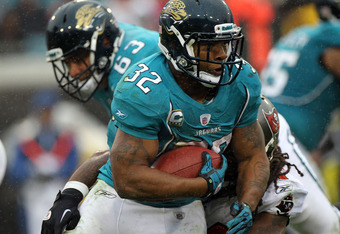 Sam Greenwood/Getty Images
For comparison's sake, Jones-Drew led the entire NFL in rushing attempts last season with 343. In fact, he ranks near the top of that category over the course of the last three seasons.
In no way is Levy, or myself, comparing James to the best running backs in the National Football League. It is more about acquiring an understanding that size really doesn't have an overwhelming factor in the success of a running back at the next level.
Hell, Emmitt Smith, one of the greatest running backs in the history of the league, was just one inch taller than James and weighed about a dozen pounds more coming out of Florida.
Despite nagging injuries that seemed to plague James at Oregon, he didn't wear done as the season progressed. He averaged nearly a full yard per rush more in December than in November, despite playing against stiffer competition.
James rushed the ball 20-plus times in a total of 23 games at Oregon, accumulating 100 yards in all but three of those games. These are numbers that are eerily reminiscent to Frank Gore with the 49ers.
What Does This Say?
As with the A.J. Jenkins article earlier, I am not drawing conclusions that James is going to end up being the best running back in the NFL. That would be absolutely foolish in the grand scheme of things.
What this article was meant to do is provide you (and myself) with more insight in regards to what the 49ers got when the drafted James out of Oregon.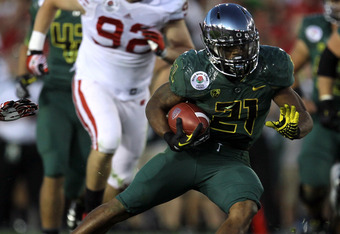 Stephen Dunn/Getty Images
We all already had a good understanding of how truly dominant he was in college. Something that just isn't a good gauge to scout a prospect heading into the NFL. And this probably rings true as it relates to James.
Those splits that I provided you, as well as the comparisons to both Ray Rice and Maurice Jones-Drew, are probably better indicators of possible success for James moving forward.
At the very least, James is going to bring another dimension to the field for the 49ers. In reality, something that they have not had in quite some time. His ability to take it to the house on every play will only be magnified by the 49ers pull-blocking scheme, which should open up holes on the outside.
These are other factors that I am pretty sure Trent Baalke and Co. took into account when selecting James in the second round.
Either way, it should be fun to watch him play as a rookie in 2012.