NBA Playoffs 2012: Breaking Down 8 Ingredients to Winning a Title
May 4, 2012

Jeff Zelevansky/Getty Images
Much was made of Reggie Miller's comments last week about Miami Heat superstar LeBron James seeking advice from Hall of Famers Magic Johnson and Hakeem Olajuwon about how to win an NBA championship.
Miller said on TNT: "Now he's reaching out to Hall of Famers to see what it takes to win? Enough is enough. Go out and actually do it on your own. What do you need more help for?"
But how exactly does a guy like LeBron, or any other player looking to win that elusive ring, go about getting the job done when all the chips are on the table?
With the 2012 NBA playoffs in full swing and the race for a championship as hot as ever, I've decided to break down exactly what a team needs to win a title. As I see it, it takes eight different ingredients to get a team over the top.
Does your team have what it takes to get it done? Let's take a look at the things your team must have to win...
1. At Least One Superstar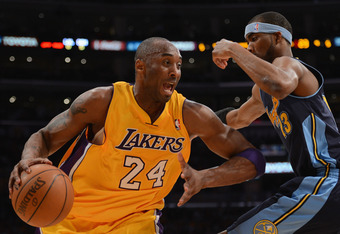 Harry How/Getty Images
The NBA playoffs are a superstar's game. This is the stage where the greatest of the great rise to another level.
Looking back at the past 54 NBA champions, 50 of them (93 percent) had a member of the All-NBA First Team during the four years preceding the championship season. In other words, an NBA championship roster must include a best-at-his-position-type player operating at the top of his game.
Two of the teams that didn't, the 1976-77 Portland Trail Blazers and the 1978-79 Seattle SuperSonics, had players who were named All-NBA First Team in subsequent seasons, Bill Walton and Dennis Johnson.
The other two teams, the 2003-04 Detroit Pistons and 1969-70 New York Knicks, each had top-10-caliber players who were named All-NBA Second Team the prior season.
Flat out, you have to have that superstar to even think about making a championship run.
2. A Pure Scorer
This kind of goes along the lines of having a superstar, but not all great scorers make the All-NBA First Team.
A championship team needs a player that can get his own shot when the designed offense cannot. When play breaks down, a team must have a go-to player who can create his own clean look without necessarily relying on his teammates. 
3. A Bench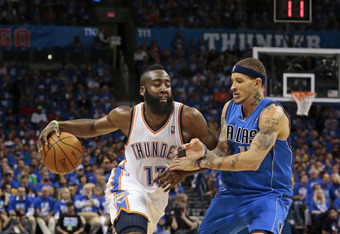 Brett Deering/Getty Images
Face it, the starting five is not going to always get the job done. Things like injuries, poor play and foul trouble can alter a coach's game plan for not only a game, but the series as well.
Teams need a solid group of reserves that can give the stars some rest without the teams overall play suffering too much. You need to have guys that can come off the pine and not only hit big shots, but play solid defense as well.
A deep team is a contending team.
4. A Great Defender in the Paint
A championship team must have a physical big man who will block and alter shots and defend the paint from cutting offensive players.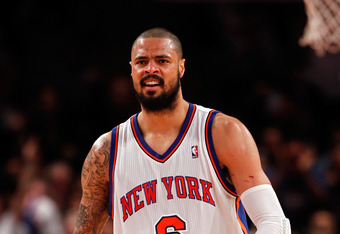 Jeff Zelevansky/Getty Images
They need a guy to force offensive players to think twice about getting to the rim. The NBA has evolved into a physical game and bruising interior play is now as commonplace as the pick-and-roll.
The Dallas Mavericks never would have won the 2011 Finals without Tyson Chandler patrolling the paint. Chandler made it his mission to do all the dirty work inside, playing physical post defense, grabbing rebounds, blocking shots and delivering hits if necessary.
Every team could use a guy to fill a role like Chandler. Defending the paint is a must and it is hard to win a title without a guy doing all the dirty work.
5. A Knock Down Shooter
Think John Paxson and Steve Kerr. Every team needs good perimeter shooting, but also needs that one guy who can knock shots down at will.
These guys don't have to necessarily have to live at the three-point line but they must be reliable from most areas of the court. A good shooter cannot be hesitant to take an open look and must have confidence in any situation.
This shooter is different from the pure scorer I mentioned before. This is the guy who you can find sitting on the arc when the shot clock starts to wind down. Teammates will look to find him and in turn he must knock down big shots.
6. Great Guard Play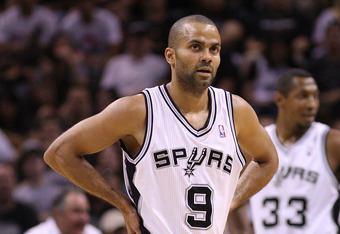 Ronald Martinez/Getty Images
Think of a great point guard as an NFL quarterback and very few NFL teams win a Super Bowl without a good signal caller.
The same goes with the NBA championship and if you don't have a good point guard who values the basketball and makes good decisions. He's a guy who gets teammates the ball in spots where they can have the greatest success and can also keep defenses honest by scoring when he has to call his own number.
Just as it is in the NFL, costly turnovers will kill you in the NBA as well. 
Having a great point guard goes a long way towards winning a championship when it's all said and done.
7. Ball Movement
If you learned anything from the Mavericks last season it's that you win playing team basketball. In turn, if you don't have great ball movement then you become easy to defend.
It's not just about making the right pass; it's about making the timely pass as well. Everyone on the court must stay involved in the game plan.
Shooters need to stay in rhythm by having the ball delivered quickly and in the right spot, and post-up players need the ball in a comfortable area, and before three defenders have already collapsed.
Good timing and great ball movement make a team very hard to defend for 48 minutes.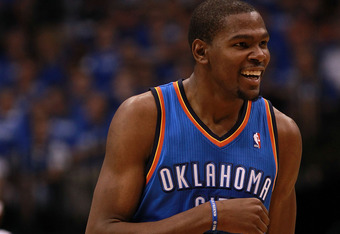 Ronald Martinez/Getty Images
8. A Closer
Finally, there is the guy you go to with the game on the line. This is usually the superstar, but not every superstar is a great closer.
You need that guy that will come through in late, pressure-filled situations with the clock winding down.
That one guy that comes through even though the entire world knows he's getting the ball—having one guy that thrives under pressure and refuses to be denied gives teams a huge championship edge.