Lon Babby: Does the Phoenix Suns' President Know What He's Doing?
May 4, 2012

I recently made the commitment to buy a new car and the experience was as you might expect. I didn't fully trust the salesman because, as all salesmen do, he pressured me and gave me promises I'm not sure he can even keep.
He told me that the car I eventually wound up buying (which was used) would run but that it may not be so enjoyable.
The air conditioning can be faulty at times and the passenger-side door only closes if you really slam it.
The kicker to buying what is most likely a lemon, was that I had to pay in advance if I wanted this car at all. I can't go through life without one, so I was stuck.
I'm currently banking on the promise of the salesman, that in two to four years, he'll upgrade me to the beautiful new model that will "run like a dream" (for a small fee added on top of course).
I really hope this guy isn't just pulling my leg.
Well, that salesman is Phoenix Suns President of Basketball Operations Lon Babby, and while I'm not buying a car, it sure as heck feels like it.
The model that Suns fans have now stinks. Not to mention the fact that two or three of the wheels may fall off if Steve Nash decides to leave in free agency.
A recent article by Phoenix Suns beat writer Paul Coro says that Babby may be frugal with the Suns $23 million in cap space this summer.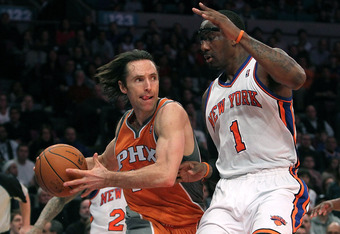 Nick Laham/Getty Images
That I can understand.
There's really no positive to using up all of that money on players who won't come in and make that car run like a Ferrari again. Save that cash for an upgrade that will truly help the vehicle.
However, something that Babby said truly irks me.
According to an Associated Press report via ESPN, "Babby said the team's biggest need is for a 'dynamic scorer,' preferably one in the post."
As a result of that, according to the Paul Coro article, Babby said that it is "quite likely, if not certain, that we're going to match" any offer that Suns' restricted free-agent center Robin Lopez receives in the offseason.
Wait, what?
We are still talking about Robin Lopez, right?
The Suns' backup center who has never averaged more than 8.4 points per game in a season? Who has never played in more than 67 games in a single season due to recurring back problems?
Granted he did play in 64 of the 66 games in the lockout-shortened season, but let's be honest, this season has been Bizarro World for basketball. Andrew Bynum has been playing like a man-child, and up to this point, we all just assumed his knees were made of glass.
Christian Petersen/Getty Images
Anyway, let's get back to Lopez. In 14 minutes played per game this season, Lopez averaged 5.4 points per contest.
If we're speaking in terms of what Lopez statistically would score per 48 minutes, he'd average around 18.5 points per game. Sounds great, right?
Well, let's not ignore the fact that Lopez averaged two fouls per game while playing just 14 minutes per game.
Lopez's inability to stay out of foul trouble has always been his issue. If he can't stay on the court, he's not going to put up big numbers (and hasn't for his entire four-year career).
The Suns, according to Babby, need a "dynamic scorer," preferably, one in the post. So is Robin Lopez the answer?
As a seven-footer, Lopez shot 46.1 percent from the field last season. That was worse than Suns' swingman Jared Dudley, who shot 48.5 percent as a guard. Dudley was busy knocking down 18-footers, while Lopez missed more than half his shots (most of which came from the post).
I'm sorry, but you don't qualify as a dynamic post scorer if you can't shoot over 50 percent as a seven-foot center.
Suns' starting center Marcin Gortat shot 55.5 percent from the field this season (and Suns fans know how much he loves his jump shots), Nikola Pekovic of the Minnesota Timberwolves shot 56.4 percent and even Joakim Noah of the Chicago Bulls, who shoots the ball like this, notched 50.8 percent.
The fact that Babby intends to match any offer sheet offered to Lopez terrifies me. If some bonehead team swoops in and offers him $60 million over four years, will the Suns match it?
I'm stuck with the car I have under the promise that two, three or even four years from now, I'll get the beautiful new model. Can my salesman deliver on that promise?
Well, keeping the faulty air-conditioning would be a poor first step.